GEORGETTE FARKAS
CULINARY AMBASSADOR
I don't know exactly how old I was when I had my first artichoke. I do remember that I was enchanted with the prickly appearance, slightly minerally flavor and the varied textures. I liked the thoughtful process of removing the leaves one at a time and dipping them in vinaigrette, then scraping away the choke to reveal the coveted heart, to be savored one bight at a time, again with more vinaigrette. I asked to have one in my lunch box the next day, with some dipping sauce on the side, and so began my lifelong rapport with the artichoke.
At Great Performances, I am surrounded by caring and talented professionals seeking to delight their customers. Every day we address new projects that call upon us to dig deep into our creative resources. There may be a bride who would like to treat her guests to a never before seen hors d'oeuvre station, a corporate customer seeking a gourmet gift box with contents as beautifully packaged as they are delicious or a non-profit organization calling upon us to inspire their supporters with a lively and entertaining recipe video. Our clients and colleagues provide daily opportunities to innovate in new, caring, thoughtful and delicious ways.
Cooking for friends and family quite simply makes me happy. It means offering your time and your care, your taste and your own personal way of presenting the food, as though it were a gift, albeit a humble one. Whether the preparation is quick and simple, elaborate and time consuming, drawing on time tested repertoire or newly discovered flavors and techniques, I find nothing more satisfying than bringing people joy through sharing a meal I've prepared for them.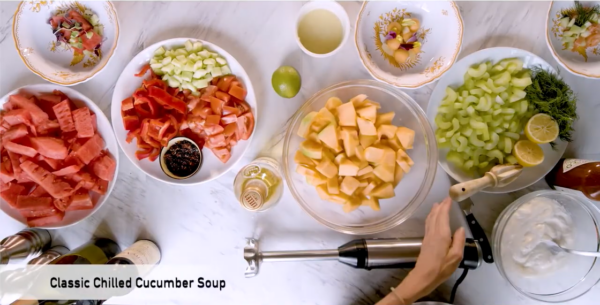 Georgette Farkas shares some of her tried and true tricks for staying cool with these chilled soups.
Read More »