CELEBRATING FATHER'S DAY: TIMING IS EVERYTHING
At Great Performances, we not only celebrate life's moments for our clients, but for our own families and colleagues as well. This year, we're especially fortunate in celebrating Father's Day across several generations, including two very new dads – Chef Stratos Georgedakis who just welcomed a baby in early May and our booking directory Tim Berryman who welcomed a baby just a short week ago. Congratulations to the two of them!
Over the years, we've shared some wonderful stories from our colleagues about their  fathers day traditions and memories. This year, we're delighted to share a story from the perspective of one of our dear colleague's sons.
You'll remember Mike Warren, Director of Catering at CPS Events at The Plaza, and the photo he shared a couple years ago of he and his sons at his wedding. This year, Mike's son, Elliott, contributed an article about what Father's Day means for him and how food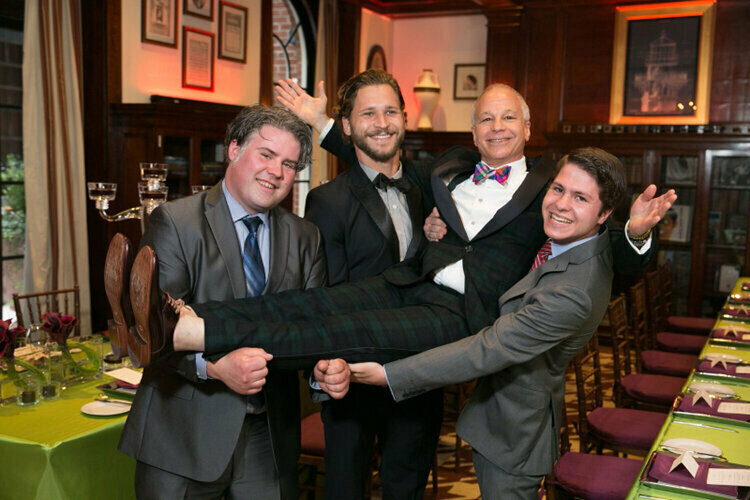 Father's Day Reunion: Celebrating by Cooking Together
Growing up with a dad in the catering industry meant being raised, in part, by food. Father's Day was not the only excuse for mouth watering steaks (a regular occurrence in my household, and my dad's favorite meal) or a fine selection of cheese, charcuterie, and all the accoutrements—that was just a regular Sunday evening for me. If it's not already obvious, my dad made sure that I grew up with an appreciation and respect for food and all the wonderful experiences and memories it brings.
When I moved away to college in DC, I brought my love of food with me. I was the chef-du-jour for my fraternity's Thanksgiving, winter holiday, and Superbowl parties. As I grew older, the love for food my father instilled in me only grew. Unfortunately, the COVID-19 pandemic hindered my ability to share with him my ever-improving culinary skills.
After not being able to see each other for two years, my dad visited me in my new home in Richmond, Virginia. At the top of his to-do list for our visit was to cook a meal together, something we had not been able to do together since before I went to college—and certainly not since I had improved as a home cook. He left the menu selection to me, and being excited by my new home in the South (and to provide something new for my Brooklyn-bred dad), I chose a recipe by my favorite southern chef, Vivian Howard. As my father taught me, seasonality is key and so I opted for a recipe to highlight delicious summer produce and provide a refreshing but hearty dinner—Vivian's roasted pork chops with watermelon.
It was a simple meal but delectable and fun to make. The watermelons start cubed on top of the meat and through the process shrivel into a stewed-tomato like texture but with the wonderful summer flavor of watermelon. Paired with the perfect wine (my dad's domain and my next culinary challenge) we had an unforgettable meal, and I was reminded of the power of food as I was immediately transported back to those days more than ten years ago when we would sit on our patio eating cheese and charcuterie, with steaks on the grill.