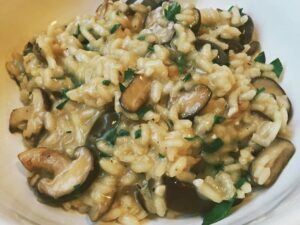 Risotto with Mushrooms
Liz's basic formula for a risotto gets transformed into a celebratory meal with the addition of sautéed mushrooms. Their rich, earthy flavor makes for a decadent and satisfying main course for a holiday meal. A vegetarian-friendly, gluten-free dish, it can be easily adapted for vegans.
Serves 4
Ingredients
1/2 pound assorted fresh mushrooms, cut into bite-sized pieces

1 quart chicken or vegetable stock (homemade preferred, or find good quality store bought)

2 tablespoons vegetable oil, divided

2 tablespoons unsalted butter (for vegan option, substitute with high quality coconut oil or vegetable oil), divided

1 small shallot, chopped

1/4 cup minced onion

1 1/2 cups Arborio rice

1/2 cup white wine

Kosher salt

1/4 cup grated Pecorino Romano cheese (or try our vegan "Parmesan cheese" below)
Procedure
In a medium saucepan, bring the stock to a simmer and maintain at a simmer throughout.
Heat 1 tablespoon each oil and butter in a large, heavy-bottomed saucepan over medium heat. Add mushrooms and sauté until brown. Season with salt and pepper and remove from the pan.

In the same pan, heat remaining oil and butter over medium heat. When the butter is melted, add the shallot and onion and sauté for 2 to 3 minutes, or until slightly translucent.

Add the rice to the pot and stir briskly with a wooden spoon to coat the grains well with the oil and butter. Sauté for another minute or so until you detect a slightly nutty aroma, but do not let the rice brown.

Add the wine and continue to cook while stirring until the wine is fully absorbed. Stir in 1 teaspoon of salt.

Add a ladle of hot stock and 1 teaspoon of salt to the rice and stir until the liquid is fully absorbed; lower the heat if the rice seems to be sticking. When the rice appears almost dry, add another ladle of stock and repeat the process. Continue, adding ladles of hot stock and stirring the rice until the liquid is absorbed. While it cooks, you'll see that the rice will take on a creamy consistency as it begins to release the starch.

The risotto is ready when the grains are tender but still firm to the bite, but not crunchy, which will take 20 to 30 minutes. If you run out of stock before you reach this point, add water, small ladles at a time.

Stir in reserved sautéed mushrooms, Pecorino Romano, or vegan cheese. Taste and add more salt as needed.

Serve immediately on warmed plates. For an extra-luxurious finish, top with freshly sliced black truffles.
For the vegan Parmesan cheese:
Combine 1 cup almond meal with 1/3 cup oil, 1/4 cup miso, and 1/4 teaspoon salt. Spread on a parchment-lined baking sheet and bake for 30 minutes at 250 until golden. Watch closely to prevent burning. Cool completely then crumble.
---