By Chef Saul Bolton
MENU
Summer herbs, coconut milk, peekytoe crab 

Salad of Shaved Broccoli & Summer Greens
toasted pepitas, lemon juice, oil
ray's tomatoes, summer squash, garlic, toasted breadcrumbs
lightly whipped cream, crushed amaretti cookies
DO AHEAD
Two Days Before
Purchase beverages and all ingredients for your dishes. Keep in mind how many you're cooking for and don't forget the basics (e.g., olive oil). Also, note the ripening time of peaches and tomatoes – you don't want under ripe or over ripe fruit.

Put everything away except soup ingredients.

Prepare the soup, chill, and refrigerate.
One Day Before
Clean and prep all your vegetables for the salad and the bass dish. This includes picking your herbs, wrapping them in damp paper towels before placing in a bag, then refrigerate.

Trim your bass filets and remove any bones or scales. Evenly cut the filets into the proper number of portions, place them on a chilled plate, cover them with plastic wrap and refrigerate.

Prepare the crab, removing any pieces of shell.

Toast your breadcrumbs to a golden brown – don't be shy with seasoning or with olive oil. Store in an airtight container.

Toast pepitas until they're fragrant. Store in an airtight container.

Crush your amaretti cookies into roughly, odd-sized crumbs. Cover and reserve.
DAY OF THE MEAL
Before Your Guests Arrive
Double-check the dining area, living area, and kitchen are clean

Place any remaining beverages to be chilled in the fridge (if you don't have enough room, a cooler of ice water will do the trick)

Chill your salad plates and soup bowls

Preheat your oven

Prepare your salad: and dress with lemon, olive oil, salt, and pepper. Mix well then refrigerate

Prepare the bass: Layer your thinly slices tomatoes, summer squash, garlic, and lemon on the bottom of a baking dish. Season and douse with olive oil. Lightly coat the bass with olive oil then season with salt. Arrange in the baking dish, cover, and place in the fridge

Whip the cream and sweeten it to your liking. Mound in a bowl, cover, and place in the fridge.

Slice your ripe peaches and let them rest, covered, at room temperature.

Prepare the crab: Squeeze dry the peekytoe crab and season with lemon juice, olive oil, and salt.

Clean as you go – make sure you always have a bowl of warm, soapy water waiting.

Shower, change and put on some music.
After Your Guests Arrive
Welcome your guests! Enjoy a toast and some conversation.

As folks sit, pour some more beverages, and take a moment to relax and enjoy each other's company. No rush now….

Time for soup: remove the bowls from the fridge. Place some prepared crab in each bowl. Mix the red pepper soup well, season if needed, and ladle into prepared bowls. Garnish with crab and a shower of herbs as you see fit. Stop to enjoy the music playing and the laughter of your guests. Drizzle some olive oil on the soup and serve.

Chill with your friends enjoying the soup. Talk. This is why we exist.

Clear the soup and put the bowls into soapy water.

Plate the salad (healthy, but oh-so-tasty this time of year!), garnish with the pepitas, and perhaps grab a little Parmesan and shave onto each salad. Serve.

Steal into the kitchen and slip the bass into the 300F oven. Sit and enjoy the salad. More beverages? Yes, of course.

Clear the salad plates and take the bass out of the oven (it's not quite done) and sprinkle each fillet with the toasted, seasoned breadcrumbs. Put the bass back in the oven for 5 minutes more.

Wash the soup bowls and salad plates.

Remove the bass from the oven and turn off the oven. Gently plate the tomato, squash, and bass. Drizzle with olive oil and a squeeze of lemon juice and serve! Blessed.

Relax and enjoy the entrée – people are feeling happy, conversation and beverages are flowing freely, and your kitchen is close to clean. More beverages and conversation as you linger. Clear the plates.

Pull out some glasses for the dessert. Layer the whipped cream, sliced peaches, and crushed amaretti cookies. Done.

Folks hang out. You're chilling. It's been the perfect meal.
OVEN ROASTED LOCAL BLACK BASS
3 pounds black bass, divided into 6 ½-pound filets

1 medium yellow squash, thinly sliced

2 medium tomatoes, thinly sliced

2 cloves garlic, thinly sliced

1 lemon, thinly sliced

Olive oil

Salt and pepper
Preheat oven to 300 degrees

Layer thinly sliced squash, tomatoes, garlic, and lemon on the bottom of a seasoned and oiled baking dish. Season again and drizzle with olive oil. Lightly coat bass with olive oil and season with salt. Place in a baking dish and bake at 300 degrees for 30 minutes or until done. The fish is done when it flakes when pressed.

Divide among six plates and serve.
PEACHES WITH AMARETTI COOKIES
3 ripe peaches, sliced

6 ounces amaretti cookies

1 cup heavy cream, whipped

1 tbsp sugar (or to taste)

1 tsp vanilla
Crush amaretti cookies into rough, odd-sized crumbs.

Whip cream to soft mounds, adding vanilla and sugar to taste.

Layer cream, peaches, and amaretti peaches into dessert glasses, reserving some crushed cookies for garnish. Refrigerate until ready to serve, then garnish with remaining crushed cookies.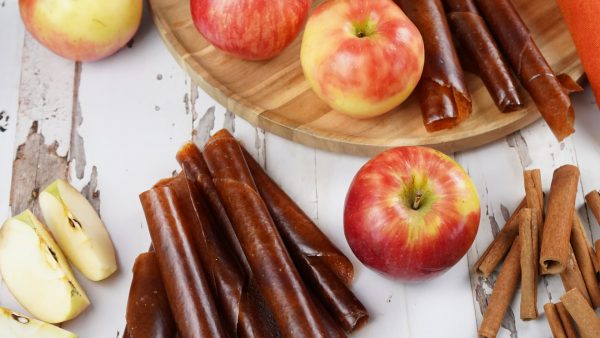 We're closing out a year of Preservation with our recipe for Apple Rollups, the perfect treat for adults and kids alike.
Read More »