WELCOME TO THE NEW YEAR! 2019. RESOLUTE IN OUR PROCLAMATIONS BROUGHT ON BY HOLIDAY CELEBRATIONS
We Recharge. Recalibrate. Cleanse. Ahh yes. But we need, we crave warm, nourishing and even slightly decadent food in these winter months. Food that hits the spot. Winter Squash is the answer! Originating in Central and South America. Carried throughout the world by the Spanish and Portuguese. It's warm, soft, and sweet. Complement this with Umami flavors, bright herbs, cleansing spices, and you have a delicious, healthy, and satisfying experience. Feliz Ano Nuevo!!!
BAKED STUFFED ACORN SQUASH
3 small acorn squash, cut in half and seeded

1 small onion (small dice)

4 cloves garlic (minced)

2 cups of cooked black beans

3 cups of cooked brown rice (leftovers? I always cook too much rice)

1 red pepper (small dice)

2 tbsp curry powder

black pepper and salt to taste

coconut oil

1 cup of rough chopped cilantro
Heat a sauté pan over a medium fire. Add 2 tbsp coconut oil followed by onions, garlic, & red peppers. Cook until just tender.

Add the curry powder to the mixture. Continue cooking for two minutes while stirring. Add the brown rice. Stir. Add the black beans. Mix well. Take off the heat. Add the cilantro. Then season with salt and pepper. Set mixture aside.

Preheat oven to 350F. Brush the acorn squash halves with oil then season with salt and pepper. Roast in the oven until tender.

Remove from the oven. Fill each acorn squash half with 1 cup of the mixture then sprinkle with the queso fresca.

Place back in the oven at 350F for 20 minutes or until hot through.

To serve squeeze a little lemon juice over each squash.

Serve with a nice fresh salad of greens on the side.
ROASTED SPAGHETTI SQUASH, RED QUINOA, MISO GLAZE
1 medium spaghetti squash (cut in half and seeded)

½ cup white miso

4 tbsp light brown sugar

2 tbsp mirin

6 tbsp minced shallots

2 tbsp red chili flakes or to taste

3 cloves of garlic, minced

1 cup cooked red quinoa

3 cups clean green kale (cut into 3-inch pieces)

canola oil

salt
Brush the spaghetti squash with canola oil and season with salt. Bake at 350F until almost tender. Al dente. Let cool then carefully remove skin and cut the squash into 12 equal sized pieces. Return to baking dish. Set aside.

Increase the oven to 375F. Add miso, mirin, shallots, ½ the garlic, chili flake, & salt to taste. Mix together until smooth. Spread evenly over the squash. Pop the squash into the oven and bake until nicely brown on top. Remove from the oven.

Heat a sauté pan over a medium high heat, add 2 tbsp canola oil. Add garlic. Stir. Add the kale and stir until wilted. Season with salt to taste.

Arrange the squash on a serving platter, top with the wilted kale. Squeeze some lemon juice on top and serve.
SOY BRAISED KABOCHA SQUASH
1 kabocha squash (cut in half – each cut in half, cleaned then cut into 6 or 8 wedges)

4 tbsp coconut oil

1-inch piece of ginger, grated on microplane

6 garlic cloves, sliced thin

6 scallions (clean and sliced thinly, use green part for garnish, white part for cooking)

1 cup of cilantro sprigs

3 tbsp toasted sesame seeds

¾ cup of vegetable stock or water

½ cup of soy sauce

3 tbsp mirin

3 tbsp sugar
Heat sauté pan over medium-high heat. Add the coconut oil then add the garlic, scallions, & ginger.

Cook while stirring for two minutes then add the veggie stock, soy sauce, mirin & sugar.

Now carefully add the kabocha squash.

Cook turning every two minutes until squash is almost tender. Turn down fire to low then cover the pot and cook until the liquid is glazy.

Add the cilantro cover for 1 minute just to wilt then carefully remove the kabocha to a warm serving dish.

Garnish with the scallions and toasted sesame seeds. If you want to go crazy add some chopped peanuts. Or not.

Great to serve with some brown rice, and nice greens.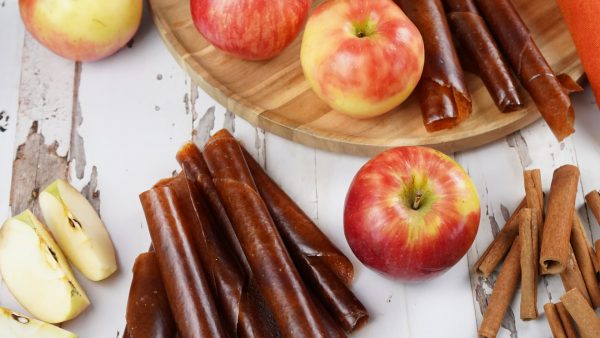 We're closing out a year of Preservation with our recipe for Apple Rollups, the perfect treat for adults and kids alike.
Read More »