EXCITING EVENTS AROUND NEW YORK: MAY 2023
By Great Performances
Explore Great Music, Art and More at Our Partner Venues This Month!
19KEYS PRESENTS THE HIGHEST LEVEL TOUR
Thursday, May 4th at 7:00pm
Location: Apollo's Historic Theater
Tickets: start at $81
High Level Conversations is the show that will change your way of thinking forever. Brought to you by 19 Keys, your paradigm of thinking will grow exponentially and forever be changed. 19 Keys is a Global Thought Leader-and one of the pioneers in the space of Web 3, Business, Mindset, Holistic Wealth, Tech, Metaphysic and Financial literacy, having millions of followers across the globe. He is known for his relentless efforts in matters of wealth creation and is the co-founder of initiatives such as The Block World Order (BWO), Goldewater, and Crownz Society. When people think of 19 Keys, they think of a self-taught 21st-century polymath who believes work is the cure to all our problems.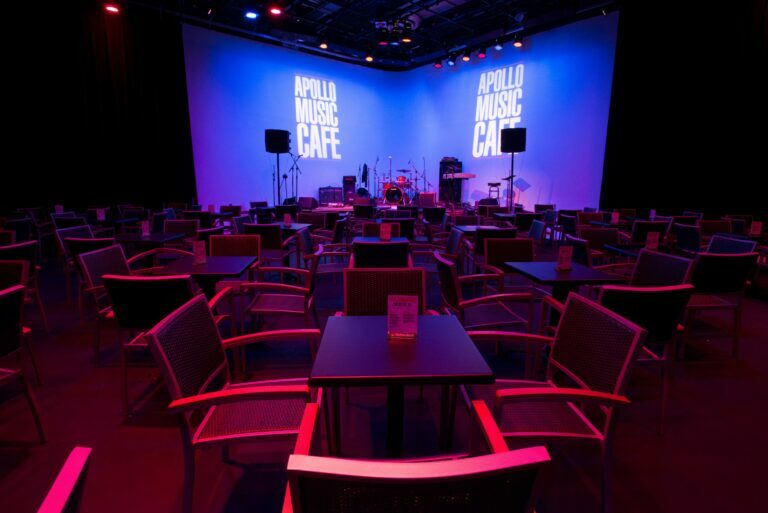 APOLLO MUSIC CAFÉ
Location: Apollo's Soundstage
Tickets: $28.50 (Plus $10 food and beverage minimum)
The Soapbox Presents: Stoop Sessions – May 5th at 10:00pm
The Soapbox Presents an evening of your favorite Harlem musicians taking the famed Stoop Sessions indoors to the Apollo Music Café for an evening of old school and contemporary R&B. This indoor party will be complete with a full house band, red cups, a stoop full of singers and a checkerboard dance floor for when the spirit moves you.
Gene Noble – May 6th at 10:00pm
Renowned singer, songwriter and producer, Gene Noble is bringing his impressive vocal range and smooth sounds to the Apollo's Soundstage. This singer, songwriter, and producer has previously performed background vocals for artists like John Legend and Sting and written songs for Diddy and Faith Evans. Don't miss an unforgettable night of R&B and Soul as this multi-talented artist takes center stage as a solo artist.
DIMANCHE
Wednesday, May 3rd through Saturday, May 13th
Location: BAM Fisher, Fishman Space
Tickets: start at $45
NEW YORK PREMIERE
CIE FOCUS & CIE CHALIWATÉ
Magical and profound, Dimanche gives fantastical theatrical form to our precarious existence. Winds rage, rain pours down, and the storm has only just begun. Three wildlife reporters attempt to document the last wild animals on Earth. Meanwhile, in a quiet city center, one family is dead set on having their usual Sunday dinner…
Spinning dreamlike fiction and humor with urgent reality, Belgium's Cie Focus & Cie Chaliwaté weave together low-fi effects, video, puppetry, and clowning in a wondrous work of physical theater.
DANCEAFRICA PERFORMANCE 2023
Friday, May 26th through Monday, May 29th
Location: Peter Jay Sharp Building, BAM Howard Gilman Opera House
Tickets: start at $25
GOLDEN GHANA: ADINKRA, ANANSE, AND ABUSUA
ARTISTIC DIRECTOR ABDEL R. SALAAM
"This festival heals, pumps up, and moves one to tears."—Dance Enthusiast
This Memorial Day weekend, the vibrant artistry and revolutionary history of Ghana inspires an immersive, electrifying celebration of dance. Now in its 46th year, DanceAfrica presents a choreographic and musical journey through the past and present of Ghanaian culture, connecting ancestral traditions to contemporary achievements on the BAM stage. Featuring performances by the National Theater of Ghana's National Dance Company, the DanceAfrica Spirit Walkers, and BAM RestorationART Dance Youth Ensemble, this year's tribute to Ghanaian excellence promises to entertain, educate, and empower.
FIRST SATURDAY: DOUBLE HAPPINESS
Saturday, May 6th, all day
This program is free; registration is required and includes Museum general admission.
Honor worldwide movements for freedom and liberation while celebrating the creative collectives, partnerships, and chosen families that illuminate Brooklyn's vibrant Asian diasporas.
For twenty-five years, we've hosted First Saturdays—monthly evenings of free programming welcoming visitors from central Brooklyn and beyond—at the Brooklyn Museum.
PINTS AND PRINTS: MONET TO MORISOT
Thursday, May 11th, 6:00-7:30pm and 8:00-9:30pm
Location: Biergarten at the Steinberg Family Sculpture Garden
Tickets are $35 and include after-hours admission to Monet to Morisot: The Real and Imagined in European Art, art materials in your own Brooklyn Museum tote, and a complimentary drink. Member tickets are $25.
Grab a brew and create your own art prints inspired by Monet to Morisot: The Real and Imagined in European Art. Teaching artist Sam Kelly leads a class on collagraph printmaking—where materials are collaged onto a board to create a 3-D plate that is then inked and can be reused.
YASMIN WILLIAMS, GUITAR
Presented in Collaboration with City Winery
Friday, May 12th at 8:00pm
Tickets: Start at $40
Overview
Acoustic fingerstyle guitarist Yasmin Williams brings her unorthodox, modern style of playing to Caramoor for a solo show in the Music Room. Using various techniques including alternate tunings, percussive hits, and lap tapping, her "radiant sound and adventitious origins have made her a key figure in a diverse dawn for the solo guitar" (The New York Times).
ELENA MOON PARK AND FRIENDS
Sunday, April 21st at 3:00pm
Tickets: Adults $20 / Children: $10
Overview
Join us on Friends Field for a voyage to East Asia and around the globe as multi-instrumentalist Elena Moon Park and guests perform reimagined children's music, folk songs, and original tunes in a variety of languages. Expect to sing, dance, and clap along to northern Japanese sea shanties, Tibetan jump rope rhymes, Taiwanese train songs, lullabies in English, and many other unique songs.
Elena Moon Park, vocals, jarana, violin
Akiko Hiroshima, vocals
John Foti, accordion, vocals
Yoshi Waki, upright bass
Nicole Patrick, drums
KARRIN ALLYSON
KARRIN'S KALEIDOSCOPE
Tuesday, May 30th and Wednesday, May 31st
Tickets: start at $25
ABOUT THE SHOW
Five-time Grammy-nominated artist Karrin Allyson brings a rare intimacy to her performances. The internationally acclaimed singer, songwriter, and band leader enchants listeners with her reverence for melody and penchant for spontaneity. Translating original compositions or classic swinging repertoire, Allyson demonstrates a heartfelt mastery over her material. She has collaborated with global icons, including Regina Carter, Kenny Barron, Helen Sung, Madeleine Peyroux, Anat Cohen, and countless others. Her Dizzy's Club band features Miro Sprague, Marty Jaffe, and Jerome Jennings.
PERFORMANCE LINEUP
Karrin Allyson, vocals
Miro Sprague, piano
Marty Jaffe, bass
Jerome Jennings, drums
FIRST FRIDAY
Friday, May 5th from 10:00am to 9:00pm
Tickets:
Free all Day!
Join Poster House on the First Friday of every month for free admission and extended hours! Explore the museum's latest exhibitions and get in on the fun by attending a tour, workshop, performance, or activity throughout the day. Every First Friday is different, offering unique opportunities to engage with rotating exhibitions and the permanent collection.
CHANOYU TEA CEREMONY WITH YOSHITSUGU NAGANO
Friday, May 26th from 6:30pm to 7:30pm
Tickets: $30
Poster House is pleased to welcome New York-based tea master Yoshitsugu Nagano for a tea ceremony situated within the world of chanoy that has been handed down from Oribe. This special tea room space will be designed by actively incorporating the colors and composition of 20th-century Japanese posters featured in Made in Japan.
Participants will get to enjoy a cup of powdered green tea prepared exclusively for this special experience of Japanese culture.
THE COMEUPPANCE
Tuesday, May 16th through Sunday, June 25th
Tickets:
start at $49
WORLD PREMIERE
Written by Branden Jacobs-Jenkins
Directed by Eric Ting
In Branden Jacobs-Jenkins' world premiere of The Comeuppance, the latest from "one of this country's most original and illuminating writers" (The New York Times), a self-proclaimed "Multi-Ethnic Reject Group" reconvenes for the first time in years to pregame for their twentieth high school reunion. They refamiliarize themselves with new versions of old selves over drinks, other substances, and a not-so-innocent truth-telling game. From the start, Death looms over and speaks through them, describing their disquieting and darkly comedic fates. The Comeuppance marks Jacobs-Jenkins' prolific decade as a Signature Premiere Resident playwright.
The Comeuppance takes the place of Jacobs-Jenkins' previously-announced Grass.
MOTHER'S DAY AT WAVE HILL
Sunday, May 14th, all day
Wonderfully timed to coincide with the arrival of spring, Mother's Day is the perfect opportunity to pull out all the stops. Plan to spend the day in the gardens, with a special Family Art Project, a guided walk in the gardens, a session of spring birding, a free session of community yoga and a family nature walk.
Enjoy the very rare opportunity to picnic on the Wave Hill House Lawn. Bring your own feast or purchase a delicious picnic curated by our exclusive partner Great Performances. Reservations are required by end-of-day Saturday, May 6. If you would like to picnic on the Wave Hill House Lawn, you may bring your own blanket and outdoor folding chairs. Limited, first come, first served seating will also be available in Armor Hall and on the Kate French Terrace. Menus and reservations at wavehillpicnics.square.site.
MEET THE ARTISTS DANA LEVY AND YELAINE RODRIGUEZ + VIDEO/FILM SCREENING
Sunday, May 21st from 2:00pm to 4:00pm
Location: Glyndor Gallery
Tickets: Free with Admission to the Grounds
Join us for a gallery walkthrough of the exhibition This Place We Once Remembered featuring works by former Winter Workspace artists-in-residence who draw from lived experience and historical records to conjure memories that move between ancestral pasts and speculative futures. Exhibiting artists Dana Levy and Yelaine Rodriguez discuss their works on view as they relate to the permeable nature of memory, both on an individual and historical scale. Following the walkthrough, the artists will screen related video and film projects. 
In the first screening, Levy presents three generations of family in This Was Home (2016): the artist's maternal grandfather, the artist's father and the artist herself as they return to their childhood homes in Sosnowiec, Poland; Cairo, Egypt; and Atlanta, Georgia, respectively, with each chapter contributing to the age-old history of Jewish wanderings. The second screening will present EBBÓ (Sacrifice), a short 2021 film directed and produced by Rodriguez that expresses and reinvents Afro-Caribbean religious, aesthetic and musical heritage. Based on the 1998 opera-oratorio by Cuban composer Louis Aguirre and librettist Rafael Almanza, the film is centered on the story of Queen Apetebí who, in refusing to sacrifice her fantastical pet bird to Orula, her protector Orisha and master of divination, brings on the destruction of her kingdom and her own demise. 
CITYPICKLE AT WOLLMAN RINK
April 7th through October 9th
As reported in the New York Times:
CityPickle is bringing the country's fastest growing sport to Wollman Rink in Central Park! The rink will house 14 courts – the largest pickleball offering in the Northeast – with 196 hours of pickleball daily. Come play with us!
Whether you're a pickleball pro or a newbie looking for a fun way to stay active this season, we're welcoming all skill levels. Lessons, clinics, open play, leagues, and private events are also available. Grab a friend, grab a paddle, and meet us on the court!
CityPickle is proud to offer a professional playing experience with the court surface provided by Pickleball United USA, the official court partner for MLP and APP professional leagues and the nets provided by CD Pickleball Nets, the official net partner of the PPA and APP.