By Great Performances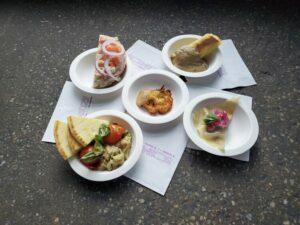 Not a weekend goes by that there isn't a food festival of some sort being held in New York City. People love them – and for good reason! It's a great way to explore the breadth and depth of food available. From general food festivals like the New York Times Food Festival which celebrate a variety of food styles or food specific festivals like the Big Apple Barbeque, you can find a festival that incorporates any food or cuisine.
We're all familiar with the customer experience at a food festival: purchase a ticket, show up, visit each booth or stall to enjoy delectable dishes and leave feeling full and happy with new favorite dishes. But what happens behind the scenes to make these events so successful and enjoyable? At Great Performances, we've been helping create memorable food festivals and special events for years, most recently working behind-the-scenes (and in front!) at the New York Times Food Festival and the New York City Wine and Food Festival. We act as an invisible hand, creating an environment in which sponsors, restaurants and chefs can represent their brands in a manner they know best represents them, regardless of the nature of the venue or the number of attendees. Whether it's 200 or 2000, in a park or on a pier, we make interactive, memorable experiences possible.
Great Performances partnered with Empire Entertainment for the first New York Times Food Festival to support the 24 New York City restaurants selected by New York Times editors to participate in the event.  We provided our expertise and manpower in creating 24 pop-up kitchens for the participating restaurants and set up a workshop pavilion and the cooking demonstration stage.
At the workshop pavilion, chefs held classes and demonstrations for small groups with the support of GP staff, equipment, food and/or beverages. On the demo stage, we provided ingredients, prepped and portioned according to chef requirements. And it was GP staff working alongside Empire staff that ensured expedient and seamless transition between each event.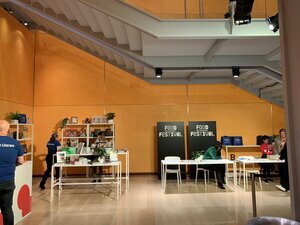 Not all of our work was done behind-the-scenes. We set up and operated the bars, curating offerings to augment those provided by sponsor Diageo and selected by Eric Asimov, the New York Times' wine editor. Finally, we directed the production of the 20-foot "ribbon" of pasta that Mayor Bill de Blasio cut to signal the opening of the festival.
We were involved with the hands-on production almost 20 events. Our participation varied based on client need. For Schmaltzy, we provided food, staff, general set-up, logistics and support; at the Drag Brunch, our Design Team was responsible for much of the evocative décor; at the Italian Sunday Supper presented by Peroni and hosted by celebrity chef Giada De Laurentiis we provided kitchen space and assistance to her chef team; at Rocktails presented by Maker's 46® and hosted by celebrity chef Robert Irvine, we provided bar service and prepared Chef Irvine's recipe. For other events, we provided staff that kept the event flowing and enabled a positive guest experience.
All told, GP's role represented more than 3000 culinary and logistics man hours and 500 staff during the course of the festival.
 One of the most important things we do for NYCWFF, albeit seemingly mundane, is help with compliance for the out-of-town chefs. It's also one of the most difficult things we do for the festival. The DOH has increased enforcement over the past few events, challenging enough for local chefs and restaurants to navigate, but almost impossible for out-of-town chefs / restaurants and brands. We ensure they all have the right permits and we provide staff with required food handlers licenses if needed. We actually communicate directly with DOH, reviewing the events to make sure everything is fully compliant.