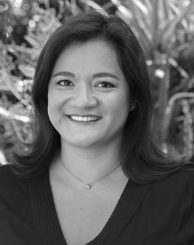 CARINA HAYEK
DIRECTOR OF MARKETING
My favorite food memories are from Indonesia. When we were visiting my aunt, all the different vendors would come through the neighborhood, calling out their wares: vegetables and bread in the morning; bakso, es teler and putu in the afternoon; and sate and tahu tektek in the evening. One evening when we had friends visiting with us, we bought out the sate vendor from his entire inventory. We feasted on sate ayam (chicken) and lontong (rice steamed in banana leaf) and he couldn't believe his good fortune to sell everything in one go. I love it for the community, camaraderie, and of course the delicious food.
I love that marketing is such an interdisciplinary role and that I'm rarely doing the same thing every day. I'm constantly stretching and learning, which energizes me and feeds my insatiable curiosity.
From Liz's Album: September 2023 By Liz Neumark The Plunge! That's how I would describe the reentry from August, spent mostly
Read More »