Chef Batya from Mae Mae Cafe shared several of her delicious recipes for Mother's Day.
One way we can honor our mothers and grandmothers is to cook the way they did, with Tradition. This means using all parts of the vegetables. If you can, purchase beets, radishes, carrots with their tops which you can save and prepare as a pesto, sauteed as you would other leafy greens, or as we've done here, tossed in a salad.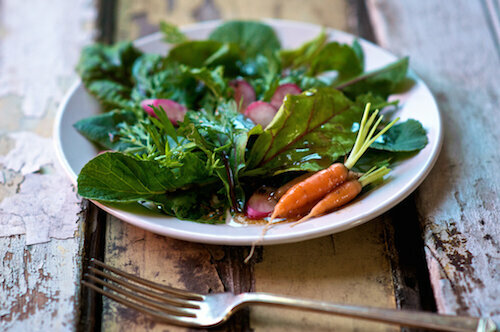 Ingredients:
1 pound clean radish, carrot, or beet tops/greens. Remove any tough stems or central veins.

1/4 cup sliced carrots or radishes

2 tablespoons sherry vinegar

2 tablespoons dry vermouth

2 teaspoons Dijon mustard

2 teaspoons soy sauce

1/2 teaspoon curry powder

1/2 teaspoon sugar

1/2 teaspoon salt

1/4 teaspoon fresh ground black pepper

1/3 cup olive oil
Procedure:
Prepare the Dressing. In a medium bowl, combine all ingredients together except for greens and vegetables. Whisk well to combine and roll around the inside of the bowl.

Add salad greens and vegetables and toss well. Taste for seasonings and adjust as needed.