By Chef Saul Bolton
I started cooking for Passover over 24 years ago in the west village. My boss's mom came into the restaurant kitchen and would teach me her Passover recipes. The wonder. The honor to be given a personal glimpse into a family, a tradition and a culture. We cooked together for three Passover holidays. It was special.
I drew the following recipes from the past and present; from the freedom one has not being bound by years of tradition; from the enrichment by my culinary peers and the world we live in; and from the deep respect for the importance of family, culture and tradition.
5 whole eggs, room temperature

¾ cup sugar

8 oz butter, browned and cooled to room temperature

1 tsp vanilla extract

½ cup potato flour

½ tsp baking powder

8 oz pistachios, unsalted and finely pulsed in a food processor

1 tsp lemon zest, chopped

1 tsp of kosher salt

9 inch cake pan, buttered and floured

3 ½ oz confectioners' sugar

1 tbsp lemon juice
Preheat oven to 325°F

In a stand mixer, combine room temperature eggs and sugar. Beat for 10 minutes at medium-high speed until tripled in volume and thick and creamy.

In a saucepan over medium heat, brown the butter and cool to room temp. Once cooled, add vanilla extract and set aside.

Combine the potato flour, baking soda and salt. Add in the pistachios and lemon zest. Combine well. Set aside.

Now carefully fold the browned butter into the egg mixture then fold/mix the flour mixture. Gently mix until mixture is completely blended. Pour the mix into the prepared cake pan and bake in the 325°F oven until a cake tester inserted into the middle of the cake comes out clean and the cake is lightly springy to the touch.

Remove from oven and let cool for ten minutes, then carefully remove from cake pan. Turn out on to a cooling rack set on a cookie tray.

In a small bowl, mix the confectioners' sugar and lemon juice.

To serve, evenly spoon and spread the lemon sugar mix on to the top of the cake.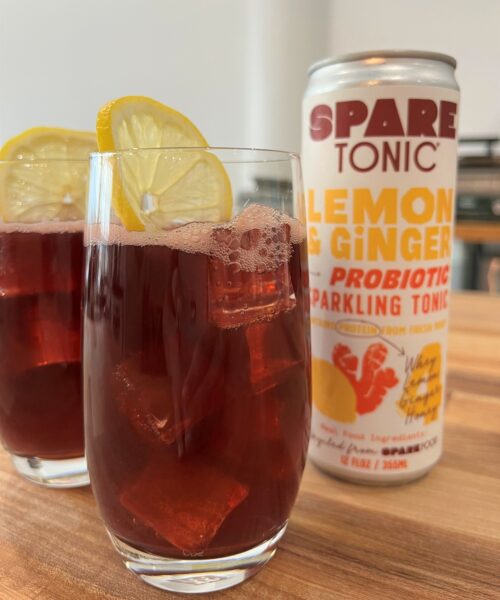 We're celebrating Climate Week with our friends at Spare Tonic and their take on a Spanish classic, the "Spare Tinto".
Read More »