Even as we're practicing social distancing, we continue to see great examples of how life happens around food. Instead of the corporate lunches, we're seeing teams enjoy video conference lunches; instead of big dinner parties, families are having home-cooked meals together; and instead of packing bars at happy hours, friends are toasting each other virtually.
With more people cooking at home, we're collecting recipes from our Great Performances' team members, families, friends and partners to share with you and provide some inspiration for delicious dishes you can make at home. Share your recipes and photos with us: tag us on social media #gpcovidcooking, direct message @gpfood or email marketing@greatperformances.com.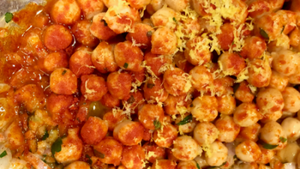 Immune-Boosting Marinated Chickpeas
Eating well and getting key nutrients is going to help us all stay healthy and active in the coming weeks, so here is an immune boosting addition for canned chickpeas. This is guaranteed to turn an ordinary canned legume into a cornerstone on which to build salad, grain and vegetables dishes.

Using proven immune-boosting ingredients like turmeric, lemon, garlic, parsley and olive oil not only add key nutrients, but also a ton of flavor. Try using a similar flavor profile to jazz up canned white beans, pinto beans or even corn.
Recipe provided by Great Performances' chef
Geoff Rudaw
Executive Chef
CPS Events at The Plaza
Ingredients:
1 can cooked chickpeas (preferably organic)

3 tbsp extra virgin olive oil

1/3 tsp turmeric, ground

1/4 tsp kosher salt

1/4 tsp paprika

1/4 tsp toasted ground coriander

2 drops hot sauce

1 grind of black pepper

4 sprigs of parsley, leaves only, chopped

2 shallots, peeled, finely dice (or 1 small red onion)

Zest of 1 lemon

Juice of 1/2 lemon
Procedure:
Drain and rinse chickpeas and transfer them to a stainless steel mixing bowl.

Combine all of the other ingredients, and let sit, covered at room temperature for an hour. This will give the flavors to blend.
Variations:
A dressing like this can be made with any delicious and harmonious ingredients. I recommend experimenting with ginger, lemongrass and scallions or come up with your own flavor profile to suit your dish or meal.
---
Hungry for More?