Chef Saul Bolton shared his recipe for a Hot Brown — a delicious open-faced turkey sandwich covered in a rich Mornay sauce then broiled. It's warm and comforting and is an easy brunch to put together for one or many. Our recipe below serves 6, but you can easily modify for two or twenty. If you're making it for more than 6 people, you can prepare in a large casserole dish for everyone to help themselves family style.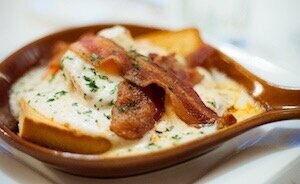 Hot Browns Like My Mom's
Serves 6
Ingredients
6 slices of good whole grain country bread

12 slices thick cut bacon cooked until almost crispy

12 ¼ inch thick slices of big ripe tomatoes

6 cups of Mornay Sauce

12 1/8" slices of roasted turkey breast ( or odd slices and pickings to loosely cover toast)

12 nice basil leaves (just thought would be nice)

2 cups of grated aged Parmesan cheese
Method
Toast the whole grain bread until it's a dark golden color, then lightly butter them.

Place two slices of bread in an oven proof dish. Layer with sliced turkey, the almost-crisp thick cut bacon, basil, and sliced tomatoes. Be sure to season each layer with salt and pepper.

Spoon Mornay sauce over each sandwich, then sprinkle with the Parmesan cheese.

Broil until golden brown and serve immediately.