By Liz Neumark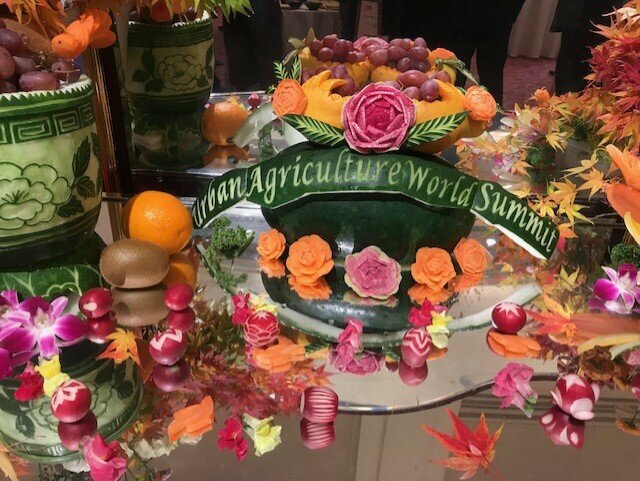 Nerima City, one of Tokyo's 23 wards, hosted a World Summit on Urban Agriculture from November 29 – December 1.
The Summit was the result of close to four years of preparatory work by the Nerima City Office officials, in conjunction with Tokyo University faculty, researchers and farmers.
---
Five international cities, Toronto, London, New York, Seoul, and Jakarta, were represented by individuals with professional connections to urban agriculture, sustainable food, and food justice programs within their cities. Nerima is known throughout Japan for its deep agricultural tradition with many urban farms that have been in families for multiple generations.
We met with a farmer whose family has been cultivating the same fields for 300 years/16 generations. The Nerima fields account for 40% of Tokyo's farmlands!
It was truly an honor to be invited to join the New York contingent along with Bill LoSasso (Director of NYC Parks Green Thumb) and Nevin Cohen (Associate Professor at CUNY Graduate School for Public Health and Health Policy).
The focus of my presentation was the creation and growth of Katchkie Farm; connecting farm and business in a sustainable manner; the development of the workplace CSA and the programs of the Sylvia Center.
Each country shared initiatives large and small that collectively point to the critical role of urban agriculture in shaping a wide range of city lives and social impact.
There were countless amazing moments starting with the gracious and never-ending hospitality demonstrated by our hosts in Nerima – from the Mayor to ordinary citizens who participated in supporting the Summit.
Local farmers proudly gave tours of their abundant fields and shared farming methods, retail distribution and community engagement tactics.  We were all in awe of the sophisticated on-farm vending machines which served as retail outlets at individual fields.  University faculty lead breakout season with well-prepared questions and insights.
We participated in a famous Nerima festival – the Daikon Radish Pulling-out Competition! Nerima is known for a special variety of daikon. Farmers cleverly invite town citizens to experience harvesting crops which serves a dual purpose: it provides a connection to vegetables and agriculture while providing a free source of harvest labor to the farmers!
These were three days I will never forget: Being surrounded by like-minded colleagues with a shared passion for agriculture and dedication to leveraging it to solve societal issues around food access, healthy eating, preservation of green spaces, community empowerment, and more.
At the end of the Summit, a deeper understanding emerged among all six-nation participants as to the challenges cities face in 2020. I don't think we knew where the gathering was going to end up—a sharing of information, or a true moment of possibility for deeper and new learning about future policy paths.
---