By Great Performances
This month we're celebrating asparagus. A sign of warmer months on the horizon, asparagus is a clear indication that spring has arrived. We enjoy asparagus because it is loaded with nutrients, reduces high blood pressure, is high in antioxidants and is extremely delicious.
Enjoy our favorite asparagus dishes at our venues and be sure to try our recipe below.
CELEBRATE THE ASPARAGUS AT OUR CAFÉS
May 12 – 19
ASPARAGUS AND RED QUINOA SALAD
shaved radish, english pea, parmesan vinaigrette
©chip klose
ASPARAGUS AND GOAT CHEESE FLATBREAD
grilled red onion, toasted cherry tomato, thyme
©flickr
Asparagus Casserole – cheesy cream of asparagus and mushrooms, topped with herb crispy onion rings
STEAMED TOFU AND FIRST OF THE SEASON ASPARAGUS WITH GINGER AND SCALLION
3-inch piece ginger, micro planed

1 large bunch scallions, finely sliced

1 tbsp sea salt

1 clove garlic, micro planed

½ cup canola oil

1 tsp sesame oil

1 tbsp toasted sesame seeds

1 large bunch asparagus, trimmed and cut on bias into 2-inch pieces

1 lb block high-quality tofu
Combine ginger, scallions, sea salt and garlic in a bowl. Let sit for 10 minutes.

Heat oil over a medium flame until shimmering, then pour hot oil over the ginger and scallion mixture. Once cooled to room temperature, add sesame oil and toasted sesame seeds.

Bring a pot of heavily salted water to a boil, add the asparagus, and cook just until bright green (about 90 seconds). Remove the asparagus and refresh under cool water.

Prepare a steamer and steam tofu just to heat through, then cut into 6 pieces. Quickly reheat the asparagus in the steamer.

Divide warm tofu and asparagus between six warmed plates. Dot with ginger scallion sauce and serve immediately.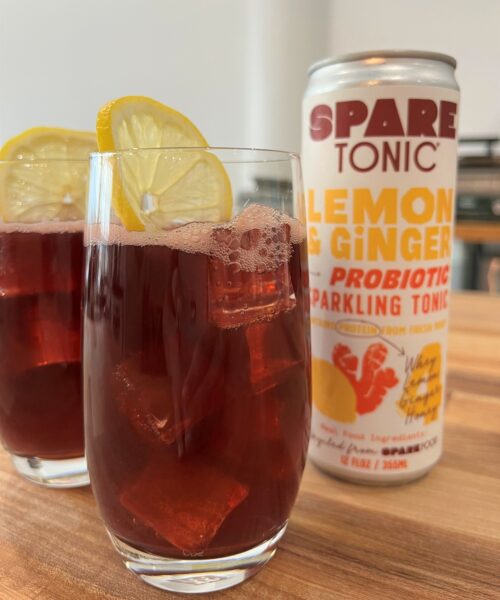 We're celebrating Climate Week with our friends at Spare Tonic and their take on a Spanish classic, the "Spare Tinto".
Read More »