Celebrate the season with some of our favorite timeless recipes!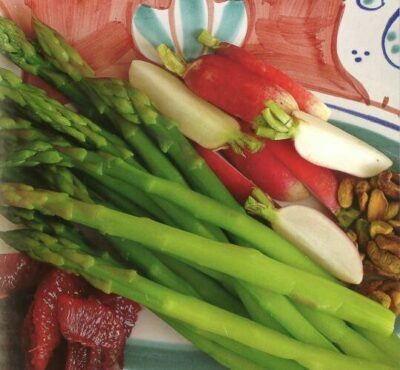 Spring Radish Salad with Asparagus and Blood Oranges
Serves 4
Ingredients:
1 bunch Easter Egg or other radishes

1 tablespoon lemon juice

1/2 cup plus 2 tablespoons olive oil

12 slender green asparagus spears

2 blood oranges, peeled and pith removed, cut intowedges

1 cup "micro" or smallest arugula available

1/2 cup raw pistachios

3 tablespoons blood orange juice

1 teaspoon Champagne or white wine vinegar

1 teaspoon minced shallots
Method: 
Preheat the oven to 350 degrees.

Wash and trim the radishes, cutting off the tail end and leaves, but retaining a little of the green tops. Cut each radish into four wedges and set aside.

Whisk together the lemon juice and one tablespoon of the oil.

Pour about a quart of water into a skillet or shallow pan and bring to a boil. Trim the ends of the asparagus and peel the lower half. Add a big pinch of salt to the boiling water, reduce the heat and add the asparagus. Blanch the asparagus for about three minutes, then drain and quickly plunge the stalks into a bowl of ice water to stop the cooking. Drain and set the asparagus aside.

Meanwhile, spread the pistachios onto a baking sheet and toast them in the oven for 4 minutes.

Combine the radishes, oranges and pistachios in a bowl and toss with the oil and lemon juice; season with salt and pepper.

Whisk together the blood orange juice, vinegar, shallots and a pinch of salt; slowly whisk in the remaining olive oil and season to taste with pepper and additional salt as needed. Gently toss the asparagus with this dressing and divide them among four plates. Spoon the radish mixture over the asparagus and top with the arugula. The salad also can be arranged on a platter and served at the table.