EXCITING EVENTS AROUND THE BRONX: JUNE 2022
By Great Performances
Explore exciting community events around the Bronx during June of 2022.
MUSIC MATTERS
Featuring ¡Retumba!
Saturday, June 4th and Saturday, June 25th at 1:00pm
Location: Mill Pond Park (Exterior St between E 150th & E 153rd St., Bronx, NY 10451)
Admission: FREE!
An exciting music and dance ensemble show-casing folkloric and contemporary dances with rhythms from Puerto Rico, Cuba, Haiti, Brazil, Mexico and Africa. Performances in English and Spanish.
BUTTERFLY RELEASE AT CONCRETE PLANT PARK
Saturday, June 4th from 12:00pm-4:00pm
Location: Concrete Plant Park (1370 Westchester Ave, Bronx NY)
Join us for this special culminating event a part of Flutter By, a series on supporting pollinators. Come out to support the release of butterflies and stay to celebrate community, friends and family with music, activities, and more!
COMMUNITY PADDLE
Friday, June 10th from 10:00am-2:00pm
Location: 1490 Sheridan Blvd., Bronx, NY 10459, USA
Friday, June 17th from 1:00pm-5:00pm
Location: Concrete Plant Park, 1357 Westchester Ave, Bronx, NY 10459
This is a great activity for beginners and families to join. Waves of paddlers will spend about 30-45min on the river, in order to maximize the number of community members able to participate in this event. Canoes will be available for partners and families, and kayaks will be available for solo paddlers.
WORLD OF BIRDS ANNIVERSARY WEEKEND
Saturday, June 11th & Sunday, June 12th from 10:00am-4:00pm
Tickets: included with Admission Ticket to the Zoo
Join us to celebrate the 50th anniversary of the iconic Bronx Zoo World of Birds.
Learn all about the different species of birds
Get hands on with fun birding crafts
Meet some very large bird puppets
Check out the bird meet and greet
BREW AT THE ZOO
Friday, June 17th from 6:00pm-11:00pm
Tickets: Start at $39.99
Kick off the summer at the Bronx Zoo! Brew at the Zoo, your favorite after-hours party for adults ages 21+, is back on Friday, June 17.
You'll get up-close with 52 life-sized dinosaurs and pterosaurs on our BRONX ZOO DINOSAUR SAFARI walking trail! Get "lit" in our new ILLUMINATED PLAYGROUND, with lighted swings, seesaws, and more. Play NEW GAMES including 60 second challenges at the Tournament Zone, EXPANDED TRIVIA, and Name That Tune, and take photos with illuminated characters!
Plus, enjoy MORE VIP EXCLUSIVES than ever before, including exclusive beer and wine sampling areas, new locations and photo ops throughout the park, and exclusive VIP swag.
And of course, your favorite Brew at the Zoo classics return, with sample bites from food trucks and zoo cafes, and tastings of more than 100 varieties of beer, wine and cider.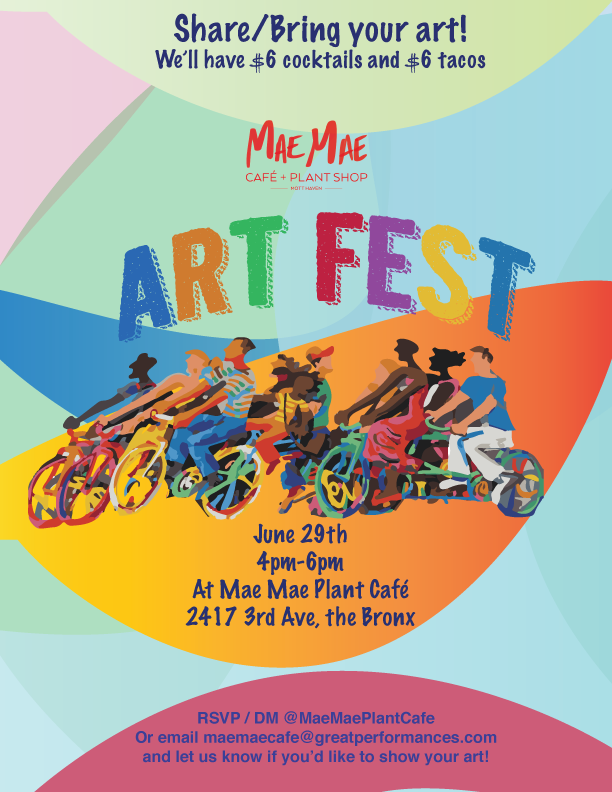 ART FEST
Wednesday, June 29th from 4:00-6:00pm
Come share your art with folks from the Mott Haven community! We'll be serving up $6 cocktails and $6 tacos for the event.
Please RSVP by messaging @MaeMaePlantCafe on Instagram or buy emailing maemaecafe@greatperformances.com. 
AROUND THE TABLE: STORIES OF THE FOODS WE LOVE
Saturday, June 4th through Sunday, September 11th from 10:00am-6:00pm
A Celebration of the Art and Science of Edible Plants
Food is at the center of many of life's most important events. When we gather together for a meal, the dishes we share often tell a story—and we share a bit of ourselves. Explore the rich cultural history of what we eat throughout this multifaceted, engaging exhibition that examines the art and science of foodways and food traditions, many dating back thousands of years. From global dietary staples such as rice, beans, squash, and corn to the regional spice and flavor provided by peppers, greens, and tomatoes, plants are at the base of all culinary customs. Discover the diversity and beauty of plants that are grown for cuisine around the world. Across NYBG's 250-acre landscape, uncover the botanical origins of the foods you think you know; gain a deeper understanding of the environmental and social impacts of food choices throughout history; and gather at artist-designed tables that explore the significance of the featured plants, bringing to life inspiring stories of community and survival.
EDIBLE ACADEMY FRESH FROM THE GARDEN TASTINGS
Every Wednesday, Saturday, and Sunday at 2:00pm and 4:00pm
Get hands-on with healthy cooking using new recipes featuring plants grown in the Edible Academy. NYBG staff create these family-friendly recipes using seasonal vegetables, fruits, and herbs, and kids and adults alike can learn how garden-to-table cooking is not only nutritious, but fun, too. While you're exploring the Edible Academy, get hands-on with the crops in the vegetable garden during Dig! Plant! Grow! each month.
PELHAM BAY PARK FOREST RESTORATION
Friday, June 10th from 9:00am-12:00pm
Location: Meet at the north side of Orchard Beach Parking Lot
Free to Join
Volunteer with the Stewardship Team to protect the forested areas in Pelham Bay Park! Volunteers will contribute to ongoing restoration work and learn the importance of species diversity to ecosystem health.
PELHAM BAY PARK MILE-A-MINUTE CHALLENGE
Saturday, June 18th from 9:00am-12:00pm
Location: Meet at the north side of Orchard Beach Parking Lot
Free to Join
NYC Parks needs your help to defend Pelham Bay Park against the mile-a-minute vine! The annual Persicaria perfoliata vine is capable of growing up to six inches a day, often destroying young trees in the process.
THE NEW YORK PHILHARMONIC CONCERTS IN THE PARKS: VAN CORTLANDT PARK
Tuesday, June 14th from 8:00pm-10:00pm
Location: Enter the park from Broadway, near West 251st Street. The concert site is north of the baseball fields.
Free to Join
The New York Philharmonic Concerts in the Parks, Presented by Didi and Oscar Schafer, have become an iconic New York summer experience since they began in 1965, transforming parks throughout the city into a patchwork of picnickers and providing music lovers with an opportunity to hear classical music under the stars. This beloved series returns in June 2022 after two years of cancellations due to the COVID-19 pandemic.
LEARN TO RIDE A BIKE: BRONX EVENT
Saturday, June 18th from 11:0am-2:00pm
Location: Southwest Playground
This service will offer a variety of techniques geared towards developing the participants knowledge in learning how to ride a bike.