1 medium Tomato, diced

1 Cucumber, diced

1 small Red Onion, diced

2 tbsp chopped fresh Mint

2 tbsp chopped fresh Cilantro

1 Lime, zested and juiced

1 tsp Lemon Verbena Oil

¾ cup Vegan Mayo

2 cups Matzah Meal

¼ cup Corn Starch

1 cup shredded Beets

1 cup shredded Yukon Gold Potatoes (squeeze out excess liquid)

2 tbsp grated White Onion

1 tbsp grated Garlic
Mix vegan mayo with chives and lemon verbena oil. Cover and set aside

Combine tomato, cucumber, red onion, mint, cilantro, lime juice, and chopped lime zest- season with salt and pepper to taste

Combine the grated beets, Yukon gold potatoes, onions, garlic, matzah meal, and cornstarch. Season to taste with salt and pepper.

Let sit for 10 minutes to let the mixture absorb

Heat Canola oil in a sauté pan over medium heat

Add walnut-sized balls of the mixture into the pan- flatten into disks with a spatula. Cook until crispy on first side then flip and crisp the other side. Drain on paper towel. Repeat with the rest of the mixture.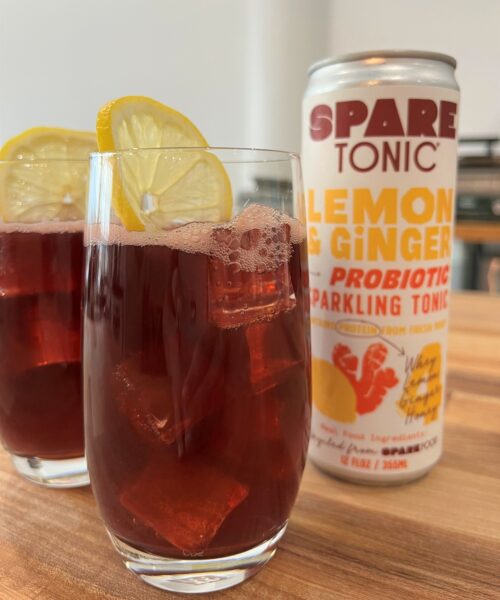 We're celebrating Climate Week with our friends at Spare Tonic and their take on a Spanish classic, the "Spare Tinto".
Read More »