Overview
The Foundry is a 19th century building that has been meticulously restored to showcase its industrial character and stunning proportions. Adaptable for many uses and available to rent for weddings, private events, film, video and photo shoots.
Fine varnishes were originally manufactured here before it became the home of The Albra Metal Foundry in the early 1900s. Their insignia is still visible on the corner of the building at 9th Street and 43rd Avenue. By 1906, it was one of several bustling steel foundries in the Long Island City area that catered to the needs of New York City's riverfront manufacturers. By the 1970's The Foundry had essentially become an abandoned space, housing defunct vehicles and a mountain of debris. In 1980 the Du Val family purchased the property and restored and renovated the space to reflect its original industrial character and charm. In 2001 we began hosting social events, weddings and serving as a film location for New York's film and television industry. It is the only foundry in the area still standing today.
Today, the Foundry is a raw space that can accommodate up to 180 guests for weddings and special events. Our capacity for a formally seated dinner is 165 guests in the courtyard (which can be tented from April through November) or up to 125 guests seated inside the Foundry main space. In addition to the Main Space, we have an interior Greenhouse, Albra Room, Billiards Room and Terrace that each can be added onto a rental for alternative layouts and flows.
Event Spaces at
The Foundry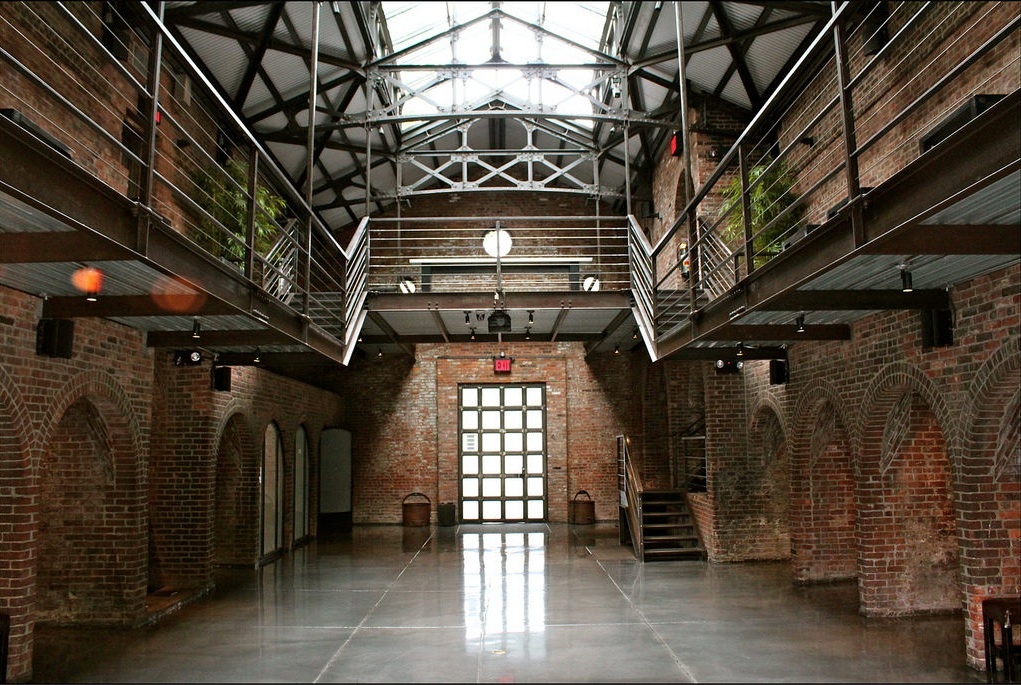 The Foundry Main Space
The Foundry, first floor, and Mezzanine level comprise the Foundry Main Space and the Courtyard is inclusive of this rental. Additionally, The Greenhouse, Albra Room, Pool Room, and Terrace can be rented in combination with the Foundry. Each space is uniquely beautiful and gives our couples options for where to hold cocktail hour, dancing, dinner, etc. The Courtyard is surrounded by ivy-covered walls and beautiful, lush greenery, kept on-site by a neighboring landscape design company. The Terrace boasts views of the Manhattan skyline and the 59th Street bride, creating a stunning backdrop for photos.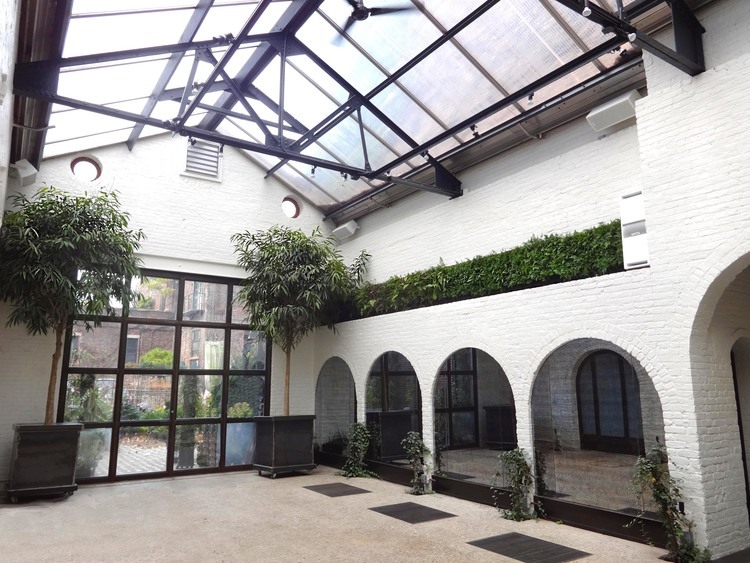 The Albra Room
The Albra Room is a newly renovated space located on the same property as The Foundry. Its white brick walls and the vaulted glass ceiling are accented with lush green ivy, ferns and ficus trees, beautiful lighting and antique mirrored glass. Pending availability, this space can be used in conjunction with The Greenhouse which is adjacent and connected to The Albra Room. This space can accommodate up to 70 guests for cocktails, or when used in combination with The Greenhouse a 70 person seated dinner. If not being used by The Foundry, a 150 square foot outdoor space just outside the doors in the courtyard can be rented as well.