Overview
Housed in a distinguished landmark building at 116 East 55th Street, the SUNY Global Center is the headquarters for the State University of New York in New York City. Built-in 1927, the five-story, Georgian-style mansion was the Ziegler residence, designated a historic landmark by the New York City Landmark Preservation Commission in 2001. Due to its diverse spaces, catered events at SUNY Global Center can include anything from conferences, seminars, team-building sessions and more.
One of the last grand, private homes built in Manhattan, the Ziegler home-hosted decades of elegant dinners and refined entertainment. Today, the Global Center's original architectural features and modern amenities create a unique and versatile setting for a variety of functions including educational, non-profit, corporate, and private events.
Visitors to Global Center find themselves in the heart of midtown Manhattan, steps away from restaurants, hotels, parking, public transportation, and local attractions.
Amenities at
SUNY Global Center
Styles at
SUNY Global Center
Event Spaces at
SUNY Global Center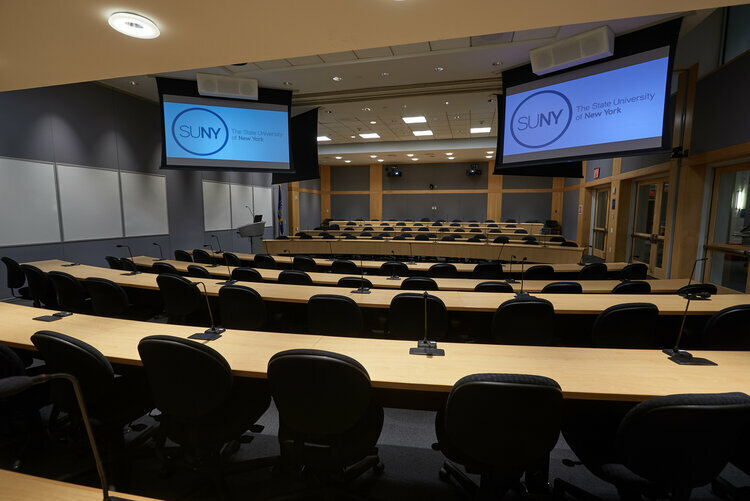 Global Classroom
Standing: 150 max., Seated: 138 max.
The Global Classroom, our premier and largest event space, is a state-of-the-art theatre-in-the-round with tiered classroom-style seating and high-tech audiovisual equipment. This modern yet intimate meeting space is ideal for any conference or professional meeting. Adjacent to the Global Classroom, a gallery-style Reception Area is the perfect setting for networking and refreshments.
Boardroom
Standing: 24 max., Seated: 20 max.
Graced by one of the building's original fireplaces, the Boardroom is a beautiful blend of historic and modern elements. Featuring natural light from exterior windows and a custom-made table for twenty, it is well suited for a corporate meeting, intimate presentation, or seated meal.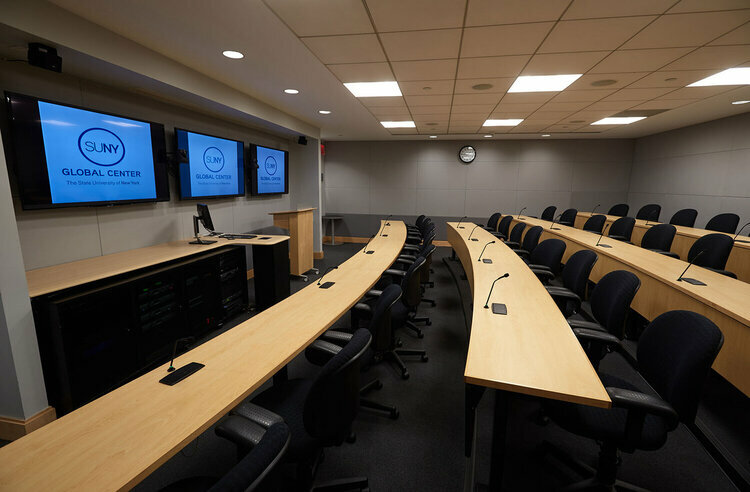 Tiered Classroom
Standing: 54 max., Seated: 40 max.
A professional classroom setting for training, lectures, and meetings, the Tiered Classroom is technically equipped with three monitors that allow multiple combinations for audio-visual presentations and video conferencing.
Multipurpose Room
Standing: 80 max., Seated: 60 max.
The Multipurpose Room, Global Center's most versatile space, can be configured to accommodate a wide variety of events. The room's spacious dimensions and skylight create a welcoming environment for board meetings, business lunches, receptions, group work, and other professional functions.
Seminar Rooms
Standing: 35 max., Seated: 15 max.
Strategically located on each event floor, the Global Center's three seminar rooms provide intimate, flexible space that can accommodate a variety of room configurations, just right for a meeting, class, or conference breakout session.
Frequently Asked Questions
If you are planning an event and are looking for a truly unique space, you may want to consider hosting it at SUNY Global Center. As the official caterer for SUNY Global Center, we can help you get started.