Overview
Radio City Music Hall is legendarily majestic.
The brilliant splendor of Hall's design is present at every scale, from the famously exquisite 5,900-seat theater to the luxurious private apartment, the Roxy Suite.
With the many lavish spaces, it contains, it's also the brilliant complement for an event of any size that requires a touch of resplendence and offers magnificent backdrops for the finest catered events at Radio City Music Hall including Cocktail Receptions, Seated Dinners, Benefits/Fundraisers, Meetings, Product Launches, and Press Conferences.
Amenities at
Radio City Music Hall
Styles at
Radio City Music Hall
Event Spaces at
Radio City Music Hall
The Great Stage
Standing: 500 max., Seated: 400 max.
The Great Stage is art deco design on a grand scale; the centerpiece, the crown jewel of Radio City Music Hall, is our immense proscenium arch evoking the majesty of the rising sun. If unmatched glittering elegance on a breathtaking scale is your aspiration, our Great Stage is unparalleled the world over. The Great Stage easily accommodates Meetings, Graduations, Awards Ceremonies, TV Shows, Benefits, Fundraisers, Concerts, Fashion Shows, Film Premieres, and Product Launches.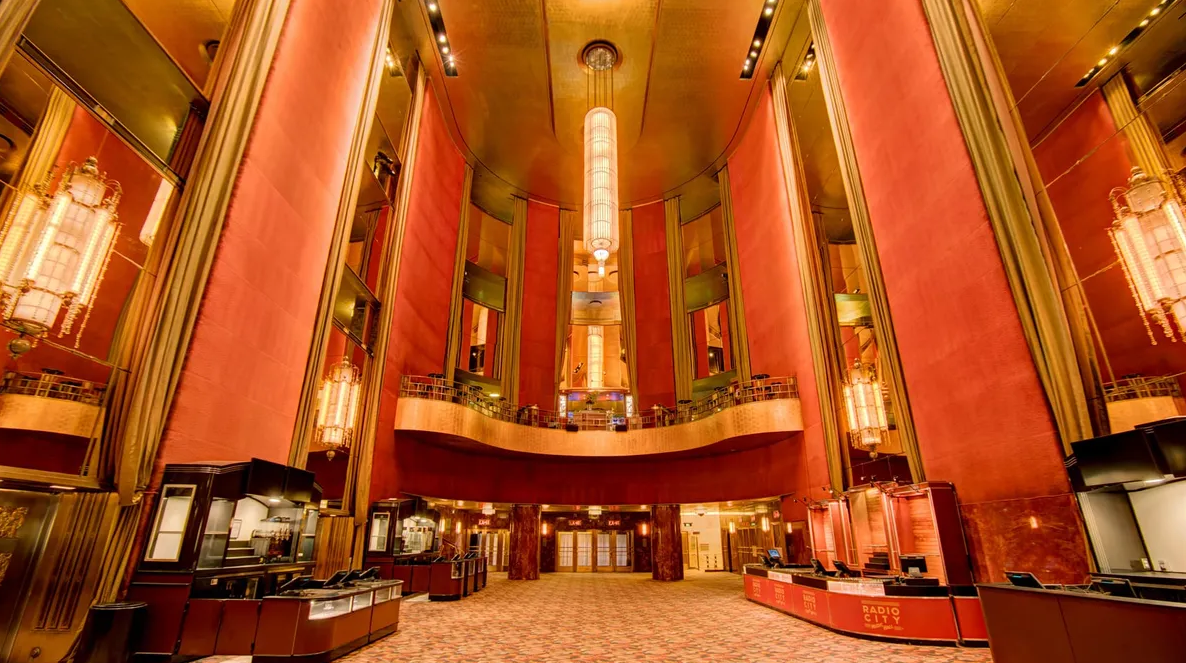 The Grand Foyer
Standing: 400 max., Seated: 200 max.
On the lower level of the Hall is the Grand Lounge, a superb example of form and function. A space of tranquility and rest for the audience, every design element was carefully honed to create the environment. Even the diamond designs on the columns and light fixtures were produced to subconsciously inspire relaxation. Also on this level are the Men and Ladies lounges, each replete with fine art and sculpture, some of which resided on loan from the Museum of Modern Art until the restoration's completion.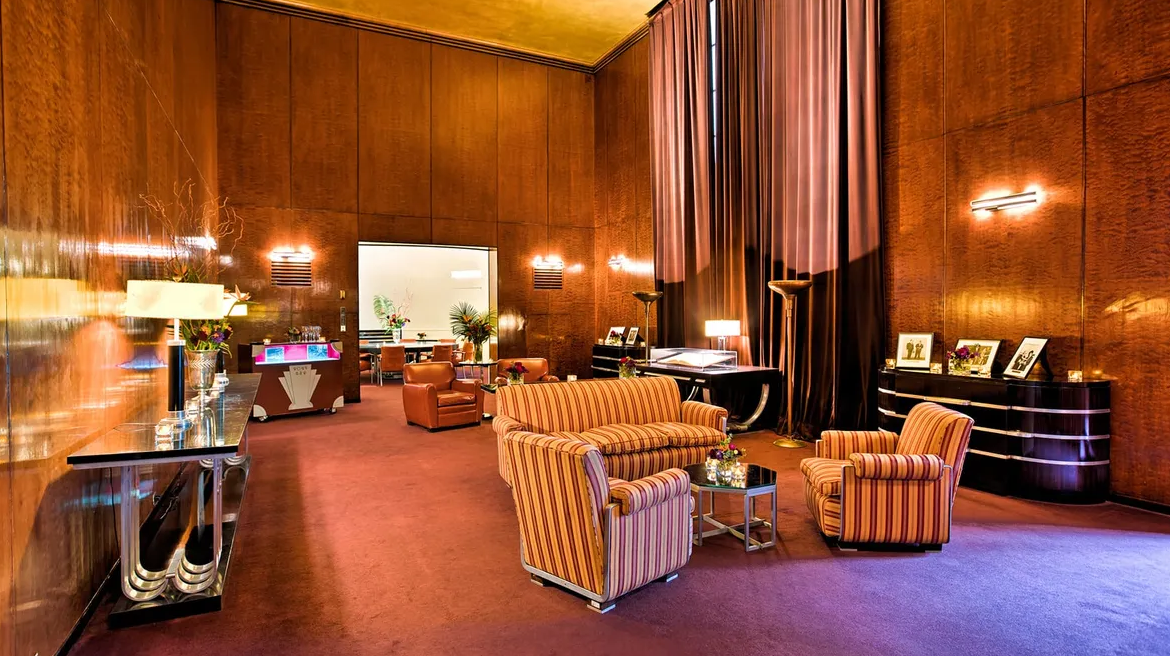 The Roxy Suite
Standing: 75 max., Seated: 50 max.
The Roxy Suite is the seminal example of art deco design at its most intimate. Formerly the private apartment of Hall's impresario, the suites 20-foot gold-leaf ceiling and rich cherry paneled walls create an environment of supreme elegance. The reception parlor and adjacent formal dining room are furnished with their own history. Photographs of the generations of celebrities for whom the suite has played host cover the room's credenzas and side tables. Easily Accommodates Intimate Receptions, Banquets, and Seated Dinners, Small Business Meetings, and Photo/Film/TV Shoots.
The First Floor Mezzanine
The First Floor Mezzanine is an outstanding art deco space that overlooks the brilliance of the Grand Foyer.
Lounges
Our lounges are eight magnificent secret gems, each with its own palette of spectacular materials, colors, and furnishings personally designed by Donald Deskey. Each of these beautiful lounges has a feeling, an aesthetic, and a story all its own.
Rehearsal Spaces
Standing: 75 max., Seated: 75 max.
The rehearsal halls at Radio City are the actual dance studios that the Rockettes have rehearsed in since 1932. They are equipped with a spring floor, air conditioning and are among the largest in New York City. Easily Accommodates Dance, Music, and Theatrical Productions.
Frequently Asked Questions