The New York Public Library
Overview
Every year hundreds of clients seek out the Library to provide the perfect venue for films, fashion shows, wedding receptions, and corporate events – each wanting to capture a piece of the greatest city in the world.
The magnificent space, catering to both intimate gatherings as well as lavish extravaganzas, will lend a sense of grandeur and distinction to any occasion.
While you and your guests enjoy the glorious setting, you will also become a contributor to one of the world's great free institutions. All event fees help to support the Library's indispensable collections, services, and programs.
This landmark building offers four classically elegant rooms for events. The rooms are decorated with marble arches, carved oak ceilings and paneling, and large murals.
The Celeste Bartos Forum features a 30-foot-high glass dome ceiling with classic Corinthian ornamentation. The Trustees Room features walnut paneling, a marble fireplace, and 17th-century tapestries.
Amenities at
The New York Public Library
Styles at
The New York Public Library
Event Spaces at
The New York Public Library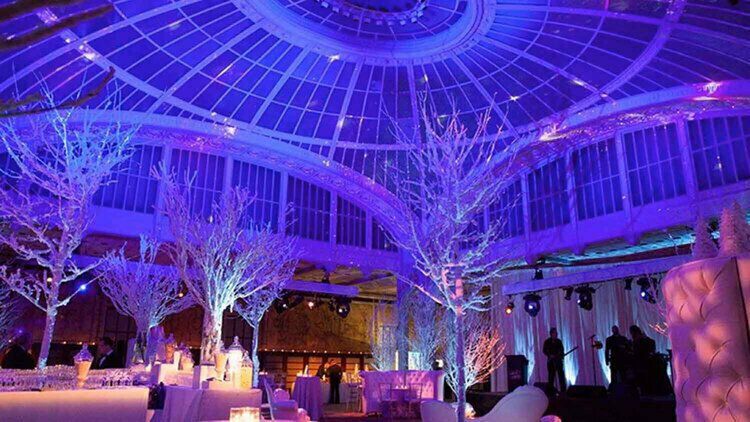 The Celeste Bartos Forum
Standing: 500 max., Seated: 425 max.
With its 30-foot-high glass saucer dome ceiling, this 6,400 square foot space provides a beautiful setting for wedding receptions, dinners, galas, sales meetings & presentations.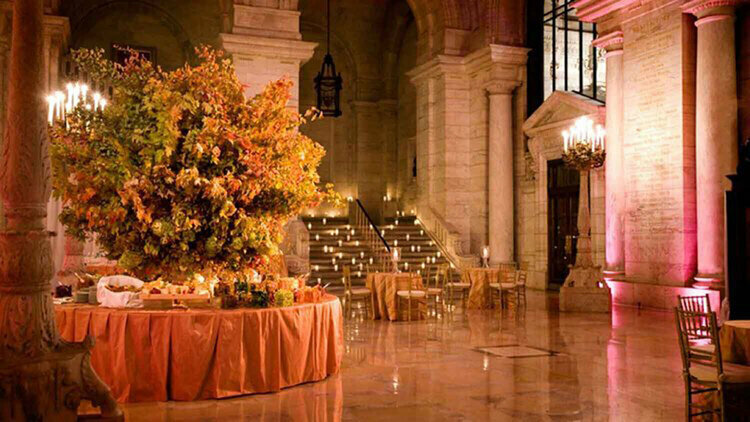 Astor Hall
Standing: 750 max., Seated: 250 max.
The breathtaking grandeur of the white marble entranceway to the Stephen A. Schwarzman Building offers a memorable space for wedding receptions, cocktails, dinners, dances, filming, and photography.
Edna Barnes Salomon Room
Standing: 350 max., Seated: 300 max.
This 4,500 square foot rectangular space boasts dark maple wood floors, Rouge Jaspe accents throughout, and cream-colored walls lined with paintings including "The Blind Milton Dictating Paradise Lost to His Daughters" by Mikhaly Munkacsy as well as artwork from James Peale, Rembrandt Peale, and Samuel F.B. Morse among others. The spectacular ceiling features faux skylights from end-to-end.
The Sue And Edgar Wachenheim III Trustees Room
Standing: 125 max., Seated: 110 max.
The beautiful ceiling, walnut-paneled walls, marble fireplace, and magnificent 17th-Century Flemish tapestries reflect the warmth of a fine turn-of-the-century drawing-room. Perfect for cocktails, meetings, press conferences, luncheons, and small receptions.
The McGraw Rotunda
Standing: 300 max., Seated: 150 max.
This impressive space is set beneath arched bays, paired Corinthian walnut pilasters over 17-feet high, and striking murals by Edward Laning depicting the history of the written word. McGraw Rotunda lends itself to small receptions, dinners, and cocktail events.
Celeste Auditorium
Standing: 177 max., Seated: 177 max.
The Celeste Auditorium is a bright, modern space that is ideal for meetings, presentations, and conferences.
Frequently Asked Questions
If you are planning an event and are looking for a truly unique venue, consider hosting it at The New York Public Library. This New York landmark will make your event (from the private and personal to sumptuous and visual) stand out from all others.