Overview
The Brooklyn Academy of Music (BAM), located in Brooklyn's Fort Greene neighborhood, is recognized internationally for its innovative programming of dance, music, theater, musical theater, and opera. Founded in 1861, it is America's oldest continuously operating performing arts center, and it still recognized worldwide for its bold, contemporary productions and its celebration of international musicians, choreographers, and theater companies.
In addition to presenting leading national and international artists, BAM identifies and supports the work of ground-breaking, contemporary artists in the performing arts with its Next Wave Festival, founded in 1983, one of the world's most important festivals of contemporary performing arts. With its eclectic Beaux-Arts style, BAM is the perfect backdrop for any event.
Brooklyn Academy of Music has five unique spaces for you to host your event: Lepercq Space, Fisher Rooftop Terrace, Fisher Hillman Studio, Fishman Space, and The Opera House. Here is a closer look at each of these incredible Brooklyn event spaces:
Why we love it
BAM is a venue that can be used in a multitude of ways and throughout our longstanding partnership, we have seen the spaces at BAM transformed in ways that still manage to surprise us. There are several spaces across all three buildings that can be utilized and shaped to fit the needs of our clients through creative design, lighting, sound, and personal touches that help make the spaces feel unique time and time again. On any given day, we host an expansive variety of programming, outreach, special events, and education. It would be impossible to pin down any one type of audience or community served here, and it makes for an incredibly rich and diverse environment to work in and be a part of.
Amenities at
Brooklyn Academy of Music
Styles at
Brooklyn Academy of Music
National Register of Historic Places
Event Spaces at
Brooklyn Academy of Music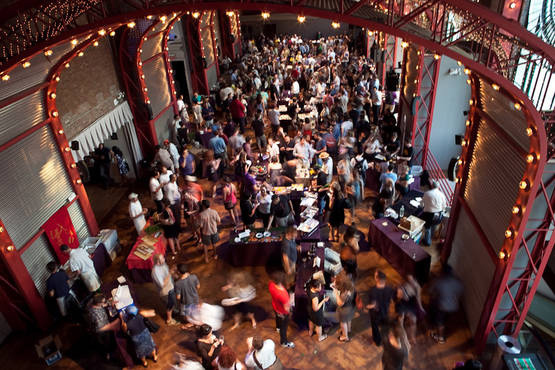 The Adam Space (BAMcafé)
Standing: 350 max., Seated: 250 max.
Originally designed as a ballroom, then reimagined as a theater for groundbreaking work, the Lepercq Space took its current design in 1997 as BAM's flexible public living room, a dazzling open-plan hall housing BAMcafé. Hardy Holzman Pfeiffer Associates oversaw the renovation, preserving the spaciousness of the original ballroom with vaulted red arches lined with silver-tipped light bulbs. This dramatic space makes a stylish setting for receptions, meetings, parties, and it is a perfect venue for your Brooklyn wedding. The Lepercq Space is a flexible space that can accommodate many arrangements. Its capacity depends on the set-up of your event. Seated dinner with full dance floor: 170; Full seated dinner: 250; Cleared room reception: 350. Because of BAM's programming schedule, the Lepercq Space has limited availability, so please inquire. BAMcafé, situated within the ornate and treasured Lepercq Space, is a neighborhood spot to enjoy music by artists of diverse genres during BAMcafé Live, a free music series on select Friday and Saturday nights. Two hours before curtain call, the café opens to serve cocktails. View our latest bar menu.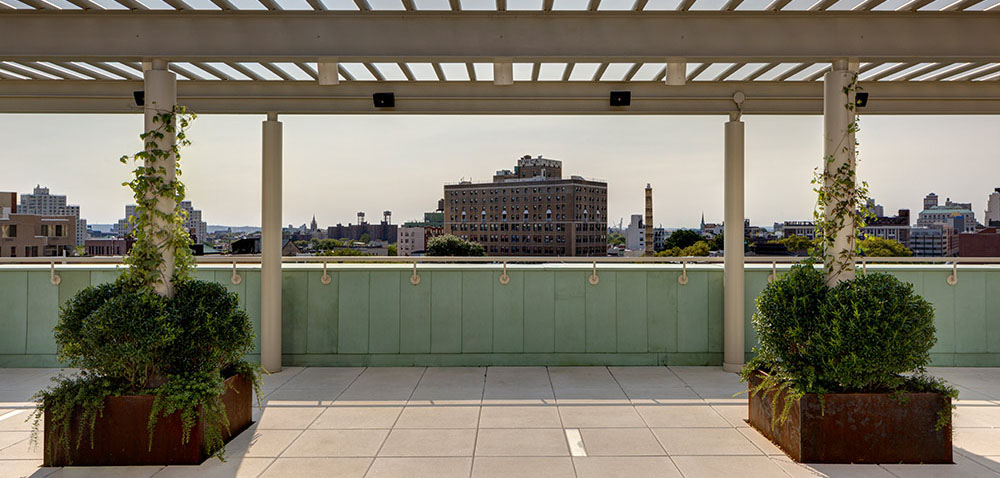 Fisher Rooftop Terrace
Standing: 121 max., Seated: 40 max.
The Fisher Rooftop Terrace has endless possibilities with a state of the art retractable enclosure for all year usage. This landscaped treasure is well worth the trip. 121 people maximum and 80 to 100 people for open cocktail receptions. The terrace can seat 40 maximum inside the canopy and 90 in the garden and canopy.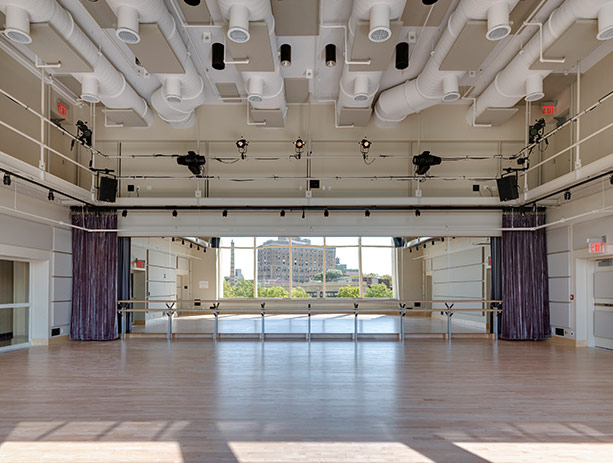 Fisher Hillman Studio
Standing: 120 max., Seated: 120 max.
The BAM Fisher Hillman Studio is a large performance and event space in BAM Fisher. The BAM Fisher Hillman Studio provides a much-needed working space to the BAM Cultural District for local and visiting artists.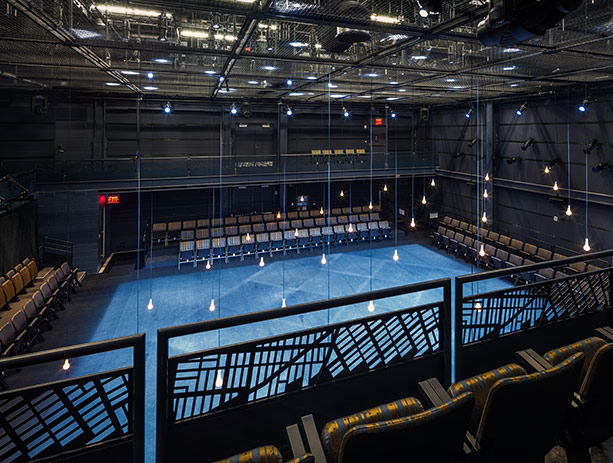 Fishman Space
Standing: 200 max., Seated: 200 max.
The Fishman Space is an intimate 250-seat theater in the new BAM Fisher. Able to accommodate multiple seating configurations, the Fishman Space is compatible with the most unique artistic works and new media performances by established and emerging artists and local arts organizations. Seating capacity: 250, with retractable and loose seats to accommodate multiple seating arrangements. The space features direct access to the theater from the street with no level changes for easy accessibility. The Fishman Space is available for rental by commercial and nonprofit groups, as well as community organizations. This space is not open to rental by individuals.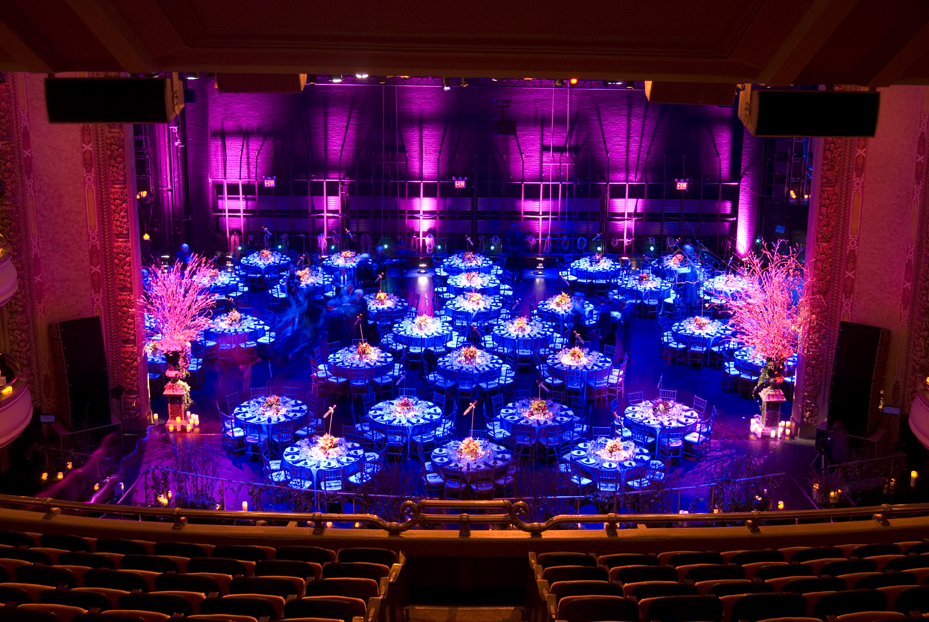 The Opera House
Standing: 300 max., Seated: 500 max.
The BAM Howard Gilman Opera House will provide an unforgettable setting for your event. The seating capacity for a reception on stage depends on the stage configuration, plus the installation of a stage extension.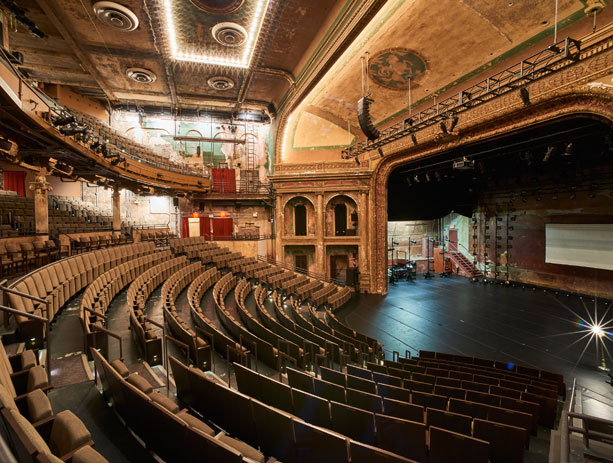 Harvey Theater
The venue we enjoy as the "Harvey" first opened in 1904 as the Majestic Theater, one of the many theaters in this bustling entertainment district. The Majestic showed a variety of dramas, light opera, musicals, and vaudeville, with stars such as Katherine Cornell, and it became an important trial theater for productions headed to Broadway, including Noel Coward's Home Chat. The Harvey has a colorful history beginning in the early 20th century, when as the Majestic Theater it housed Shakespeare, vaudeville, and musicals. This architecturally unique venue is suitable for: film or television shoots • music concerts • theater • dance • opera.
Frequently Asked Questions
If you are planning an event and are looking for a truly unique space, you may want to consider hosting it at the Brooklyn Academy of Music. As the exclusive caterer for BAM, we can assist you every step of the way.