Overview
Apollo Concessions
Apollo concessions at the famed Apollo Theater in Harlem open 90 minutes before and during the intermission of select evening performances at the Apollo Theater, and offer varied light fare and bar service.
Our approach to food is simple, local and delicious. The concessions and drink menu changes seasonally and features specialty snacks, cocktails, local beer, wine and spirits.
See all upcoming events.
Apollo Music Café Series
The Apollo Music Café is a musical performance series paired with bar bites and drinks designed to bring independent, cutting-edge artists to a forward-thinking audience. Featuring diverse performances across myriad genres (R&B, hip hop, soul, jazz, pop, funk, and rock), this monthly series showcases artists drawn from the independent music scene who are destined to impact the way music is heard and experienced.
Private Events
To inquire about hosting an event at Apollo Theater, contact a planner or email celebratefood@greatperformances.com.
Amenities at
The Apollo Music Café
Styles at
The Apollo Music Café
National Register of Historic Places
Event Spaces at
The Apollo Music Café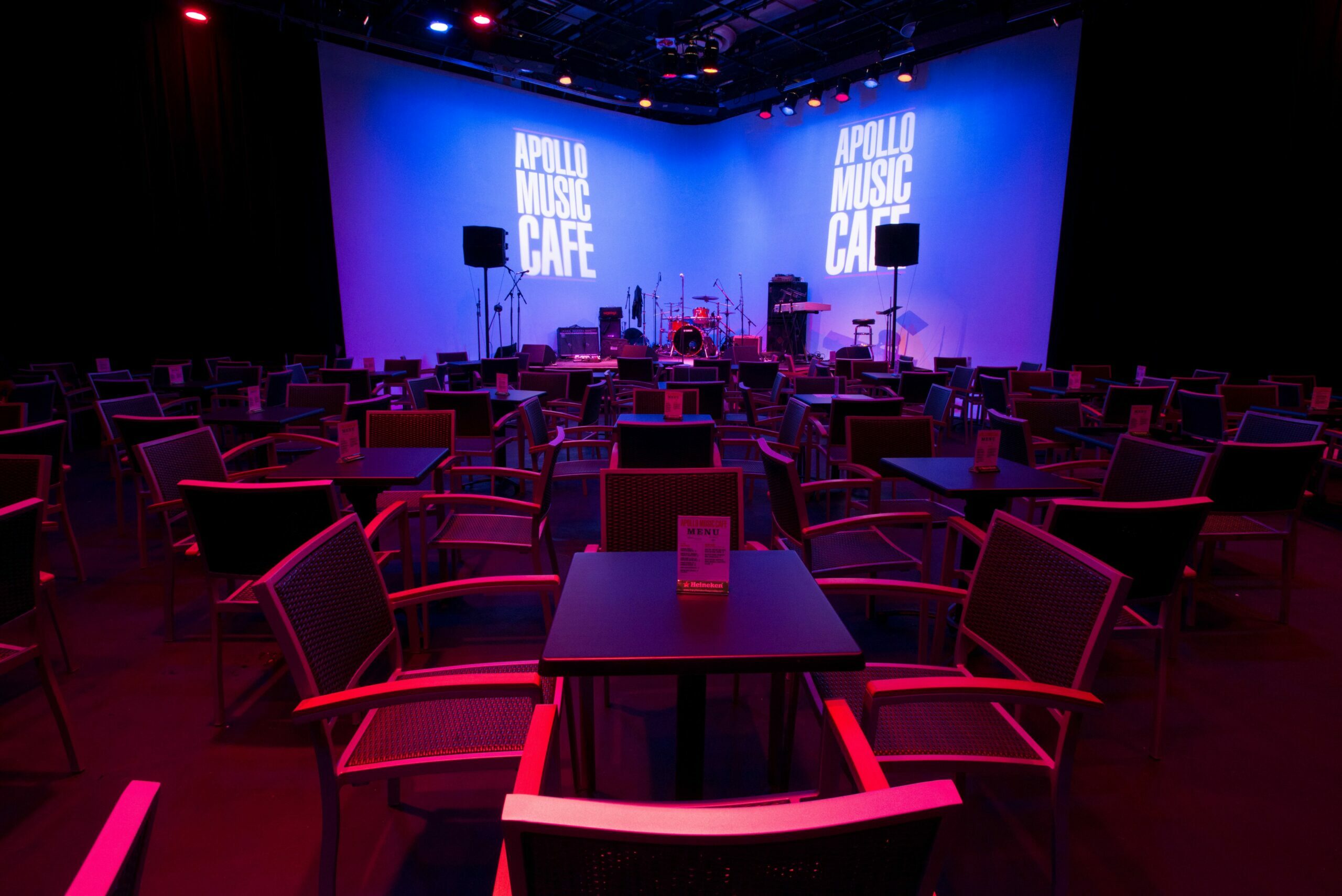 The Soundstage & Apollo Music Café
200-225 seats and a bar/café
The Apollo's third-floor Soundstage is a 1,680 square foot, flexible space that features an intimate, lounge‐like performance setting with 200-225 seats and a bar/café. The Soundstage is an ideal venue for music performances, readings, listening parties, commercial shoots, press conferences, executive meetings, intimate receptions and more.
Frequently Asked Questions
If you are planning an event and are looking for a truly unique space, you may want to consider hosting it at The Apollo Music Café. As the official caterer for The Apollo, we can help you get started.