Covid-19 has been particularly unkind to the hospitality industry.  In-person gatherings for all types of events have become a thing of the distant past, replaced by virtual forms of congregation like Zoom. 
But that didn't faze our Amanda, a 9-year GP event planning expert on our team.  We talked about those first days in March, when everything disappeared off the event calendar.  We were all certain it would all return by summer.  When that didn't happen, she went looking for ways to bring her clients back – to outdoor venues, in small groups, and with comfort and security.
Since the summer, she has planned more than 30 micro-weddings (compared to the 5 weddings she planned in all of 2019), establishing the pattern for this completely new style of celebration. 
I asked Amanda to share what is different about the brides and grooms she is working with now and how weddings have adapted to Covid-time restrictions.  In her responses, I could see the tremendous capacity Amanda has for connecting with people.  She is filled with a desire to help them find solutions, create special moments and fulfill the dreams they have. In so doing, Amanda establishes relationships that endure.

At the beginning when weddings were being cancelled, tentatively rescheduled, then pushed out indefinitely, it was difficult. And I missed the parties – the energy cannot be matched – and I missed the collaboration and camaraderie with my office colleagues. But people make what they want. You can wait for the phone to ring or you can go out there and build it. Discovering how to create wonderful micro-weddings with our team and partners was something I loved doing.
It's been incredibly rewarding to work with couples during this challenging time. At times, I feel like an event matchmaker: the clients not only select the venue, but we make a real connection which builds trust and makes the planning process even more personal. And I've also gotten close to the mothers of the brides. They want their daughters to have it all, and to make the day as special as possible despite the intimate size of the group.
3 Key Things Amanda Looks For Initially:
Rebound Bookings – if a couple has been "bounced" from a previously planned location

Party Size – confirming that the couple are really ok with a party for just 50 people and helping manage expectations for what is possible

Wishlist – understanding what is most important for the couple so we can find the best possible solution for their wedding
The New Wedding Size: 
Initially, events were limited to 20 guests, now they can include 50 celebrants.

Some clients are booking into 2022 anticipating a return to large events.

When booking 2021, Amanda tries to make sure couples will be happy with just 50.
Components Of Style:
Resuming Weddings – The bridal industry bounced back in August with vendors and suppliers ready for the new landscape.

Traditional Ceremonies – Smaller wedding parties are resulting in more traditional ceremony formats.

Nature Inspired – Because so many weddings are outside, there is a move towards more nature inspired décor. 

Inside Out – Conversely, there is a fun accent of bringing the indoors out – with fun furniture and settings.

Double the Pleasure – Although this is the year for smaller, scaled- back weddings for couples wishing to get married immediately, some couples are planning a "sequel" for once Covid restrictions are lifted. They're planning also planning a big blowout when they can celebrate with their larger group of family, friends and loved ones.
Virtual Component: 
The Big Screen – Expect to see a large video screen at the ceremony with cameras and drones on hand to capture all aspects of the ceremony. 

Virtual Interaction – Guests who are not able to attend in person can also participate! We've seen couples dedicate time to their virtual guests and even incorporate them into the event.
Venues: 
Because of the smaller sized groups in these gardens, our brides are discovering and utilizing spaces more creatively than in previous years.

From out east at the beach to up north in the Hudson Valley, Amanda and team are finding more choice locations.

City roof tops, terraces and other urban open spaces are in demand!

Instead of destinations guests fly to, accessibility by car is desirable.
Covid-Testing: 
Some clients request evidence of recent testing; a few provide on-site rapid tests, for service staff as well.

Guests are expected to test and quarantine in advance of the wedding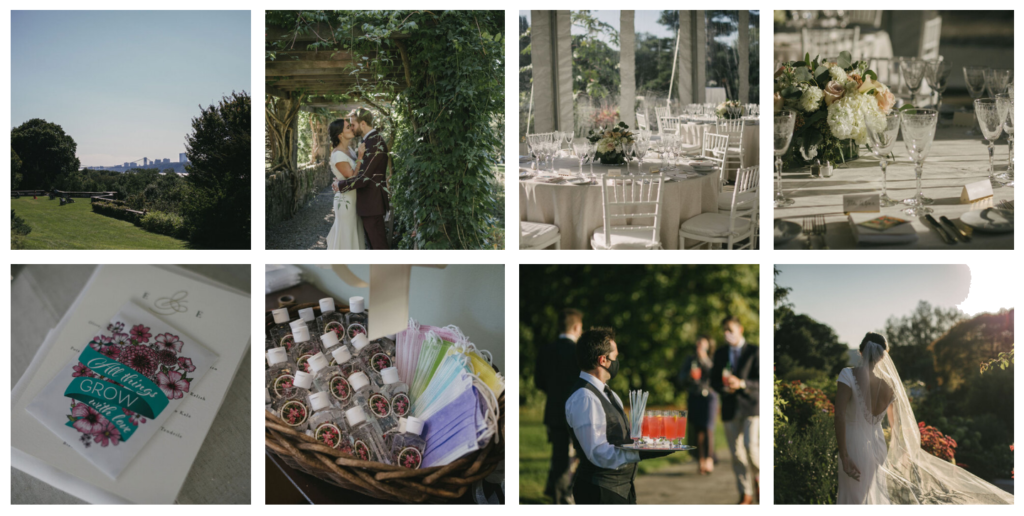 I've learned so much during this time, more than just the intricacies of planning a wedding with Covid restrictions. I've learned to be in the moment.  Before, it was multi-tasking on all cylinders all the time.  Now, I pay more attention to the moment – be it time on the phone with a friend or focusing even more time on proposals. But when things return….it will be back to multi-tasking!