We're always looking for great ways to repurpose leftovers, and this genius recipe uses leftover cranberry sauce to make delicious muffins for the day(s) after Thanksgiving.
You can use one of our cranberry sauce recipes, or try Lea's: Combine cranberries with sugar, citrus juice, rind (without pith), and vanilla and cook until the cranberries pop. Remove rind and chill.
From Lea
A few days before Thanksgiving, I'll make the cranberry sauce with whatever I have on hand. I'll weigh the cranberries, add 30% of the weight in sugar, 1-2 Tbsp of lemon or orange juice, large pieces of rind (without the pith), a scrapped vanilla bean or 1-2 Tbsp of vanilla extract, and a bit of water. I'll cook this on low for 20-30 minutes or until most of the cranberries are popped, then remove the vanilla bean and pieces of citrus rind and chill. Leftover cranberry sauce gets turned into cranberry muffins.
Muffin Batter
250 grams AP flour

1 tsp salt

1 tsp baking powder

165 grams vegetable oil

375 grams sugar

225 ml milk

1 tsp vanilla

2 eggs
Crumb Topping
65 grams brown sugar

65 grams granulated sugar

1 teaspoon ground cinnamon

1/8 teaspoon salt

113 grams butter, melted

215 grams AP flour
Prepare the Crumb Topping
Add sugars, cinnamon and salt to melted butter, whisk until combined. Add flour and stir until crumbs form. Let sit for about 20 min. Then break up the crumbs to use on muffins.
Prepare the Muffin Batter
Combine flour, salt, baking powder in a bowl. Combine vegetable oil, sugar, milk, vanilla and eggs and whisk until combined. Add dry ingredients to wet ingredients and mix just until combined. Do not over mix. Batter should still be lumpy but with no visible dry flour.

Scoop batter into muffin tins about 1/2 to 2/3 full, add some cranberry sauce (about 1 Tbsp per muffin) and swirl with a toothpick. Top with crumb topping. Bake 350 for about 15-20 until done.
Note: Muffin batter and crumb topping can be made a head and kept in the fridge for up to 2 days.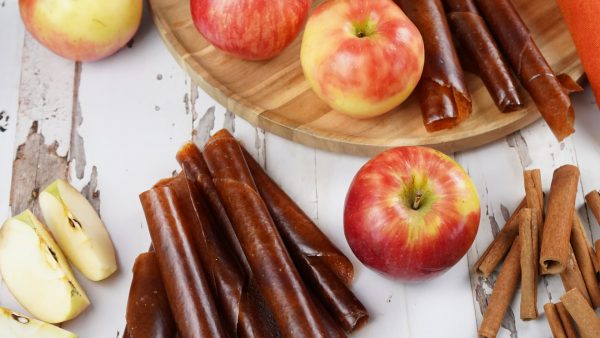 We're closing out a year of Preservation with our recipe for Apple Rollups, the perfect treat for adults and kids alike.
Read More »