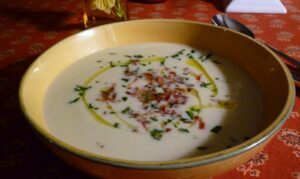 Ingredients
1 celery root, cut into ½-inch cubes

1 celery stalk, roughly chopped

2 medium onions, thinly sliced

4 ripe pears, peeled, deseeded, and cut into ½ inch pieces

2 qts vegetable or chicken stock

½ cup crème fraiche, plus more for garnish

2 sprigs thyme

4 tbsp olive oil

1 cup roasted hazelnuts

Sea salt, to taste
Procedure
Heat a large sauce pot over medium-low heat and sweat the onions with the oil and a large pinch of salt. Cook, without coloring the onions until they are tender, about 10 minutes.

Add the pears, celery, celery root, and thyme and cook for an additional 5 minutes. Add the stock and simmer until the celery root is completely tender, about 30 minutes.

Working in batches, blend the soup until it is smooth. Season the soup with more salt and stir in the crème fraiche. Garnish the soup with a dollop of crème fraiche and hazelnuts.
---