By Georgette Farkas
Makes: 6-10 servings
Can you call these latkes if they're made with butternut squash and chickpea flour? While I am typically a traditionalist, this very non-traditional take on the latke is the result of my current obsession with butternut squash and a quest for unexpected ways to use it. Binding the mixture with chickpea flour is inspired by a recipe for socca, a sort of a savory Provençal crèpe. By all means, serve these the old fashioned way with apple sauce and sour cream or a fruit chutney.
1 medium onion, finely chopped (8 oz))

1 butternut squash, peeled, seeded and grated (1.5 lbs or approx. 5 cups)

3 tsp kosher salt

3 eggs, lightly beaten

3 tbs chickpea flour

½ tsp ground black pepper

1 tbs dried sage

1 cup and 2 tablespoons vegetable oil
Place 2 Tablespoons Of Olive Oil In A Large Skillet And Sauté Onion Over Medium To Low Heat Until Transparent And Soft, About 10 To 15 Minutes. Set Aside To Cool.

In a large colander, toss together grated squash and salt. Set aside over a bowl and let drain for approximately 20 minutes. Salt will cause the squash to release some liquid. Squeeze the squash in your hands to remove as much liquid as possible. Discard liquid and place squash in a mixing bowl with onions, eggs, chickpea flour, sage, and pepper and combine well.

Heat remaining oil in a large skillet over medium heat. The oil should be about ½ inch deep. After 2 to 3 minutes, test the heat of the oil with a tiny amount of latke mix. If the mixture sizzles, the oil is at the right temperature to begin frying.

Scoop a heaping tablespoon of the latke mixture into your palms and flatten it into a 3 to 4 inch patty. Gently place the latke into the oil and fry until golden brown, about 2 to 3 minutes per side. Fill the skillet with only as many latkes as will fit without crowding them. Continue frying in batches Place the finished latkes onto a paper towel-lined tray to absorb any excess oil.

Serve the latkes warm with applesauce and/or sour cream.
OPTIONAL
For a dressed-up version, consider topping each latke with a thin sliver of smoked salmon, a drop of sour cream and some thinly sliced chives.
I hope you will save the butternut squash seeds to toast them as they make an excellent snack. Separate the seeds, removing any clumps of squash. Toss in just enough olive oil to coat and season with salt and paprika. Spread on a sheet tray and bake at 350, approximately 20 minutes or until golden brown.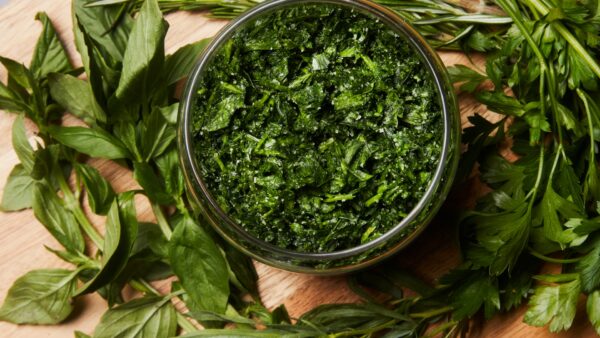 This month we're celebrating Preservation with an Herbed Salt recipe that adds flavor to any meal.
Read More »