By Great Performances
This month we're celebrating bell peppers. Now reaching their peak season, they are the perfect addition to your favorite summer—or early fall—dishes. They can be found in a rainbow of colors: red, orange, yellow, green and purple, and add both color and flavor to dishes. Peppers are low in calories and rich in vitamin C and other antioxidants, making them an excellent addition to a balanced and healthy diet. They're also incredible versatile and can be roasted, sautéed, eaten raw, or added into your favorite cocktail.
For best results, store peppers in a plastic bag in the refrigerator and use within a week.
Enjoy our favorite pepper dishes at our venues and be sure to try our recipes below or check out the Katchkie Farm recipe archive.
---
Celebrate Bell Peppers at our Cafés
September 15-21
Red Pepper Bisque – peekytoe crab salad
---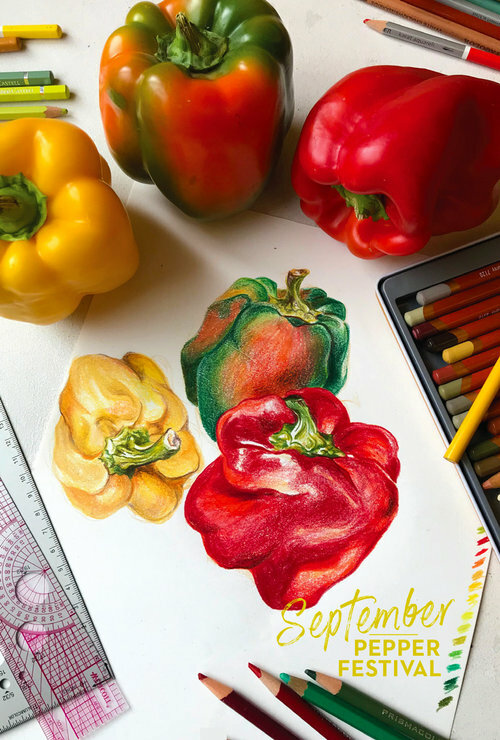 By Sous Chef Jhonattan Jordan, Great Performances
Ingredients
8 red bell peppers

1 onion, chopped

2 fresh or fresh frozen kaffir lime leaves

24 fl oz vegetable broth

8 oz coconut milk

2 tbsp chopped cilantro (plus 6 nice leaves for garnish)

8 oz peekytoe crabmeat, cleaned with excess moisture squeezed out

1 lime for seasoning crab meat

6 cloves garlic, minced

Salt and pepper to taste

2 tbsp olive oil
Procedure
In a large saucepan place red bell pepper, onion, kaffir lime leaves and minced garlic sauté on medium heat until tender.

Add vegetable broth, stirring well. Reduce heat to low and let simmer for 10 minutes.

Transfer contents to a blender and puree until smooth. Run the soup through a strainer and stir in coconut milk. Taste for seasoning.

Pour soup into a container and refrigerate until chilled. Prepare 6 soup bowls and place in the refrigerator to chill.

Mix peekytoe crab with lime juice, 2 tbsp chopped cilantro, salt and pepper. Place the 1 ounce of dressed peekytoe crab in each bowl, reserving remainder for garnish.

Divide chilled soup between the 6 chilled soup bowls with crab meat, and garnish with remaining crab. Top with a cilantro leaf and a drizzle of extra virgin olive oil.
---