Contributions by The Sylvia Center and Chef Saul Bolton
This Mother's Day, skip the crowds at restaurants and create memories in the kitchen while cooking fresh, healthy meals together. Here are five delicious recipes for the whole family to enjoy.
POTATO LEEK ASPARAGUS FRITTATA
2 tbsp olive oil

1 leek, thinly sliced

1 bunch asparagus, trimmed and cut into 1-inch pieces

1 lb potatoes

10 large eggs

8 oz cheddar cheese, grated

1 tsp salt

Salt and pepper to taste
Preheat oven to 400° F. Cook whole potatoes in boiling salted water until tender. Drain, cool, and dice. Set aside.

Heat oil in a large oven-safe sautés pan. Add leeks, cook 2-3 minutes. Add asparagus, sauté for 4-5 minutes or until asparagus is tender. Add the diced potato.

Beat eggs until frothy. Add 1 teaspoon salt and some fresh pepper.

Add beaten eggs to the pan. Add cheese and cook over medium heat until barely set about five minutes.

Transfer the pan to the oven. Bake for 7-10 minutes until the top of the frittata is nicely browned and eggs are set. Let cool for a few minutes and gently slide out of the pan onto a cutting board. Slice and serve.
1 ½ cups unsweetened flaked coconut

1 ¼ cups all purpose flour

½ cup packed brown sugar

¼ cup white sugar

½ teaspoon salt

¾ cup cold unsalted butter, cut into pieces

1 ½ cups rolled oats

1 cup diced strawberries
Preheat the oven to 375°F. Spread ¾ cup of coconut evenly on a baking sheet and toast in the middle of the oven, stirring once, until golden, about 8 minutes. Set aside.

In a food processor, combine flour, brown sugar, white sugar, and salt, then add butter and blend until a dough begins to form. Transfer to a bowl and knead in oats and toasted coconut until combined well.

Set aside ¾ cup of dough to use as a topping, then press the rest evenly into the bottom of a parchment, lined 13- by 9-inch baking pan. Spread strawberries over it.

Crumble the reserved dough evenly over strawberries, then sprinkle with remaining ¾ cup (untoasted) coconut.

Bake in the middle of the oven until golden, 20-25 minutes, then cool in the pan on a rack. Loosen from the sides of the pan with a sharp knife, then lift out in 1 piece and transfer to a cutting board. Cut into 12 bars.
6 tbsp butter

¾ cup sugar

½ lemon, zested

1 cup plain yogurt

1 large egg

1 ½ tsp baking powder

½ tsp baking soda

¼ tsp salt

1 cups all purpose flour

½ cup whole wheat flour

1 ½ cups blueberries, fresh or frozen
Heat oven to 375°F. Line a muffin tin with paper liners or spray each cup with a nonstick spray.

Melt butter in the bottom of a large bowl and whisk in sugar, lemon zest, yogurt and egg until smooth.

Whisk in baking powder, baking soda and salt until fully combined, then lightly fold in flour and berries. Batter will be very thick, like a cookie dough.

Divide between prepared muffin cups. Bake for 25-30 minutes, until tops are golden and a toothpick inserted into the center of muffins comes out clean. Let cool in pan for 10 minutes, then cool completely on a rack.
HAPPY MOTHER'S DAY MORNING FRUIT SALAD
1 qt fresh ripe strawberries, cut in quarters

1 ruby red grapefruit, cut into supremes

1 navel orange, cut into supremes

4 tbsp fresh mint leaves, stacked on one another and sliced thinly

½ cup Saint Germaine liqueur

1 pt heavy cream

Honey to taste
Whip heavy cream to soft peaks. Add honey to taste. Set aside.

Combine strawberries, grapefruit and oranges with Saint Germaine. Gently combine.

To serve, divide macerated fruit between 6 small individual bowls. Top each with a dollop of honey-scented whipped cream. Garnish each bowl with fresh mint.
LINGUINE WITH KALE AND SWEET PEA PESTO
1 lb linguine

3 cups green kale, chopped

1 cup fresh English peas

½ cup raw cashews

½ cup olive oil

4 garlic cloves

2 tsp kosher salt

1 lemon, zested (zest chopped) and juiced

Fresh black pepper to taste

Crushed chili flakes to taste
Bring a large pot of salted water to a boil

Add pasta, stir. Cook to al dente.

Combine kale, peas, cashews, garlic, lemon zest and juice, salt and olive oil in a food processor. Process until smooth.

Drain the pasta and return to the pot, add the pesto and toss. Season with black pepper to taste.

Divide between 6 warm pasta bowls and serve.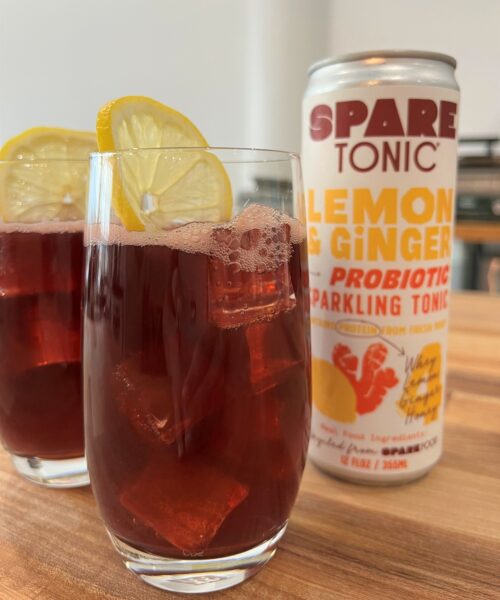 We're celebrating Climate Week with our friends at Spare Tonic and their take on a Spanish classic, the "Spare Tinto".
Read More »