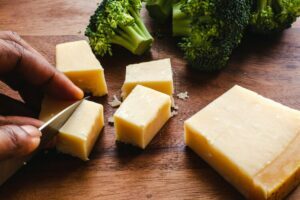 Chef Dana MarieMoore shares her perennial Thanksgiving favorite. Steeping the corn cobs in the stock and milk adds to the fresh corn flavors in the polenta — make sure not to skip this step!
Broccoli and Cheese Polenta
Ingredients
2 cups polenta (instant or regular)

2 cups chicken stock

2 cups whole milk

2 oz fresh thyme

2 oz olive oil

3 ears corn, kernels removed and cob reserved

2 oz garlic, minced

2 oz shallots, minced

1 1/2 oz lemon zest

1/4 pound broccoli, tops minced

1 cup Parmesan cheese

1 cup Mascarpone cheese

salt and pepper to taste
Procedure
Combine chicken stock, milk and a pinch of salt and heat in a small sauce pot with corn cobs. Simmer 20 minutes then discard corn cobs.

In a separate sauce pan, heat olive oil and add garlic, shallots, fresh corn kernels and a pinch of salt. Sweat until fragrant. Add heated stock and milk mixture and bring to simmer.

Slowly whisk in polenta and cook until polenta has puffed and doubled in size. Remove from heat.

Add Parmesan and Mascarpone cheeses, fresh thyme and lemon zest. Fold in minced broccoli heads. Season with salt and pepper.
---