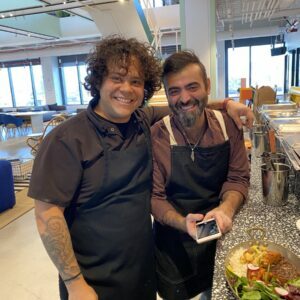 In October 2019, two friends—Nas and Dan—teamed up to create The Migrant Kitchen: a long-dreamt-of catering business that focused on providing meaningful opportunities for immigrants to showcase the cuisines and cultures of their home countries while earning more than just minimum wage. In doing so, they had absolutely no idea (like any of us) that COVID-19 was about to turn the world upside down…
Once COVID hit NYC, Nas and Dan quickly pivoted from their standard catering operation to serving food to frontline healthcare workers fighting against the pandemic. As COVID continued to change the way we lived and ate, our operation quickly grew into something much greater. Within the next few months, TMK was serving over 60,000 meals a week to food insecure communities across NYC.
Now we're getting back to our original mission – this time we're sharing everything we're cooking with the entire city.
Our locations in the Upper East Side, Brooklyn and (soon) the Upper West Side serve American food inspired by immigrants. We aim to prove that shawarma and carnitas are just as American as hamburgers and apple pie. 
Featured dish provided by The Migrant Kitchen team
on December 28th, 2021:

Marinated and Smoked Pork Carnitas with
Turmeric Rice, Black Beans, Pickled Red Onion, Cotija Cheese, and Chimichurri
Featured dishes provided by The Migrant Kitchen team
on November 16th, 2021:

Lamb Empanada

Vegetable Empanada:
Mushroom, Spinach and Fontina Cheese
The Migrant Kitchen
1433 1st Avenue,
New York, NY 10021
917-409-1417
Timeout Market
55 Water Street,
Brooklyn, NY 11201
Upper West Side – Coming Soon
157 Columbus Avenue,
New York, NY 10023
Follow The Migrant Kitchen: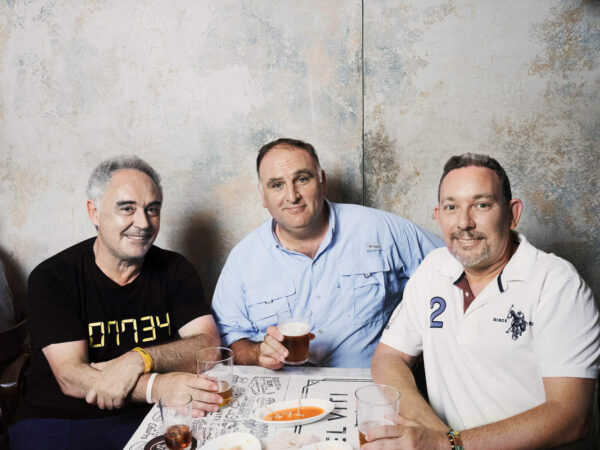 People's Kitchen
Mercado Little Spain Chef José AndrésCredit: Scott Suchman Twice named to Time's "100 Most Influential People" list and awarded "Outstanding
Read More »