We are a first generation Greek, family-owned restaurant that prides itself on the experience as well as our fresh and authentic food. Each summer we would return as a family to Greece to reconnect to our roots and enjoy the island's way of life. Our children are being raised in the same way to be proud of their heritage and culture.
Souvlaki GR was launched as a food truck and has grown to three full-service restaurants and now two food trucks. When you dine here, we want you to feel like you are a part of our family. Many dishes on the menu are recipes passed down to us from generations. Please join us for a relaxed and homemade dining experience.
Welcome to our "little taste of Mykonos in the heart of NYC". From the moment you step through our blue doors, we want you to feel like you have been transported to the island of Mykonos in every sense. We play traditional Greek music and our space celebrates the atmosphere of an outdoor island taverna.
Mykonos, an island in the Cyclades group in the Aegean Sea, is one of the most popular Greek isles. It welcomes a diverse crowd of visitors and charms all with its beautiful beaches and nightlife. We believe that the cadence and pace of Greece is quite magical and that is why we want to transport you there.
Featured Dishes provided by Souvlaki GR
on July 29th, 2021:

Fakosalata Chicken Salad with Chickpea, Orzo and Lentils, Red & Yellow Bell Peppers, Red Onion, Zucchini, Mixed Greens, Extra Virgin Olive Oil, Lemon Juice

Baklava for Dessert
Souvlaki GR
Midtown West:
162 W 56th St, New York, NY 10019
Midtown East:
231 E 53rd St, New York, NY 10022
Lower East Side:
116 Stanton Street, New York, NY 10002
and 2 Food Trucks
Follow Souvlaki GR: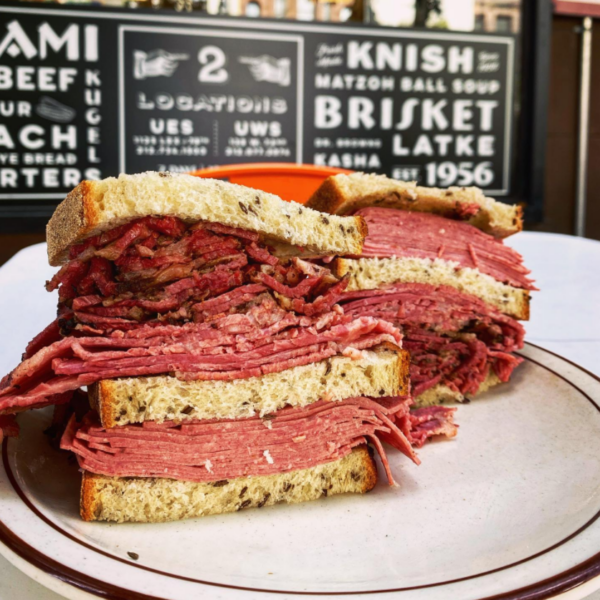 People's Kitchen
People's Kitchen partners with Pastrami Queen to bring our guests world famous pastrami sandwiches.
Read More »