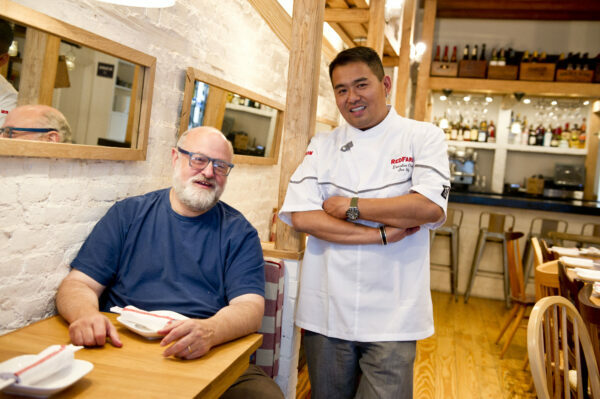 New York, NY – RedFarm is open at 529 Hudson Street in the West Village. This new destination from dim sum master chef Joe Ng and Chinese food expert Ed Schoenfeld aims to be one of the most exciting and influential restaurants in the country. RedFarm brings a greenmarket sensibility to modern and inventive Chinese food and super-charged dim sum complemented by modern, rustic décor.
Joe Ng's menu takes a clean, fresh approach to Chinese food. Signature items include clever dim sum creations for which Ng is known and small plates: Pac Man dumplings; yuzu wasabi shrimp; mushroom spring rolls that evoke a chanterelle mushroom; and a sculptural chicken salad. Modern takes on classic main dishes includes remarkably tender marinated rib steak with steamed baby bok choy and spicy steamed sea bass.
Restaurant designer Jun Aizaki, of Brooklyn's Crème Design, brought RedFarm's locavore, farm-to-table mindset to life in the 1828 townhouse parlor-level space. Painted white brick walls and exposed wooden beams add intimate warmth to the 1,200 square foot room. Aizaki outfitted the room with wooden tables, chairs, crates, red and white patterned fabrics to create a classic farmhouse feel. Menus, chopsticks and flora hang from rustic piping above the five booths and two communal tables.
Featured Dish provided by Chef Joe Ng
on May 6th, 2021:

Ginger-Soy Grilled Chicken with Sesame Noodles
RedFarm
2170 Broadway, New York, NY 10024
529 Hudson St, New York, NY 10014
Follow RedFarm: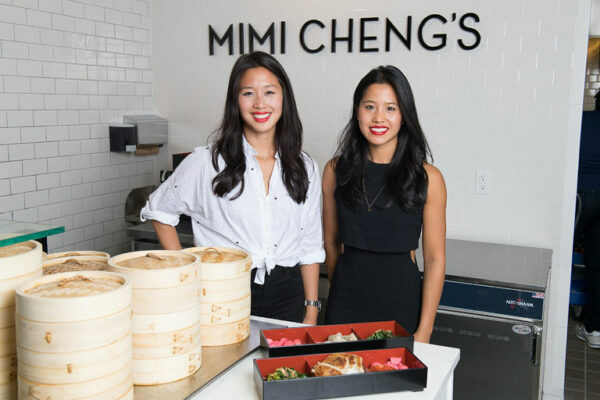 People's Kitchen
People's Kitchen partners with Mimi Cheng's to bring our guests Taiwanese dishes by Hannah & Marian Cheng.
Read More »