Danny Bowien is a chef and restaurateur born in South Korea and raised in Oklahoma. He is the founder and owner of Mission in New York City and co-founder of Mission Chinese Food in San Francisco, California. Bowien is a James Beard Award winner and the main subject of season six of the food and travel show, The Mind of a Chef.
Mission Chinese gets its roots from the west coast, having begun as a street food concept in the Mission District of San Francisco by Anthony Myint. Over the next two years, Mission Street Food became Mission Chinese Food: a restaurant-within-a-restaurant and trailblazer of the pop-up genre.
Myint came to partner with Danny Bowien, an ambitious young chef who focused the project on mouth numbing flavors of Sichuan cuisine. With the prospect of opening a standalone location of Mission Chinese Food, Danny Bowien and Youngmi Mayer moved to New York City and signed the lease on a modest Thai takeout spot with an attached beer garden on Orchard Street in the Lower East Side. This new iteration of Mission Chinese Food was a runaway hit and was named New York Times Restaurant of the Year for 2012. Shortly thereafter, Bowien won a James Beard award for "Rising Star Chef". In 2013, Mission Chinese Food on Orchard Street was closed by the Department of Buildings as a result of unpermitted construction by previous ownership. Shortly thereafter, Mission Chinese Food found a new home for its flagship location on East Broadway in Chinatown. In 2018, Bowien opened a second New York location located in the industrial neighborhood of Bushwick, Brooklyn.
Featured dishes provided by Chef Danny Bowien
on April 21st, 2022:

Mission Bulgogi Beef Bibimbap
Mission Vegetarian Bibimbap
Featured dishes provided by Chef Danny Bowien
on October 5th, 2021:

Kung Pao Pastrami with Jasmine Rice
Vegan Kung Pao Cauliflower with Jasmine Rice
Featured dish provided by Chef Danny Bowien
on June 10th, 2021:

Green Tea Japchae:
Sweet Potato Noodles, Shiitake Mushrooms,
Spring Vegetables & Herbs, Matcha, Hoisin, Ginger-Scallion Oil
Featured dish provided by Chef Danny Bowien
on April 8th, 2021:

Vegetarian Bibimbap Bowl:
Smoked Ajitsuke Mushrooms, Edamame, Brown Rice,
Egg Crepe, Kimchi, Cabbage, Squash, Shio Kombu, Arare Rice Crackers
Mission Chinese
599 Johnson Avenue, Brooklyn, NY 11237
718-628-3731
Follow Mission Chinese: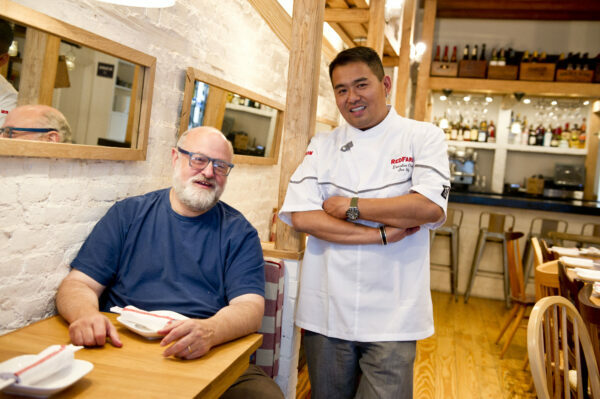 People's Kitchen
People's Kitchen partners with RedFarm to bring our guests innovative, inspired Chinese cuisine with greenmarket sensibility.
Read More »