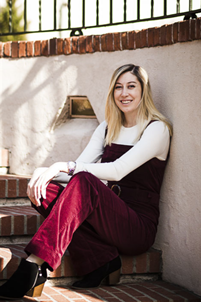 MORGAN GOLUMBUK, EVENT MANAGER
I have so many favorite food memories, but the one that always comes to mind is the prosciutto and cheese sandwich I got from a little shop on the beach in Cascais, Portugal. I had just finished a long morning of learning to surf, and was absolutely, blissfully exhausted. Something about the warmth of the sun, the sound of the waves, and the simplicity of the sandwich brought out all the best feelings; it was a moment of total relaxation and joy.
I love "making it happen!" It sounds corny, but I am constantly in awe of our team and the way we dazzle clients with our work, especially in the face of ever-shifting challenges. The puzzle pieces come together differently each time, and I relish the opportunity to add our perspective in a unique way for each event.
I wrote out a whole thing about empathy and then deleted it because it didn't sound like "me" and my voice. So what I really want to say is: Be nice! Love your neighbor, love yourself, love the dismissive barista who doesn't give you the time of day even though you've been going to the same coffee shop for months. Love your colleagues, love your clients, love the good work and the busy work. Don't take things personally but don't take any nonsense either. And, most importantly, eat well, drink well, tip well, and be well!