THANKSGIVING HOLIDAY DINNER
Sharing Our Gratitude And Celebrating Family
Our Thanksgiving dinners this year may not have the same number of seats around the table, but we hold all of our loved ones close to our hearts. Our GP Family would love to cook for yours, letting you focus on your family, friends and loved ones.
Simply Heat And Serve
Georgette Farkas, our culinary ambassador, has created a delicious menu including perfectly cooked turkey and all the trimmings. Succulent turkey, savory stuffing and umami-rich gravy make up the main dishes. Tantalizing side dishes featuring seasonal produce from Katchkie Farm, our organic farm in New York's Hudson Valley, that will have you and your guests indulging in seconds. You'll finish your meal with our light as air pumpkin chiffon pie, sure to appeal to pumpkin pie diehards and skeptics alike. Dinner add-ons enhance your Thanksgiving with options for starters, sides and sweets.
We are also pleased to offer a vegan entrée as one of our dinner enhancements. We've split and roasted Delicata squash and stuffed it with a butternut squash and chickpea risotto.
$60 per person with a 4 person minimum. Orders must be placed by midnight on Sunday, November 22, 2020.
Delivery available to New York City, Northern New Jersey, Westchester County, and The Hamptons for additional fee.
Deliveries will be made between noon and 5:00 pm on Wednesday, November 25.
Pickup available at Great Performances in The Bronx, NY, Katchkie Farm in Kinderhook, NY, or Domaine Franey in East Hampton, NY.
Pickup will be available between 2:00 pm and 5:00 pm on Wednesday, November 25.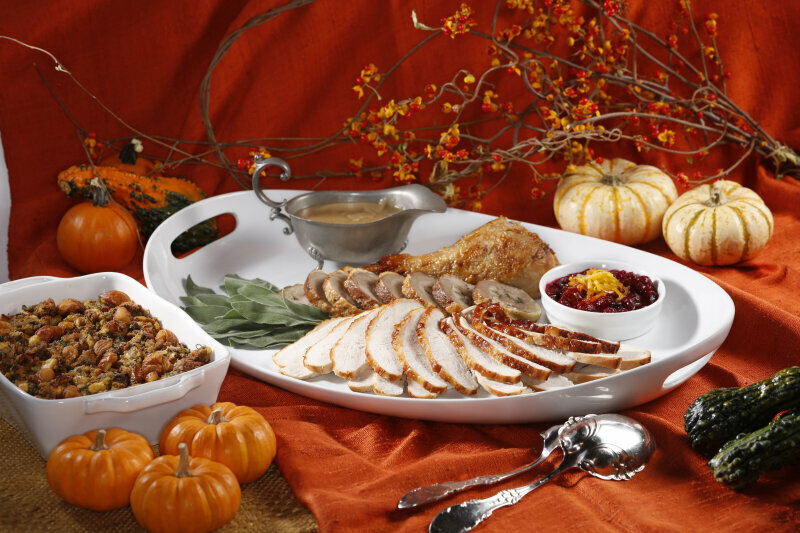 $60 per person; 4 person minimum order
Roast Turkey
Carved Breast, Thigh and Whole Drumstick (GF, DF)
Brioche, Turkey Sausage, Sage, Sweet Onion and Celery Root Stuffing
Cranberry and Citrus Zest Compote
(Vegan, GF)
Turkey Gravy
(GF)
Mashed Yukon Gold Potato and Celery Root
(Vegetarian, GF)
Orange and Spice Roasted Carrots, Toasted Pistachio
(Vegan, GF)
Autumn Harvest Salad
Roasted Delicata Squash, Red Beets, Pears, Lolla Rossa, Frisée, Spiced Pumpkin Seeds, Goat Cheese Bonbon, Shallot Vinaigrette (Vegetarian, GF)
Pumpkin Chiffon Pie, Graham Cracker Crumb Crust
(Vegetarian)
DF: Dairy Free | GF: Gluten Free
Smoked Trout Spread – $25
Scallions, Caraway Seeds, Multigrain Lavash Crackers
(8 oz; serves 4-6)
Butternut Squash Soup – $20
Onyx Rye Crisp, Sunflower and Sesame Seeds (Vegan, DF)
(1 qt; serves 4-6)
Roasted Brussels Sprouts – $25
Green Apple, Turnip, Granny Smith Vinaigrette
(1 lb; serves 4-6)
Sage Roasted Delicata Squash – $15
Butternut Squash and Chickpea Risotto (Vegan, GF)
(1/2 squash; serves 1)
Minimum order 4
Bourbon Pecan Pie – $30
Whipped Cream
(10" pie; serves 6-8)
Double Crusted Apple Pie – $25
(10" pie; serves 6-8)
Pear-Cranberry Crumble Pie – $30
(10" pie; serves 6-8)
FREQUENTLY ASKED QUESTIONS ABOUT GREAT PERFORMANCES' HOLIDAY DINNER
You'll get a complete Thanksgiving dinner complete with turkey, stuffing and gravy. You'll also get an assortment of sides featuring some favorite Thanksgiving flavors including mashed potatoes, roasted carrots, Delicata squash and more. Our light as air pumpkin chiffon pie ends your meal on a delightfully sweet note.
We also have a variety of starters, sides and sweets if you're looking for extra indulgence.
Many of our dishes are vegetarian or vegan. We've also introduced a vegan entrée, Sage Roasted Delicata Squash stuffed with butternut squash and chickpea risotto. For more options, please contact celebratefood@greatperformances.com.
The food is prepared in our kitchens and will be delivered fully cooked. We'll provide clear instructions on how to reheat the food along with a timeline.
Our holiday dinners will be delivered by our teams to the address specified in your order. If you have any special delivery instructions, please indicate that on the form and we'll do our best to accommodate you.
Yes! You can order as many servings as you like. Simply indicate on the order form and we'll make sure to send plenty of food for you and your guests.
Our holiday dinner is packaged for convenience and delivery. Foods to be heated in the oven are packaged in oven proof containers, while foods to be heated on the stove top are packaged in leak proof containers.
Yes, please use serving dishes you'd usually use for holiday dinners. We recommend a variety of serving platters and bowls.
Unfortunately, we require a minimum of four people. You can always save the additional meals for leftovers! For additional needs, please contact celebratefood@greatperformances.com.