EXCITING EVENTS AROUND THE BRONX: SEPTEMBER 2022
By Great Performances
Explore exciting community events around the Bronx during September of 2022.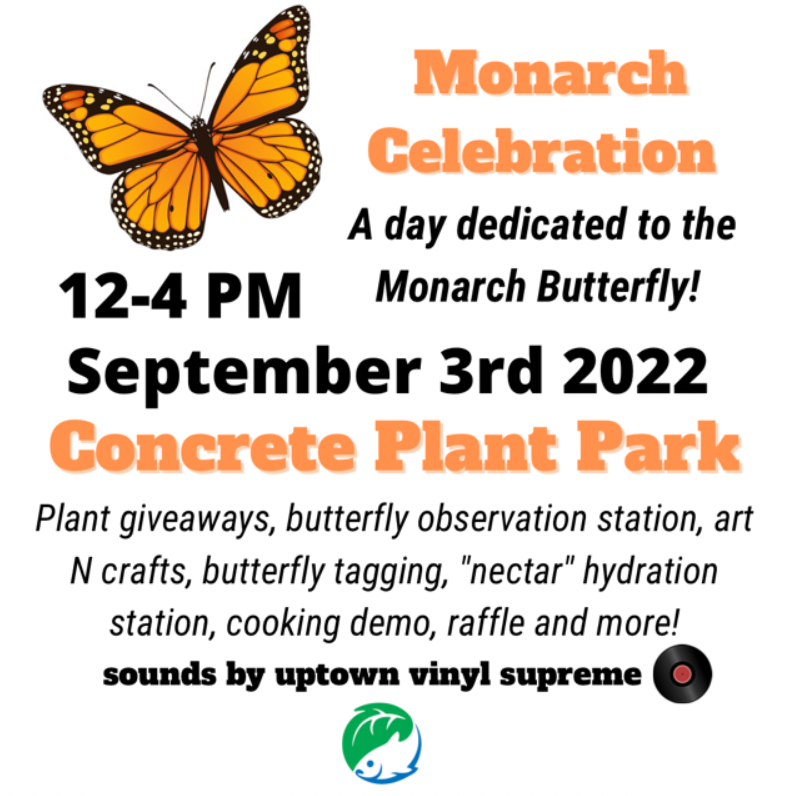 MONARCH CELEBRATION: A DAY DEDICATED TO THE MONARCH BUTTERFLY!
Saturday, September 3rd from 12:00pm to 4:00pm
Location: Concrete Plant Park
Come celebrate Monarch butterflies with us September 3rd at Concrete Plant Park! Join us for a day all about the Monarch butterfly. Plant giveaways, butterfly observation station, art N crafts, butterfly tagging, "nectar" hydration station, cooking demos, raffle, and more! Sounds provided by Uptown Vinyl Supreme.
Come early and help us plant pollinator plants in the Bronx River Foodway, an edible food forest for humans and pollinators alike!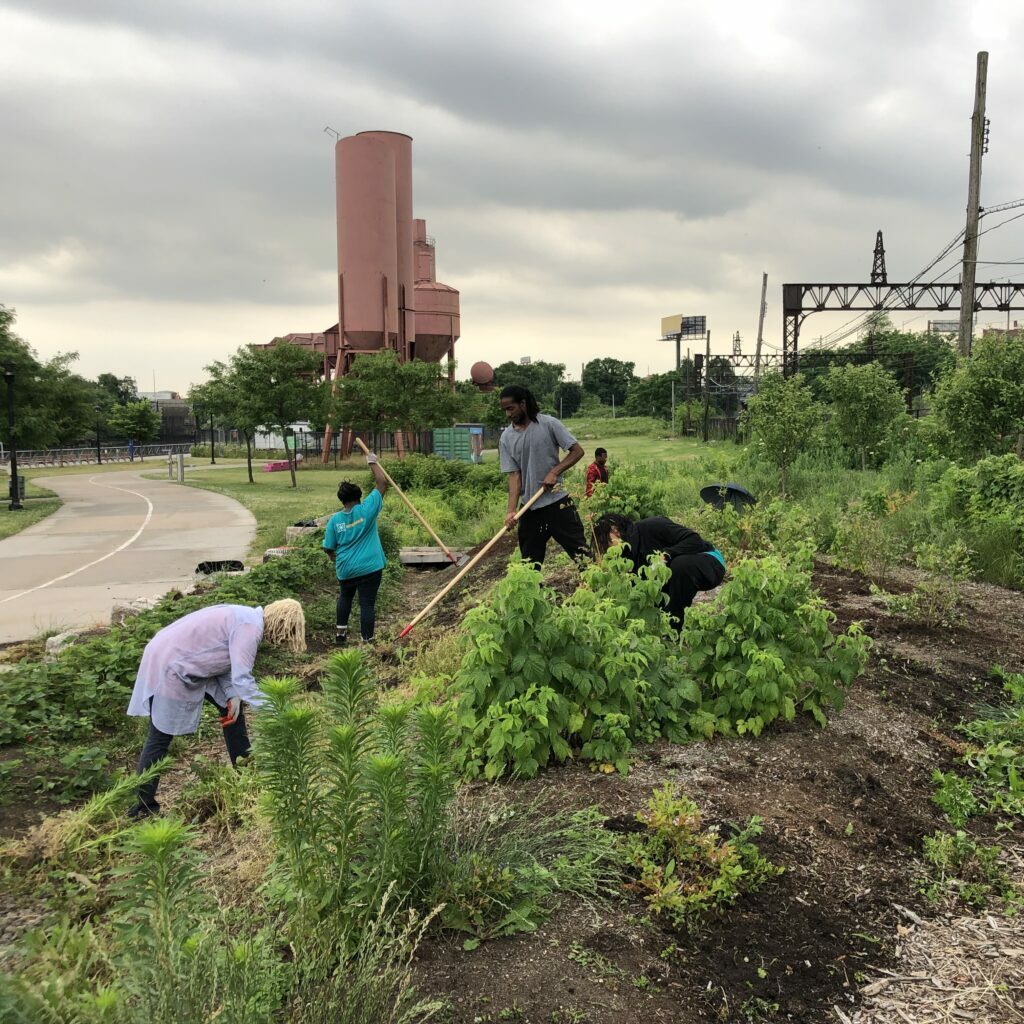 FOODWAY VOLUNTEER DAY
Tuesdays and Saturdays from 10:00am to 12:00pm
Location: Concrete Plant Park
Lend a hand at the Bronx River Foodway Tuesdays and Saturdays from 10-12pm. Help us weed the gardens, lay mulch/woodchips, and care for the plants at the Foodway. Learn about the medicinal and edible plants growing. Bring home some foraged fruit, herbs, and nuts!
BRONX PARK EAST FARMERS MARKET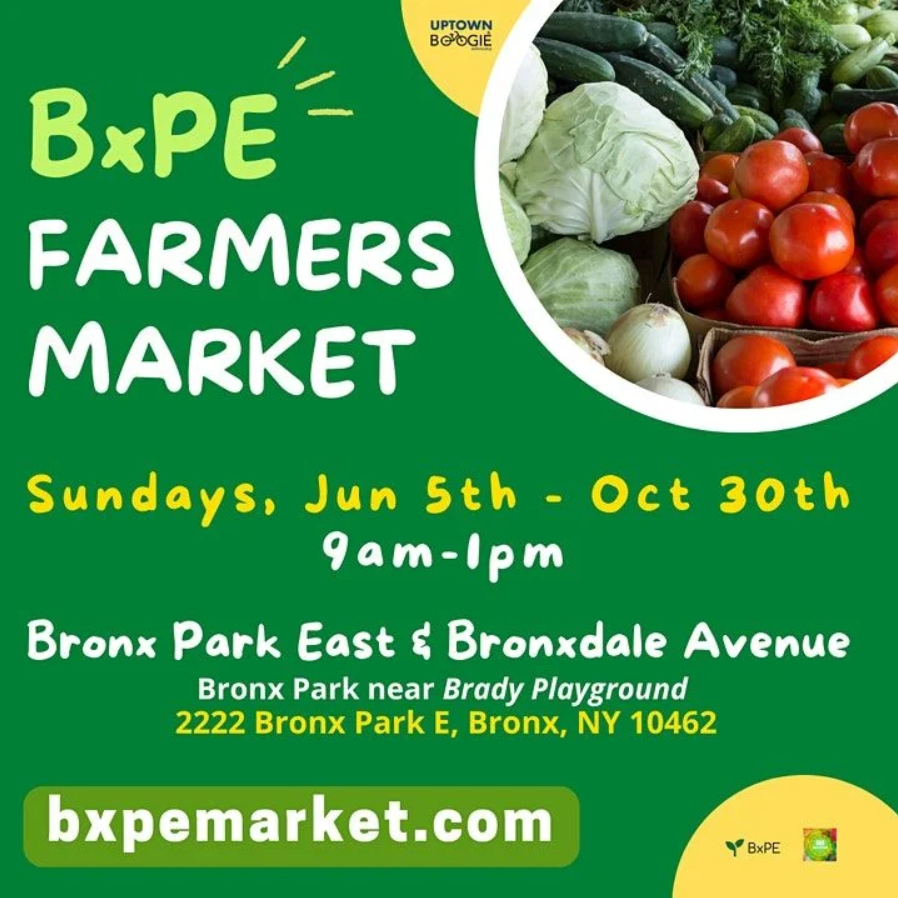 BRONX PARK EAST FARMERS MARKET
Sundays, June 5th through October 30th
Following 2021's successful first season, we are expanding into Bronx Park East Farmers Market. Bronx Park East Farmers Market & Community Supported Agriculture (CSA) program as a way to promote wellness initiatives, raise awareness about health issues, and generally show the community we care about their well being in Pelham Parkway, The Bronx. Benefits accepted.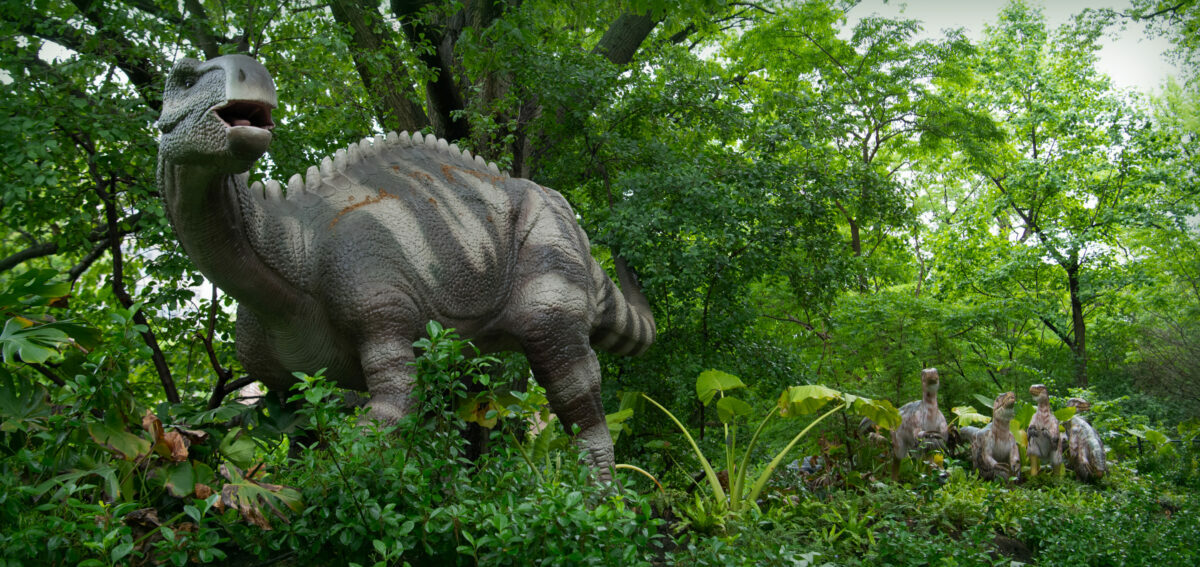 DINOSAUR SAFARI
through October 30th
Tickets: included with Bronx Zoo Admission
It's just like Jurassic Park—only without all the danger and drama. Dinosaur Safari returns to the Bronx Zoo, featuring prehistoric-themed events where kids can learn about the extinct species through tours, hands-on explorations and special events like a quarter mile walk through exhibit.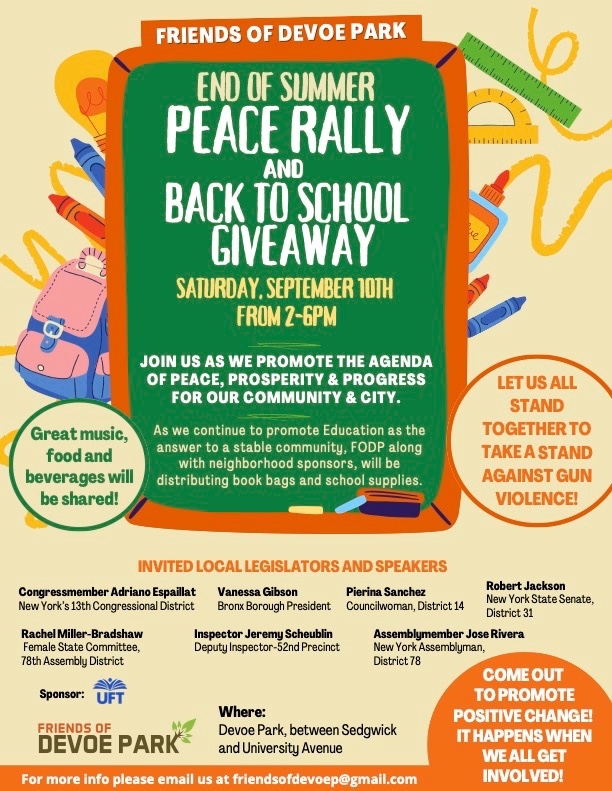 FRIENDS OF DEVOE PARK
End of Summer Peace Rally and Back to School Giveaway
Saturday, September 10th from 2:00pm to 6:00pm
Join us as we promote the agenda of peace, prosperity & progress for our community & city. As we continue to promote Education as the answer to a stable community, FODP along with neighborhood sponsors, will be distributing book bags and school supplies. 
NEW YORK BOTANICAL GARDEN

FALL-O-WEEN
Beginning September 17th
The tricks and treats of fall come to the Garden this year with plentiful pumpkins, hordes of gourds, and a wealth of opportunities to celebrate this season of frights and foliage. Join us for special weekends of pumpkin parades and carving face-offs, as well as the return of our beer sampling weekend for adults—newly reimagined for 2022! Evening events give kids the chance to show off their Halloween costumes, artisan demos share the flavors of the season with food and drink talks, and so much more as the leaves transition to oranges, yellows, and reds.

BALES & ALES
Saturday, September 24th from 12:00pm to 5:00pm
Tickets: Non-Members $48, Members $20
Celebrate fall with live music, beer, and outdoor fun. Raise a toast to the flavors of fall with a bevy of local breweries on NYBG's Daffodil Hill. Purchase a souvenir sampling cup to explore what's on offer, with unlimited samples of craft beers, ciders, and seltzers available, then join in on lawn games, relax to live music, and grab a bite to eat. While you're here, don't miss harvesting and fermentation demos with our visiting brewers—making for the perfect autumn afternoon out!
NYC PARKS PRESENTS: BOCCE
NYC Parks Bronx Bocce Tournament
Saturday, September 24th from 8:30am to 4:00pm
Join NYC Parks for our annual bocce tournament in the Bronx! Players will compete in this borough-wide tournament for a chance to advance to the citywide championships. Players are welcome to register the same day as a team of four players, or individually.