EXCITING EVENTS AROUND NEW YORK: OCTOBER 2023
By Great Performances
Explore Great Music, Art and More at Our Partner Venues This Month!
[AT] THE INTERSECTION
Friday, October 6th through Sunday, October 8th

Location: Apollo's Historic Theater
Tickets: start at $75
THE APOLLO'S FESTIVAL OF ARTS & IDEAS
CURATED BY TA-NEHISI COATES
From art, pop culture, politics and consumerism Black creatives are impacting the global consciousness like never before. Meet us [at] The Intersection for a weekend-long festival to explore the incredible range of Black innovation shaping our world. Curated by The Apollo's Artist in Residence Ta-Nehisi Coates. Don't miss this convening of artists, creatives, and thinkers at the center of Black creativity—where art and ideas come to life.
#ATTHEINTERSECTION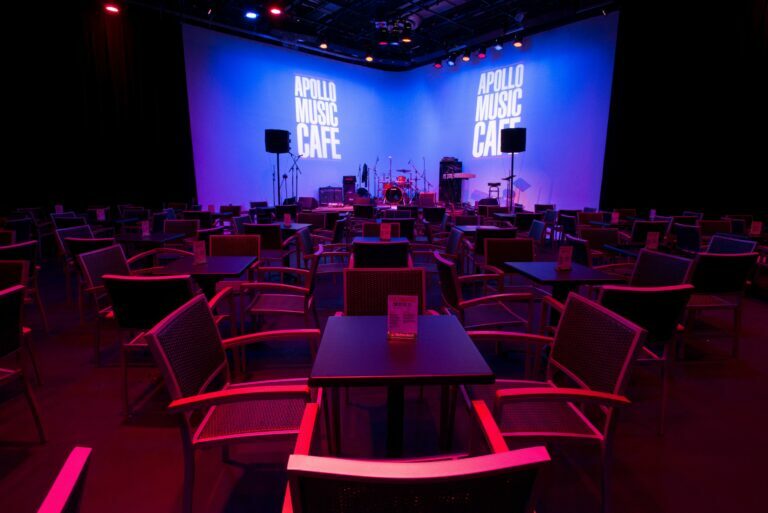 APOLLO MUSIC CAFE
Location: Apollo's Soundstage
Tickets: $30 (Plus $10 food and beverage minimum)
Perfect for date night, or a night out with friends, the Apollo Music Café series has served as a launching pad for numerous artists including Grammy winners Tank & the Bangas, PJ Morton and Samara Joy showcasing their unique artistry in an intimate nightclub setting. The series features diverse performances across a myriad of genres (R&B, hip-hop, soul, jazz, latin, pop, funk and rock) and showcases artists drawn from the independent music scene who are making their mark in the industry.
R&B singer-songwriter rum.gold opens the Apollo Music Café with a mesmerizing set that bridges his U Street Washington D.C. home to the avenues of Harlem. With a genre-defying voice and heady mix of ambient soul, settle into this spellbinding night of acoustic music with rum.gold on our intimate soundstage.
R&B Ali Caldwell has a voice that can both soothe and thrill, and has shared vocals alongside some of the most respected names in music including Usher and Christina Aguilera. Don't miss Ali as she evokes the spirit of a "sanger's room" and effortlessly lays out the blueprint of the Vocal Bible.
NOW OPEN: LEO CAFÉ
We are excited to open the new Leo Café!
Welcome to the Leo Café at Asia Society Museum, located at 725 Park Avenue in New York City.
The Leo Café features dishes representing the diversity of Asian cuisine, drawing from Japan, Indonesia, Vietnam, Thailand, and more. The menu includes small plates, salads, noodle bowls and rice bowls, sandwiches, and sweets. Beverage service includes tea, coffee, and Sanzo Asian-inspired sparkling water.
With a mix of counter and table service, you can relax and enjoy a midday meal in the Asia Society's airy and sky-lit Garden Court, among trees and flowering vines or take your meal to go.
The Leo Café is operated by Great Performances, crafting globally inspired menus using seasonal ingredients, including organic produce from Katchkie Farm in upstate New York.
EXHIBITION – MEIJI MODERN: FIFTY YEARS OF NEW JAPAN
October 3rd, 2023 through January 7th, 2024
Asia Society is proud to present Meiji Modern: Fifty Years of New Japan. This exhibition reevaluates a seminal era of turmoil, creativity, and transformation in Japan spanning the mid-nineteenth to early-twentieth centuries.
Comprising over 80 works—including paintings, prints, photographs, sculptural works, and objects in various media, such as enamel, lacquer, embroidery, and textiles—this exhibition presents some of the finest examples of Meiji-period artworks in American collections, both public and private. Arranged around traditional Japanese motifs, such as the sea and nature, Buddhist deities, beauties, and mythical animals, Meiji Modern highlights these themes as they are transformed by the introduction of newly imported techniques, materials, and objects, surprising the viewer with works of technical virtuosity, unexpected scale, and sheer beauty.
BROKEN CHORD
Thursday, October 19th through Saturday, October 21st

Location: BAM Strong, Harvey Theater

Tickets: start at $35
Near the end of the 19th century, a group of South African singers embarked on a tour of the UK and the US under the stage name "The African (Native) Choir," hoping to raise funds to build a school in the city of Kimberley. Though the tour was profitable (and even included an audience with Queen Victoria), proof of the Choir's performances was thought forever lost—until glass plates of the singers emerged in 2014, 125 years later.
The internationally acclaimed South African dancer and choreographer Gregory Maqoma revisits this forgotten moment in history to cathartic and uplifting effect in his BAM debut. Combining dance, song, and storytelling, the piece vividly reimagines the tour using a chorus of 16 singers and a quartet of musicians, all led by Maqoma himself. As the choir confronts racism at every turn, Maqoma and co-creator Thuthuka Sibisi use prejudice as a creative engine for a theatrical experience that pulses with hard truths and infinite creativity.
CORPS EXTRÊMES
Friday, October 27th through Sunday, October 29th

Location: Peter Jay Sharp Building, BAM Howard Gilman Opera House

Tickets: start at $35
BAM and Dance Reflections by Van Cleef & Arpels
Present
Chaillot – Théâtre national de la Danse
Choreography by Rachid Ouramdane
Choreographer Rachid Ouramdane comes to BAM for the first time with Corps extrêmes, his new gravity-defying piece of aerial dance. Athlete-performers traverse the stage together and alone, sometimes in ethereal white light, and sometimes while footage of death-defying outdoor activities is projected over them. As a study of the precipices of our world—both literal and figurative—this sweeping, meditative work invites us to find calmness in the space between earth and sky. It's a piece of staggering scale and vision, a work of interior physicality seeking escape, miraculous for its ability to bring about a jolt of adrenaline and follow it up with an ebb of still quietude.
BROOKLYN TALKS: SPIKE LEE AND DELROY LINDO
Thursday, October 12th from 7:30pm to 9:00pm
Location: Iris and B. Gerald Cantor Auditorium, 3rd Floor

Tickets: for the in-person event are $50 and include after-hours access to Spike Lee: Creative Sources. Member tickets are $30.
Enter the world of Spike Lee in this intimate conversation between the influential filmmaker and one of his frequent collaborators, actor Delroy Lindo. Lindo has played prominent roles in four of Lee's films: West Indian Archie in Malcolm X (1992), Woody Carmichael in Crooklyn (1994), Rodney Little in Clockers (1995), and Paul in Da 5 Bloods (2020), which earned him multiple awards for best actor.
The conversation celebrates the opening of Spike Lee: Creative Sources, offering a rare glimpse into objects from Lee's personal collection. It is moderated by Ashley Clark, curatorial director at the Criterion Collection and author of Facing Blackness: Media and Minstrelsy in Spike Lee's "Bamboozled" (2015).
JAZZ IN THE GARDEN: PHEEROAN AKLAFF'S NEW AFRICAN BREW
Sunday, October 22nd from 2:00pm to 4:00pm
Location: Steinberg Family Sculpture Garden, 1st Floor
Tickets: This program is free; registration is encouraged. Reserve tickets to visit the galleries.
Swing by the Museum's backyard Sculpture Garden for our Jazz in the Garden series, featuring performances by some of the city's best musicians. In October, hear innovative drummer Pheeroan akLaff pay homage to our exhibition Africa Fashion on its closing day. akLaff's New African Brew project takes inspiration from his time living and performing in West Africa and incorporates a range of musical styles.
Presented in partnership with Jazz Foundation of America.
CELEBRATE DÍA DE LOS MUERTOS
Sunday, October 15th at 3:00pm

Tickets: Free!
Overview
For the third year in a row, Caramoor celebrates the Mexican holiday Día de los Muertos, or Day of the Dead, with a lively, family-friendly afternoon of music and dance. Calpulli Mexican Dance Company returns with its passionate performers, colorful costuming, and cultural stories to our grounds for guests of all ages to enjoy, along with arts, crafts, and snacks.
Please bring a blanket or lawn chairs and enjoy the many festivities.
CAROLE J. BUFFORD
ROAR! Music of the Jazz Age
Cabaret in the Music Room | A Benefit Concert
Friday, October 20th at 8:00pm

Tickets: start at $75
Overview
Carole J. Bufford is a true sensation on the American vintage pop and cabaret scene, and it's no wonder why. With her inimitable delivery and magnetic stage presence, this Broadway World Vocalist of the Year will transport you to a world of pure musical delight with her powerhouse vocals, captivating stories, and unforgettable renditions of classics from the Jazz Age songbook made famous by the likes of Sophie Tucker, Louis Armstrong, Al Jolson, Fats Waller, Bessie Smith, Helen Morgan, Ruth Etting, and more. Come join Carole as she travels back to a time when flappers, vamps and, sheiks were shimmying in gin joints as a whirl of great social and political change happened all around them.
Continue the celebration with a festive post-concert reception.
KENYA'S 60TH ANNIVERSARY OF INDEPENDENCE
WITH AARON RIMBUI SWAHILI NATION
Wednesday, October 18th at 7:30pm and 9:30pm

Tickets: start at $20
ABOUT THE SHOW
New York-based Kenyan pianist, composer, and producer Aaron Rimbui presents Swahili Nation at Dizzy's Club. With a career spanning over two decades, Rimbui has made significant contributions to the jazz scene in Africa and beyond. Known for his virtuosity and innovative style, he combines traditional jazz elements with Kenyan rhythms, creating a captivating and unique sound. Prepare for an unforgettable concert experience as Aaron Rimbui and Swahili Nation showcase their collective talent and the sheer joy of their music.
PERFORMANCE LINEUP
Aaron Rimbui, Piano/keyboards
Kanjii Mbugua, Vocals
Michael Olatuja, Bass
Lumanyano Mzi, Drums & Percussion
Yunie Mojica, Saxophone
CHARLES LLOYD AT 85
Friday, October 13th and Saturday, October 14th at 8:00pm

Location: Rose Theater
Tickets: start at $40.50

WHAT TO EXPECT
A spellbinding performance from NEA Jazz Master and saxophone legend Charles Lloyd.

On Friday, he performs with Sangam, featuring Zakir Hussain and Eric Harland.

On Saturday, a performance by Lloyd's New Quartet featuring Harland, Jason Moran, and Reuben Rogers.

A free pre-concert lecture precedes each performance at 7pm.

Keep the party going after the show by taking your ticket stub to Dizzy's Club for a complimentary cover to that evening's Late Night Session at 11:15pm.
ABOUT THE CONCERT
NEA Jazz Master Charles Lloyd celebrates his 85th birthday at Rose Theater with two very special all-star bands. Friday evening he performs with Sangam, featuring iconic Indian percussionist Zakir Hussain and drummer Eric Harland, while on Saturday night Lloyd's New Quartet takes the stage, featuring Harland, pianist Jason Moran, and bassist Reuben Rogers.
SHERMAN IRBY'S MUSINGS OF COSMIC STUFF
THE JLCO WITH WYNTON MARSALIS
Friday, October 27th and Saturday, October 28th at 8:00pm

Location: Rose Theater
Tickets: start at $40.50

WHAT TO EXPECT
Hosted by special guest Neil deGrasse Tyson featuring the JLCO with Wynton Marsalis.

An otherworldly suite of music from JLCO saxophonist Sherman Irby.

The jazz journey of a lifetime.

A free pre-concert lecture precedes each performance at 7pm.

Keep the party going after the show by taking your ticket stub to Dizzy's Club for a complimentary cover to that evening's Late Night Session at 11:15pm.
ABOUT THE CONCERT
Hosted and narrated by Neil deGrasse Tyson, this world premiere of saxophonist and composer Sherman Irby's newest work unveils its celestial inspiration, from supernova stars and black holes to the formations of galaxies and life itself.
FIRST FRIDAY
Friday, October 6th from 10:00am to 9:00pm
Tickets:
Free all Day!
Join Poster House on the First Friday of every month for free admission and extended hours! Explore the museum's latest exhibitions and get in on the fun by attending a tour, workshop, performance, or activity throughout the day. Every First Friday is different, offering unique opportunities to engage with rotating exhibitions and the permanent collection.
EDUCATORS HAPPY HOUR
Thursday, October 12th from 4:00pm to 6:00pm
Tickets: Free for Educators!
Poster House welcomes Pre-K through university educators to view the museum's new exhibitions, Art Deco: Commercializing the Avant-Garde and We Tried to Warn You! Environmental Crisis Posters,1970–2020, and to learn more about our upcoming educational programming! Join us for a complimentary happy hour at the museum, and chat with the Education team about field trips, in-school residencies, teen programs, and CTLE-certified teacher professional development. Drop in anytime between 4pm and 6pm and raise a glass with your fellow educators!
This is a drop-in event for PreK–12 teachers, college/university professors, and Pre-K through university administrators. Advanced registration is required with a school email address; attendees can arrive anytime between 4pm and 6pm. Beer, wine, and light refreshments will be served, as well as a raffle for some Poster House swag.
INDIGENOUS PEOPLE'S WEEKEND
October 7th through October 9th

Location: on the grounds
Tickets: free, with admission to the grounds
This weekend, celebrate Indigenous People's Day, a holiday that honors Indigenous American peoples and recognizes their histories and cultures. In Glyndor Gallery, on Saturday, October 7, hear from exhibiting artists and a guest curator about art on view in the gallery, as they hold a conversation centered on envisioning our relationship to the land from an indigenous perspective. On Sunday, October 8, go on an indigenous themed birding walk. On both days, from 10AM to 1PM, make corn husk dolls at the Family Art Project and learn about the important role of corn in indigenous cultures.
This event series continues on October 7, 8 and 9, 2023.
CITYPICKLE AT WOLLMAN RINK
April 7th through October 9th
As reported in the New York Times:
CityPickle is bringing the country's fastest growing sport to Wollman Rink in Central Park! The rink will house 14 courts – the largest pickleball offering in the Northeast – with 196 hours of pickleball daily. Come play with us!
Whether you're a pickleball pro or a newbie looking for a fun way to stay active this season, we're welcoming all skill levels. Lessons, clinics, open play, leagues, and private events are also available. Grab a friend, grab a paddle, and meet us on the court!
CityPickle is proud to offer a professional playing experience with the court surface provided by Pickleball United USA, the official court partner for MLP and APP professional leagues and the nets provided by CD Pickleball Nets, the official net partner of the PPA and APP.
ICE SEASON RETURNS!
October 28th, 2023 through March, 15th, 2024

Wollman Rink NYC in iconic Central Park will open for ice skating daily from Saturday, October 28th, 2023 to March 15, 2024.
Don't miss your chance to skate at Wollman Rink NYC, the perfect place to enjoy an iconic New York experience!
Tickets go on sale starting October 3rd!