EXCITING EVENTS AROUND NEW YORK: JUNE 2023
By Great Performances
Explore Great Music, Art and More at Our Partner Venues This Month!
SPRING BENEFIT 2023
Monday, June 12th at 7:00pm
Location: Apollo's Historic Theater
The Spring Benefit, The Apollo's signature fundraiser, is a spectacular celebration of the Theater's rich legacy and its commitment to its future as a mission-led arts and cultural organization, a community anchor and an economic driver for Harlem and New York City. Known as one of the hottest events of the year, the event brings together New York City's elite business, entertainment and philanthropic communities in support of The Apollo.
Proceeds from the Spring Benefit support The Apollo's important performing arts, education and community initiatives. The Apollo is a not-for-profit organization.
THE BLACKENING NEW YORK PREMIERE @ TRIBECA FESTIVAL
Tuesday, June 13th at 6:30pm
Location: Apollo's Historic Theater
Tickets: start at $44.70
Tribeca Film Festival presents the New York Premiere of the upcoming film The Blackening at The Apollo's Historic Theater. Tickets are on sale now!
ALVIN AILEY AMERICAN DANCE THEATER
Tuesday, June 6th through Sunday, June 11th
Location: Peter Jay Sharp Building, BAM Howard Gilman Opera House
Tickets: start at $35
Part of 2023 Winter/Spring Season
"America's most popular dance company" (The New Yorker) brings its passionate energy and dazzling technique to BAM with two must-see programs that include signature works by Alvin Ailey—including his masterpiece Revelations—as well as recent and rarely performed pieces by renowned choreographers Kyle Abraham, Ronald K. Brown, and Twyla Tharp. Ailey made his debut on the BAM stage as a dancer in 1956 and established close ties to the community when the company began a residency at BAM in 1969. Today, under the leadership of artistic director Robert Battle, the company that forever changed American dance remains a vital force in the city where Ailey put down enduring roots—and around the globe.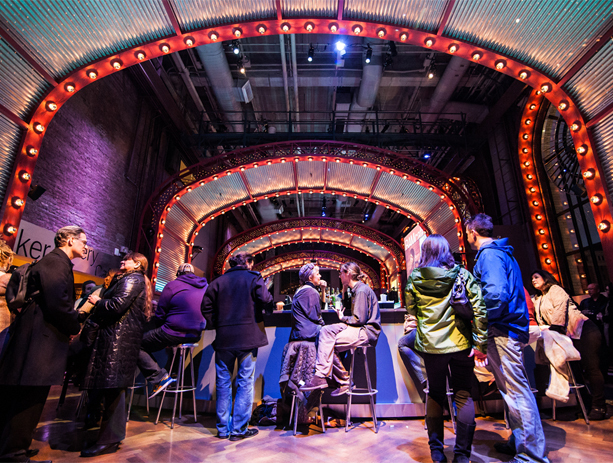 BAMCAFE LIVE
Location: Peter Jay Sharp Building, The Adam Space (BAMcafé)
QUITAPENAS – Friday, June 9th at 9:00pm
QUITAPENAS was formed under the warm California sun, and around a shared love of dance rhythms from the tropical Afro-Latin diaspora. Made up of first-generation sons of immigrant parents from Guatemala and Mexico, the group echoes then remixes history, inviting you to give in to rhythmic elation. QUITAPENAS borrows aesthetics from the sunny "California sound" of the 60s and 70s, and works with only one goal in mind: to make you get up out of your chair and dance.
Endea Owens – Saturday, June 10th at 9:00pm
Known as one of jazz's most vibrant emerging artists, Endea Owens is a Detroit-raised recording artist, bassist, and composer. She has won Emmy, Grammy and Peabody Awards, and has taught around the world. A Juilliard graduate, Endea Owens is forging a new future for her genre while honoring the jazz greats who came before her. Don't miss this bass virtuoso when she brings an ecstatic performance to BAMcafé Live.
FIRST SATURDAY: PRIDE
Saturday, June 3rd, all day
This program is free; registration is required and includes Museum general admission.
Celebrate Pride Month and twenty-five years of First Saturdays with a lineup of queer and trans artists. Together we honor the heritage of LGBTQ+ creative communities in Brooklyn while imagining their incandescent futures.
DRAG AND DRAW
Thursday, June 8th from 7:00pm to 9:30pm
Location: Steinberg Family Sculpture Garden, 1st Floor
Tickets: $35 and include after-hours admission to Oscar yi Hou: East of sun, west of moon, your own Brooklyn Museum tote, and a complimentary drink. Member tickets are $25.
Sip and sketch in our backyard Sculpture Garden this summer with a monthly series of life drawing classes. Drink and Draw—this month, Drag and Draw—is open to all levels and accompanied by a refreshing beverage and musical vibes by local DJs.
Celebrating the arts of drawing and drag in honor of Brooklyn Pride, the June installment features models from Yas Mama, Brooklyn's favorite night of Latinx drag. Experiment with colorful materials in this casual class led by teaching artist Natalia Muñoz. While you draw, enjoy music and shows by some of NYC's best drag performers, hosted by Chata, mother of the House of Bushwig.
OPENING NIGHT GALA
Honoring Peter and Kate Kend
Saturday, June 17th at 5:00pm
Join us to launch Caramoor's 2023 Summer Season with our celebratory Gala Benefit Dinner!
Show your enthusiasm for Caramoor and enjoy what makes it unique: exceptional live music with an equally exceptional culinary experience, all in our stunning gardens and grounds. After a pre-performance cocktail party, you'll make your way into the Venetian Theater for an Opening Night Concert featuring the unparalleled Broadway and operatic sensation Audra McDonald. With Great American Songbook melodies still cascading through your ears, you'll continue on to a seasonally-selected dinner paired with fine wines and dessert.
On this special night, we celebrate Peter and Kate Kend for their support and committed service. Caramoor's current vice chairman, Peter has served on our Board of Trustees for over 15 years. Through their dedication and passion, Peter and Kate have built a Caramoor community around them to ensure that music and the arts are available to everyone.
AMERICAN ROOTS MUSIC FESTIVAL
Presented in Collaboration with City Winery
Saturday, June 24th at 12:30pm
Tickets: start at $49
Overview
Caramoor's annual American Roots Music Festival is back with a day overflowing with spectacular music performed throughout our grounds spanning the genres of blues, Americana, folk, and bluegrass. Spend the day in the gardens and discover the next artist you'll add to your playlist. This day features multiple bands and ends with acclaimed singer-songwriter / ten-time Grammy-nominee Brandy Clark.
CARIBBEAN DIASPORA BIG BAND
Friday, June 23rd and Saturday, June 24th
Tickets: start at $25
ABOUT THE SHOW
A celebration of music, culture, and evolution, the Caribbean Diaspora Big Band radiates vitality across the Dizzy's Club stage for this two-night event. Led by New York-based bassist and music director Jonathan Michel, the ensemble bonds classic and modern big band music of the Caribbean diaspora, transmitting infectious rhythms and harmonic and textural explorations. Don't miss this vibrant performance featuring some of the music's most exciting voices, including Kali Rodriguez-Peña, Giveton Gelin, Christopher McBride, Willerm Delisfort, and Katy Rodriguez, among other rising stars.
FIRST FRIDAY
Friday, June 2nd from 10:00am to 9:00pm
Tickets:
Free all Day!
Join Poster House on the First Friday of every month for free admission and extended hours! Explore the museum's latest exhibitions and get in on the fun by attending a tour, workshop, performance, or activity throughout the day. Every First Friday is different, offering unique opportunities to engage with rotating exhibitions and the permanent collection. This June, celebrate Pride at Poster House with any of our LGBTQIA+ themed offerings!
RADICAL SIPS: AN EVENING OF BLACK PANTHER-INSPIRED COCKTAILS
Friday, June 9th from 6:30pm to 8:30pm
Tickets: $45
Did you know that the Black Panther Party had their very own cocktail? Panther Piss was the official drink of the BPP and would often make appearances at newspaper distribution events, community gatherings, and other important meetings. Taking note from the Party, Poster House is pleased to welcome DC-based restaurateur Andra "AJ" Johnson for an evening of cocktails inspired by Black Power to Black People: Branding the Black Panther Party. Enjoy three different cocktails developed by this expert mixologist, paired with an exclusive tour of the powerful exhibition led by Curator Es-pranza Humphrey! Come for the cocktails, stay for the posters! Poster House Members receive 20% off in-person events by entering their email address at check-out.
THE COMEUPPANCE
Tuesday, May 16th through Sunday, June 25th
Tickets:
start at $49
WORLD PREMIERE
Written by Branden Jacobs-Jenkins
Directed by Eric Ting
In Branden Jacobs-Jenkins' world premiere of The Comeuppance, the latest from "one of this country's most original and illuminating writers" (The New York Times), a self-proclaimed "Multi-Ethnic Reject Group" reconvenes for the first time in years to pregame for their twentieth high school reunion. They refamiliarize themselves with new versions of old selves over drinks, other substances, and a not-so-innocent truth-telling game. From the start, Death looms over and speaks through them, describing their disquieting and darkly comedic fates. The Comeuppance marks Jacobs-Jenkins' prolific decade as a Signature Premiere Resident playwright.
The Comeuppance takes the place of Jacobs-Jenkins' previously-announced Grass.
FATHER'S DAY PICNIC
Sunday, June 18th from 10:00am to 4:00pm
Join us in celebrating Father's Day with our custom picnic baskets available only at Wave Hill. To celebrate, Wave Hill opens the Wave Hill House Lawn for picnicking. Bring your blanket and relax while enjoying our custom menu with your loved ones. In addition to picnicking on the lawn, limited seating will be available at Wave Hill House in Armor Hall and the Kate French Terrace. Seating is available on a first come, first served basis.
Order today at https://wavehillpicnics.square.
CARNEGIE HALL CITYWIDE: ATTACCA QUARTET
Thursday, June 22nd from 7:00pm to 8:00pm
Location: Great Lawn, rain site: Armor Hall
Tickets: Free, and admission to the grounds if free on Thursdays!
Amy Schroeder, violin
Domenic Salerni, violin
Nathan Schram, viola
Andrew Yee, cello
In a special collaboration with Carnegie Hall, Wave Hill welcomes the Grammy award-winning Attacca Quartet for a free concert on the Great Lawn. With the dexterity to glide between music of the 18th and 21st centuries, Attacca Quartet has become one of the most versatile and outstanding ensembles of the moment.
"Classical music observers say we're living in a golden age of string quartets. It's hard to disagree when you hear the vibrant young players in New York's Attacca Quartet." —NPR
Presented in collaboration with Carnegie Hall. Lead support for Carnegie Hall Citywide is provided by the Howard Gilman Foundation. 
CITYPICKLE AT WOLLMAN RINK
April 7th through October 9th
As reported in the New York Times:
CityPickle is bringing the country's fastest growing sport to Wollman Rink in Central Park! The rink will house 14 courts – the largest pickleball offering in the Northeast – with 196 hours of pickleball daily. Come play with us!
Whether you're a pickleball pro or a newbie looking for a fun way to stay active this season, we're welcoming all skill levels. Lessons, clinics, open play, leagues, and private events are also available. Grab a friend, grab a paddle, and meet us on the court!
CityPickle is proud to offer a professional playing experience with the court surface provided by Pickleball United USA, the official court partner for MLP and APP professional leagues and the nets provided by CD Pickleball Nets, the official net partner of the PPA and APP.
VEGAN NIGHT MARKET
Every Tuesday, starting June 6th
Get ready to taste the best of plant-based cuisine at NYC's first-ever Vegan Night Market!
Starting June 6th, Wollman Rink will host the weekly series, from MHG Events, featuring the city's top vegan vendors, live music, and rotating food and product tastings until October 10th. Every Tuesday from 4-10pm!
Whether you're a seasoned vegan or just curious about the lifestyle, there's something for everyone at the Vegan Night Market.
Come for the food, stay for the fun, and leave feeling inspired to make positive changes in your life and the world around you. Take advantage of this exciting opportunity to celebrate all things vegan in the heart of the city!