We have a variety of meal programs available, suitable for different dietary needs.
What We Can Offer:
Contactless delivery to designated sites
Delicious, nutritious meals from daily breakfasts to packaged, boxed or bagged lunches and dinners
Food prepared and packaged in facilities exercising the highest levels of food safety and sanitation
SAFE FOOD SERVICE DURING NEW YORK'S COVID-19 CRISIS
We are committed to the health and safety of our clients, guests and employees and follow the highest levels of food sanitation and safety.
Our commissary is a secure, gated area and there is no access for the general public
All employees are monitored; any employee showing a sign of illness will not be allowed on the premises
We require employees to
Wash hands every 20 minutes
Sanitize all surfaces every 20 minutes
Wear single-use gloves for all food preparation
Change into uniforms that are only worn in the kitchens
Let us know how we can support you.
NYC DEPARTMENT FOR THE AGING (DFTA)
We work with our registered dietitian to craft meals that meet the nutritional requirements for our senior citizens. Nutrient dense, easy-to-eat foods are packaged in a clamshell with nutritional information and heating and storage instructions. We're offering both fresh and shelf-stable meals.
Through the New York City Department of Sanitation, which is overseeing meals programs for the Department for the Aging (DFTA), we're currently providing daily meals for thousands of Manhattan seniors.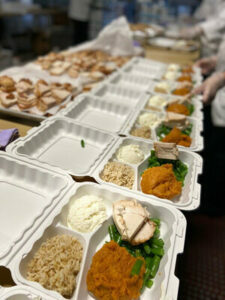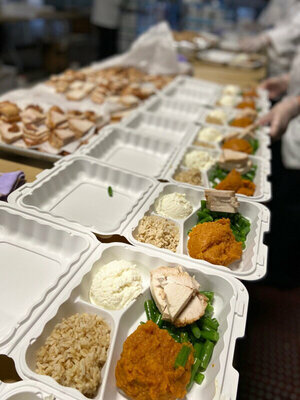 HOSPITAL AND HEALTHCARE WORKERS
In response to the staggering overload at our hospitals, Great Performances along with The Sylvia Center have created a meal program to provide fresh and healthy meals to healthcare workers.  Like all departments at these hospitals, the food service departments are overloaded and welcome organized donations of fresh and delicious meals.
OFFICE OF EMERGENCY MANAGEMENT
Through the Department of Sanitation, which is overseeing meal programs for the Office of Emergency Management (OEM), We're providing meals for distribution to food insecure New Yorkers.
Meals include fresh and shelf-stable foods packaged in clamshells and delivered with heating and storage instructions.