By Kiki Adami
Fettucini Alfredo can still be rich, creamy and buttery without all of the dairy elements. Even better, you can prepare this delicious entree in under 30 minutes following the recipe below. Bon Appetit!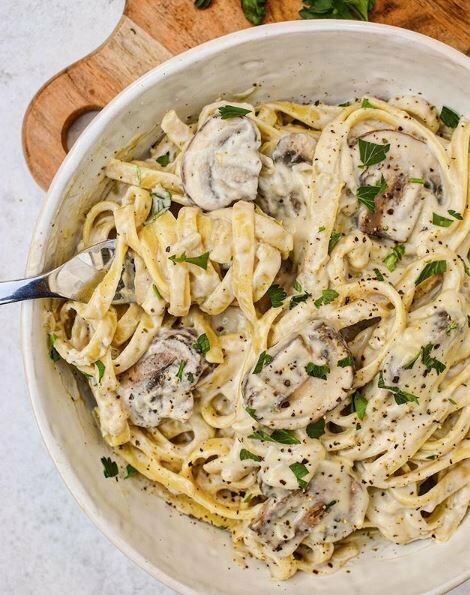 Vegan Mushroom Fettuccini Alfredo
Cook Time: 25 Minutes
Serves 2
Ingredients
2 garlic cloves, chopped into small pieces

½ white onion, chopped into small pieces

½ tsp pink himalayan sea salt

2 portobello mushrooms tops, chopped into dices

10 asparagus stalks, chopped into small pieces

1 tsp black pepper

1 cup full fat coconut milk

1 tsp black truffle oil, divided

Fresh cilantro, chopped

1 tbsp nutritional yeast

½ cup pine nuts

Hand full chopped kale

½ tsp garlic powder

½ tsp onion powder

Virgin coconut oil

Fettuccini pasta

½ cup filtered water
Procedure
Begin boiling water for pasta – once at a boil, add pasta and stir occasionally.

Put fresh onion, garlic, salt, pepper and 2 tablespoons of coconut oil into a pan and let it cook on medium for 5 minutes.

In a blender place pine nuts, nutritional yeast, garlic powder, onion powder, salt, pepper and a ½ tsp of truffle oil. Blend until it resembles a parmesan cheese consistency. Place mix in a bowl on the side for later use.

Once garlic/onions have started to brown, add a handful of kale, mushrooms and asparagus. Let kale and mushrooms cook for another 5 minutes on medium. Add coconut oil accordingly. If you're trying to keep your oil intake low, then you can add table spoons of filtered water in place of oil.

Let ingredients cook on medium for another five minutes and then add 1 cup of full fat coconut milk and the remaining truffle oil and let the coconut milk absorb all the flavors.

Add filtered water if it becomes too thick.

Once pasta is done, drain and rinse pasta.

To serve, place noodles on a plate and top to your liking with the creamy alfredo sauce, pine nut parmesan and fresh cilantro.
---