By Chef Geoff Rudaw

A popular dish in my home around the holidays is Lamb Tagine. The warm scents of the spices simmering slowly permeate the kitchen, and slow cooked lamb evokes memories of family and tradition. It isn't specifically a Tagine that has been a tradition in my home, but slow and low braised entrees that are. These dishes are usually crafted early in the day, the flavors floating through the air, creating olfactory hues. Everyone anticipates finally sitting together, young and old, to enjoy the now tender and succulent meal. Whether it be lamb stew, pot roast, slow cooked ham, these traditions define the holidays for us, and create the memories we pass down to our children. This recipe is forgiving, feel free to substitute what you have in house for your own version. I like to pair mine with the larger grain of warm cous-cous, cooked with minced vegetables, dry apricot and saffron. For a vegetable, I prefer spiced eggplant simmered with tomatoes, garlic and cilantro.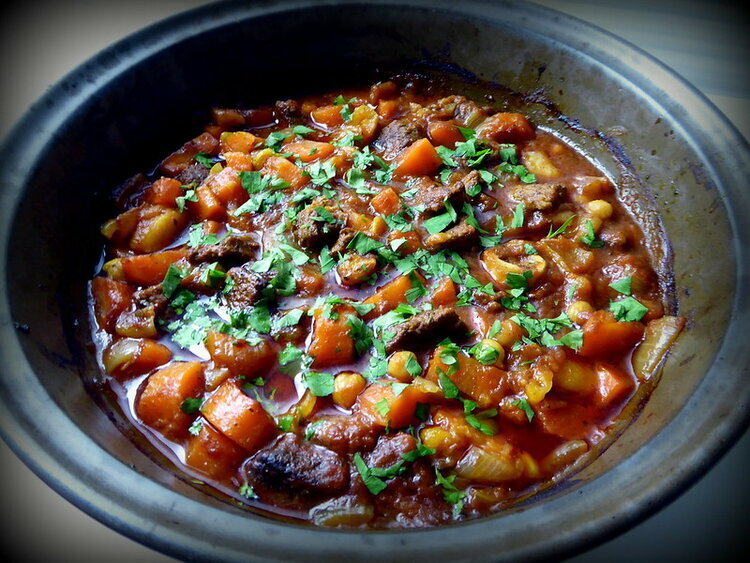 2 lbs boneless lamb shoulder, trimmed of fat (about 1 1/2 lbs)

1 tsp ground turmeric

1 tsp ground ginger

1 1/4 tsp salt

2 tsp vegetable oil

1 1/2 cups diced onions

3 large garlic cloves, minced

1 cup chicken broth

8 threads Spanish saffron, crushed

16 fresh cilantro sprigs, tied together with a cotton string

2 preserved lemons, cut in 8th.
Cut lamb into 1 1/2-inch cubes and place in a medium-sized bowl. Season the lamb with turmeric, ginger and 1/2 teaspoon salt.

Heat a tagine or Dutch oven over high heat. Add 1 tablespoon of the vegetable oil and half of the seasoned lamb. Cook the lamb until browned on all sides, 2 to 3 minutes. Using a slotted spoon, remove the lamb from the pan and set aside. Repeat with remaining oil and lamb. Return the seared lamb to the pan and add the diced onions. Cook, stirring to get the browned bits off the bottom of the pan, for 3 to 4 minutes. Add the garlic and cook for 1 minute. Add the chicken broth, saffron, preserved lemon and cilantro bundle and bring the mixture to a boil. Reduce the heat to medium-low and cook, covered, for 1 1/2 hours, or until the meat is tender.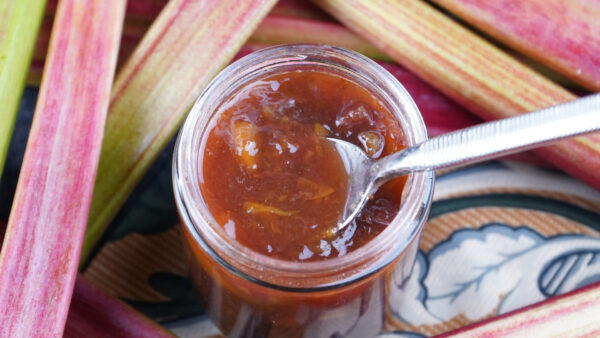 This month we're celebrating Preservation with a Rhubarb Chutney recipe brought to you by our Culinary Director, Andrew Smith.
Read More »