PINK, PURPLE & RED: A SUMMER OF SOUTH ASIAN COLOR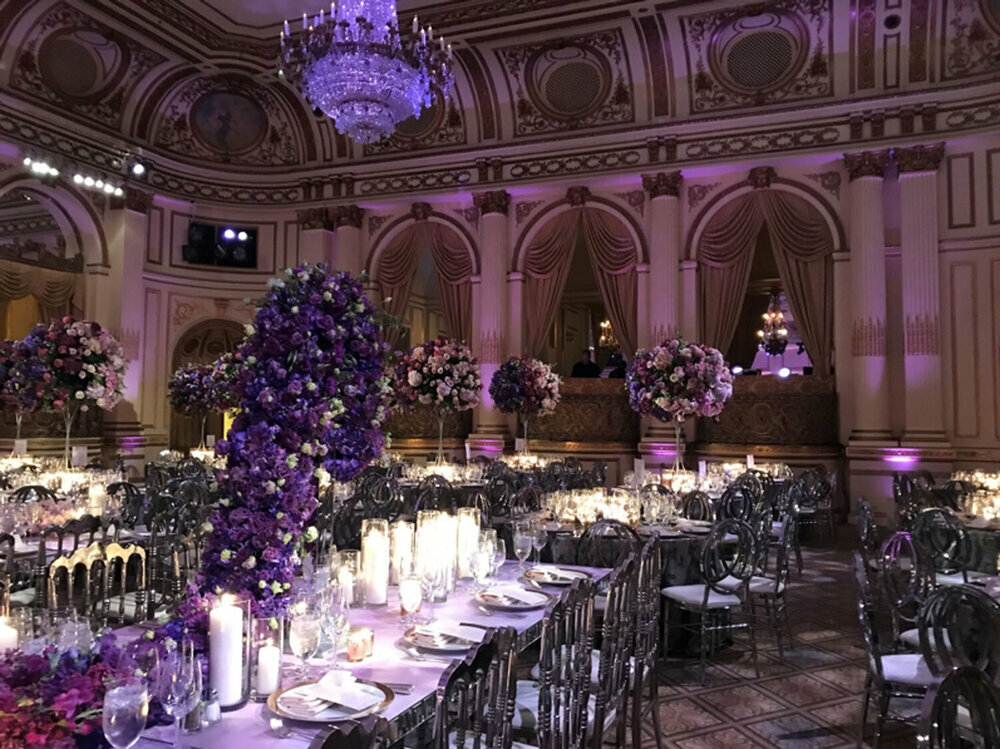 THE PLAZA HOTEL IS FAMOUS FOR ITS CREAM AND GOLD EMBELLISHED GRAND BALLROOM, LUXURIOUS TERRACE ROOM, AND OLD WORLD CHARM.
However this summer, The Plaza was transformed over and over again into a South Asian wonderland of over the top flowers, color, and lavish décor. It is true that the Grand Ballroom needs little to enhance its stunning beauty, but one of the things I love the most of South Asian weddings are their ability to work off of the existing trimmings and really light up the room with a burst of color.
We started out the summer celebrating a wonderful couple, Neil & Saritha, with a day full of traditional Indian ceremonies starting out with the "Swing Ceremony", where the couple was showered with flowers while they swung together on a beautifully decorated swing. Later in the day as a welcome for their main ceremony, the couple offered guests personalized coconuts to drink out of! They were a delicious refreshment for a warm May afternoon and a huge hit with their friends and family.
Moving through the summer we saw an array of colors and décor with red being a statement color of 2018; red indicating both sensuality and purity and very commonly used in marriage. Tiya Nandi wore a stunning red sari to complement her red and gold mandap in the Terrace Room, and Nikita Kohli chose all red accents in her Ballroom décor complete with a red floral centerpiece hanging between the chandeliers!
The Grand Ballroom was yet again transformed for Priyanka & Vikram's celebration and this time everything was purple! From purple lemonade that was butler passed as guests entered the ceremony, to the flowers on their cake, and finally the Ballroom was a purple wonderland with sweeping purple flowers that cascaded off of their elegant dinner tables.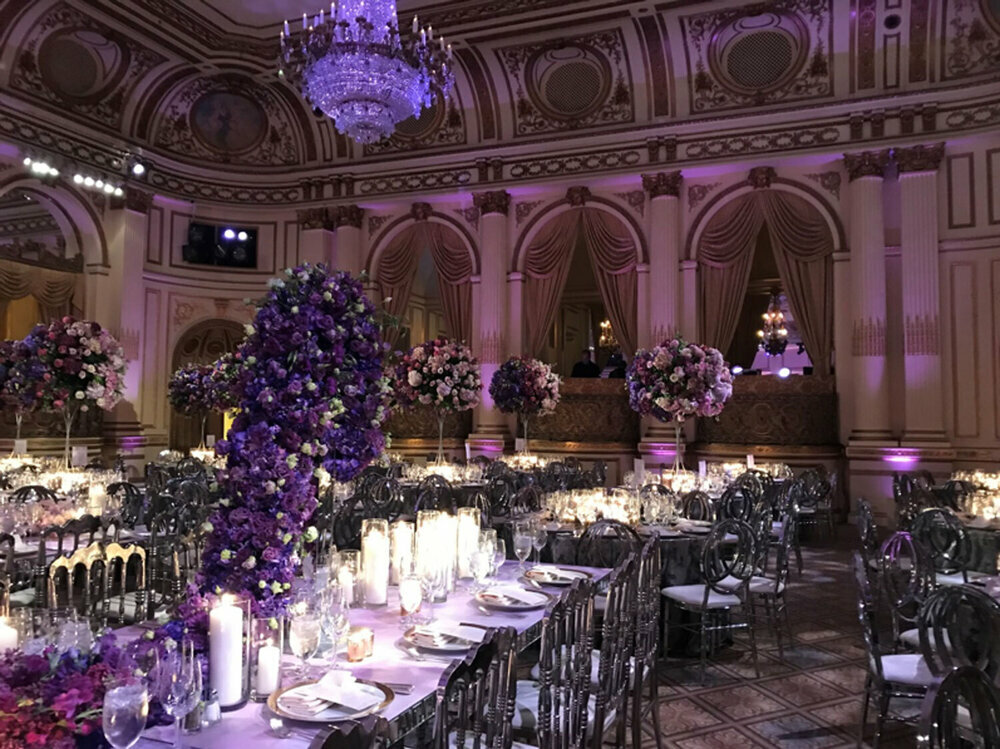 Our final South Asian Wedding of the summer was Divya Mandava & Jon Garrett's "American day" ceremony and final reception of a weekend of ceremonies and celebration. This décor mixed traditional over the top Indian colors and flowers with a more traditional and classic Plaza look. Their guests entered the Terrace Room for a traditional American ceremony, and then moved into the Ballroom to be surprised by yet another floral centerpiece capturing their attention from the ceiling and a beautiful pink wash of color!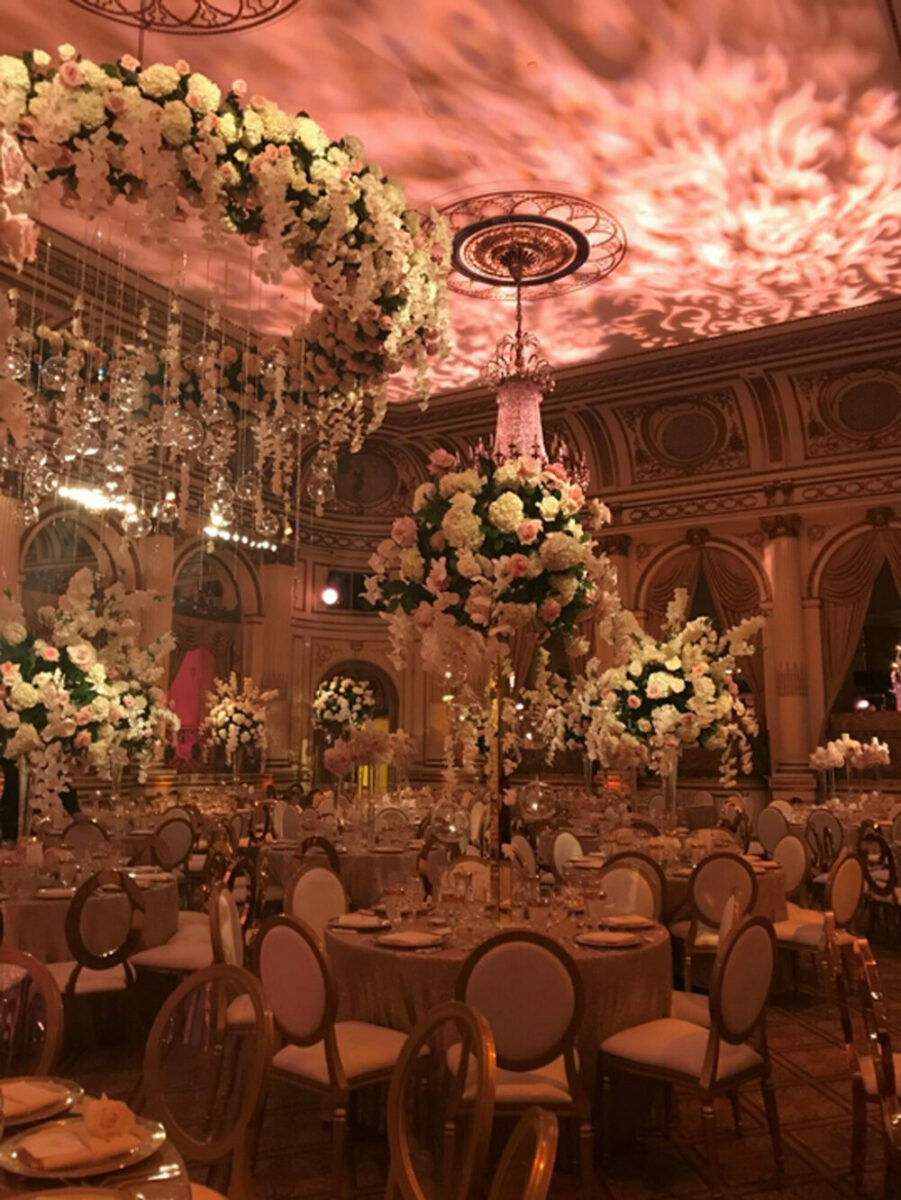 We look forward to many more South Asian weddings and to see how time transforms tradition and the class of The Plaza even further.