Even as we're practicing social distancing, we continue to see great examples of how life happens around food. Instead of the corporate lunches, we're seeing teams enjoy video conference lunches; instead of big dinner parties, families are having home-cooked meals together; and instead of packing bars at happy hours, friends are toasting each other virtually.
With more people cooking at home, we're collecting recipes from our Great Performances' team members, families, friends and partners to share with you and provide some inspiration for delicious dishes you can make at home. Share your recipes and photos with us: tag us on social media #gpcovidcooking, direct message @gpfood or email marketing@greatperformances.com.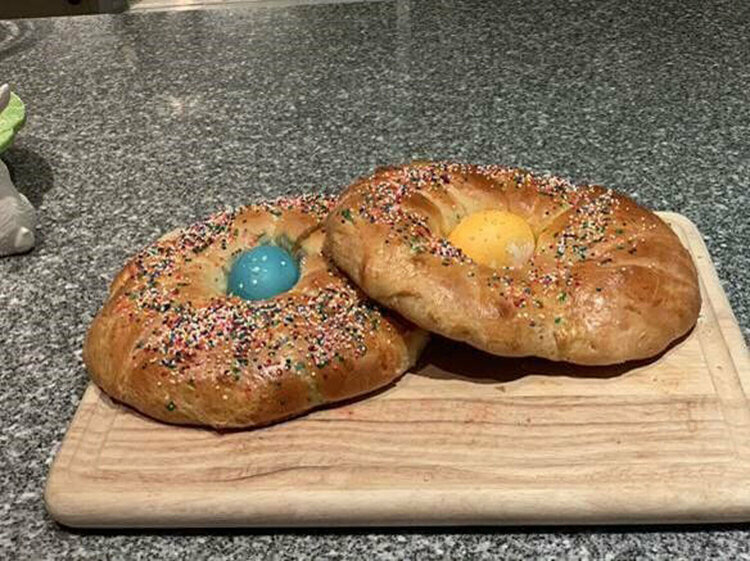 Easter Bread RECIPE
Recipe provided by Great Performances' team member
Amanda DiUglio
Ingredients:
1 ¼ cups milk

⅓ cup unsalted butter cut into small cubes

2 ¼ teaspoons rapid rise instant yeast 1 package

⅛ teaspoon salt

½ cup granulated sugar

2 large eggs beaten

4 cups all-purpose flour divided, plus more for kneading

1 large egg beaten plus 1 teaspoon water

3 dyed easter eggs raw or hard boiled

colored sprinkles (I like the mini ones!)
Procedure:
In a small saucepan, add milk and butter. Heat to 120 to 130°F, stirring until the butter melts. Do not allow the milk to go above 130°F.

In a large mixing bowl, (I use my kitchen aide mixer) combine yeast, salt, and sugar. Add the eggs and whisk together. Add the warmed milk and butter mixture. Add 2 cups of flour.

Attach a dough hook to a stand mixer and combine on medium speed until smooth, about 2 minutes. Scrape the sides with a spatula as needed to incorporate the flour.

Slowly add the remaining 2 cups of flour to the mixer on medium-low speed and scrape the sides as needed. Knead until the dough is stiff and slightly sticky, about 12 minutes.

Place the dough on a lightly floured board and hand knead for about 3 to 4 minutes, adding a little more flour to prevent sticking.

Shape dough into a ball, grease the same bowl you used in the mixer with a little butter, canola oil, or pam, cover with a dish towel and allow to rest for 60 minutes in a warm place. The dough should double in size.

Divide into 6 pieces. Roll each piece to form a 1-inch wide rope, about 14-inches long.

Taking 2 pieces, braid the rope, pinching the ends together and then loop into a circle. Make sure the ends are securely joined together.

Place on a lined baking sheet, providing enough room to rise.

Loosely cover the baking sheet with plastic wrap – (I spray my plastic wrap so it doesn't stick with a little pam) and allow to rise in a warm area, until it doubles in size, about 60 minutes.

Preheat the oven to 350°F (177ºC). Set the rack in the middle position.

Whisk together the large egg and 1 teaspoon water. Brush each braided bread with the egg wash.

If desired, top the bread with sprinkles.

Gently place one dyed egg in the center of each braided ring. Do not press into the dough, it will sink as it bakes.

Bake until golden brown, approximately 15 to 18 minutes. I rotate the trays half way through.

Quickly transfer the baked bread to a cooling rack.
---
hungry for More?