Even as we're practicing social distancing, we continue to see great examples of how life happens around food. Instead of the corporate lunches, we're seeing teams enjoy video conference lunches; instead of big dinner parties, families are having home-cooked meals together; and instead of packing bars at happy hours, friends are toasting each other virtually.
With more people cooking at home, we're collecting recipes from our Great Performances' team members, families, friends and partners to share with you and provide some inspiration for delicious dishes you can make at home. Share your recipes and photos with us: tag us on social media #gpcovidcooking, direct message @gpfood or email marketing@greatperformances.com.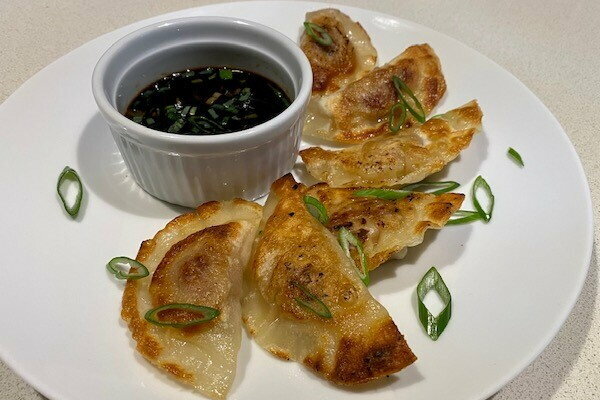 Dumpling Making at Home
As we look to our own home kitchen as a place of gathering, nourishment and support, personally I always try to make dishes where everyone can be involved. In past years we have made pierogi, baked and decorated sugar cookies, pitched in to make and decorate dozens of cupcakes for birthday parties and school functions. I always look for a culinary task that can involve everyone, and increase in complexity to match my children's age and keep their interest.

This year, as my children have continued to grow, and their palates have evolved, we have crossed into a new culinary frontier, Chinese style dumpling making at home! Making a simple dipping sauce based on sweetened black vinegar, the variety of dumpling filling is only limited by your imagination. We started out with the basics, ground pork with ginger, garlic and scallion, and then tried transitioning some of our favorite proteins, like ground turkey. We have tried vegetable/tofu dumplings, shrimp with chilies, and my favorite of the season, Coho Salmon, Spinach and Mushroom. We tried the Vegan square wonton wrappers, which work very well, but my favorite skin was the pot-sticker style round style.  Most of these skins are made with Flour and water, and they can be sealed with just some water and crimping. Some varieties that are on my list are spicy eggplant and green bean with ginger, and a Mexican variation I am trying soon, Guajillo Braised Chicken with Cilantro and Roasted Corn.  Here are the basic steps to making a dumpling, but whatever filling you make, the whole family can help fill and shape them. It's not about having perfect uniform dumplings at the end, it's about having a fun activity during which you can discuss the day you had, and the days you have coming up.
Recipe provided by Great Performances' Partner
Geoff Rudaw
Executive Chef
CPS Events at The Plaza
Ingredients:
For the Dumplings
1 pound ground pork (or ground turkey)

2 cloves garlic, minced finely

2 scallions, whites , minced finely (reserve greens)

1 tbsp ginger, minced finely

1/2 tsp Chinese chili sauce

2 tsp vegetable oil

1/4 tsp kosher salt

1/4 tsp ground black pepper

1 tbsp hoisin sauce

2 scallion greens (reserved, sliced finely)

2 tbsp chopped cilantro (optional)

1 package (50ct) pot sticker wrappers
For the Sauce
1/4 cup sweet black vinegar

2 tbsp soy sauce (I prefer Kikoman)

2 tbsp water

1/2 tsp granulated white sugar

1/2 tsp chili sauce

1 tsp sesame oil

1 tbsp finely sliced scallions

Optional: 1/2 tsp finely minced ginger
Procedure:
Saute garlic, scallions, ginger for 1 minute, then add chili sauce. Saute 30 seconds, and transfer to a bowl to cool.

Add ground pork, salt, pepper, hoisin sauce, scallion greens and if desired, chopped cilantro. Mix well with a spoon, or by hand with latex gloves.

To assemble the dumplings, place wrappers on a work surface. Spoon 1 tablespoon of the pork mixture into the center of each wrapper. Using your finger, rub the edges of the wrappers with water. Fold the dough over the filling to create a half-moon shape, pinching the edges to seal.

Prepare the sauce: mix all ingredients. Taste, adjust salt, pepper, soy sauce based on preference. Sauce will last 2-3 days under refrigeration.

Boil dumplings in salted water (about 2 Tbsp per 1 Gallon). When dumplings are floating on the top of the simmering water, and the skins begin getting translucent, they are done.

Heat vegetable oil in a large skillet over medium heat. Add pot stickers in a single layer and cook until golden and crisp, about 2-3 minutes per side.

Serve immediately, or pan fry on one side for a different flavor and texture.

Try adjusting the dipping sauce to your taste, either spicier, sweeter, or your own twist.