Even as we're practicing social distancing, we continue to see great examples of how life happens around food. Instead of the corporate lunches, we're seeing teams enjoy video conference lunches; instead of big dinner parties, families are having home-cooked meals together; and instead of packing bars at happy hours, friends are toasting each other virtually.
With more people cooking at home, we're collecting recipes from our Great Performances' team members, families, friends and partners to share with you and provide some inspiration for delicious dishes you can make at home. Share your recipes and photos with us: tag us on social media #gpcovidcooking, direct message @gpfood or email marketing@greatperformances.com.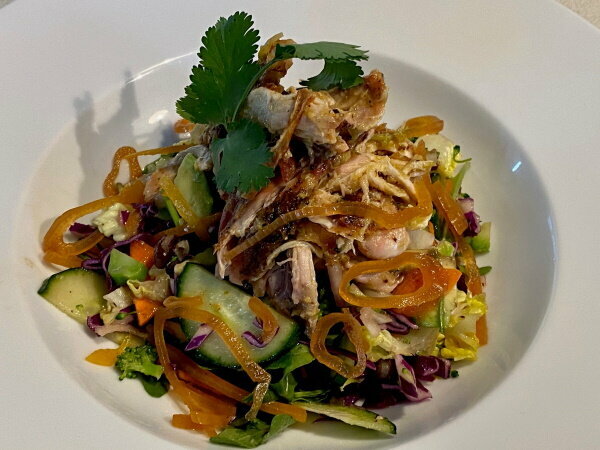 Crunchy Vegetable Salad
Turmeric Pickled Shallots, Roasted Chicken Thigh, Tomatillo Vinaigrette
Being cooped up as so many of us New Yorkers have been, it's more important as ever to eat well. Easing into Spring, its an easy transition into tasty, fulfilling, satisfying salads that have some extra flavor.

With economics in mind, it's also important to eat with a touch of thrift, so with that in mind I present to you my lunch salad from today.
Recipe provided by Great Performances' Partner
Geoff Rudaw
Executive Chef
CPS Events at The Plaza
Ingredients:
For the Tomatillo Salsa
4-5 tomatillos, husk removed medium size

1/2 yellow onion, peeled, cut in 4 wedges, root end trimmed, but intact

1 poblano pepper, medium size

2 scallions

3 cloves confit garlic (sub recipe)

4 tbsp extra virgin olive oil

Salt, ground black pepper

1 tbsp lemon juice, fresh, (or lime)

1 bunch cilantro, washed, roughly chopped

1/2 cup water, add more as needed
For the Confit Garlic
Garlic cloves, peeled, stem ends trimmed

Extra virigin olive oil
For the Turmeric Pickled Shallots
1 cup white wine vinegar

1 cup water

1/3 cup granulated sugar

1 Tbsp kosher salt

1/2 tsp turmeric, ground

5 black peppercorns, whole

5 coriander seeds, whole

1 Tbsp mustard seeds, yellow or brown

1 small bay leaf, dry

4 medium shallots, pealed, sliced 1/8 " rings, separated
Procedure:
For the Tomatillo Salsa
Toss the tomatillos, onion wedges, poblano and scallion with 1/3 of the olive oil, season with a light pinch of kosher salt and a twist of black pepper from the pepper mill.  Broil until well charred, then turn over and char the other side.  Remove any vegetables that brown more quickly to avoid burning.

Remove the skin, stem and seeds from the poblano pepper. Toss all of the charred vegetables into the blender, add confit garlic, remaining olive oil, lemon juice, and puree on low-med.  Start with 1/2 cup of water, but use as much water as necessary to adjust to "sauce" consistency.  Make it a little loose, as tomatillo will gel when chilled.  Adjust seasoning with salt, pepper and lime juice. If you prefer some heat, feel free to consider adding Tabasco, your favorite hot sauce, jalapeños, etc.

Transfer to a jar and refrigerate.  Will easily last a week.
For the Confit Garlic
In your smallest pot (preferably stainless steel), add enough cloves of garlic to cover the bottom in one layer.  Cover with extra virgin olive oil, until just covered completely by 1/4″.

Set on low heat, and let the oil simmer, but not boil. The lowest heat that gets some action in the oil is preferred. When the garlic cloves are light golden, turn off heat completely and let sit on the back burner until cool.

This should be stored in the refrigerator.  Some other great uses for confit oil are roasted potatoes, broccoli babe, garlic bread, pasta and broccoli to name just a few.
For the Turmeric Pickled Shallots
Bring all of the ingredients except for the shallots to a boil.

Put the shallots in a mason jar, small pyrex or stainless steel bowl, that is just bigger than the shallots.

Pour the boiled vinegar/sugar liquid and all spices over the shallots, and let them steep.

When the shallots have come to room temperature, use immediately or refrigerate for future use.
Assemble the Salad
I started with crispy skin spice roasted chicken thighs, which I pulled and tossed with a tomatillo roasted tomato salsa I used for enchilladas two nights earlier. The salad I prepared was chopped romaine, baby arugula, cucumber, carrot, Cuban-style black beans, broccoli, avocado, olive oil, lemon juice and a few chopped sprigs cilantro.  The last touch was some turmeric pickled shallots I made last week, since I had more shallots on hand than I could use.
I am not by any means a light eater, and that salad really set me straight and kept me full until dinner. The Tomatillo Salsa is completely optional, the salad can hold up without it, but here is the recipes I used; feel free to substitute anywhere necessity dictates. Chopped salads are great, you can literally throw anything in there that you like; beans, spinach, cheeses, croutons, grilled salmon, roasted red peppers. Anything.
---
Hungry for More?