Even as we're practicing social distancing, we continue to see great examples of how life happens around food. Instead of the corporate lunches, we're seeing teams enjoy video conference lunches; instead of big dinner parties, families are having home-cooked meals together; and instead of packing bars at happy hours, friends are toasting each other virtually.
With more people cooking at home, we're collecting recipes from our Great Performances' team members, families, friends and partners to share with you and provide some inspiration for delicious dishes you can make at home. Share your recipes and photos with us: tag us on social media #gpcovidcooking, direct message @gpfood or email marketing@greatperformances.com.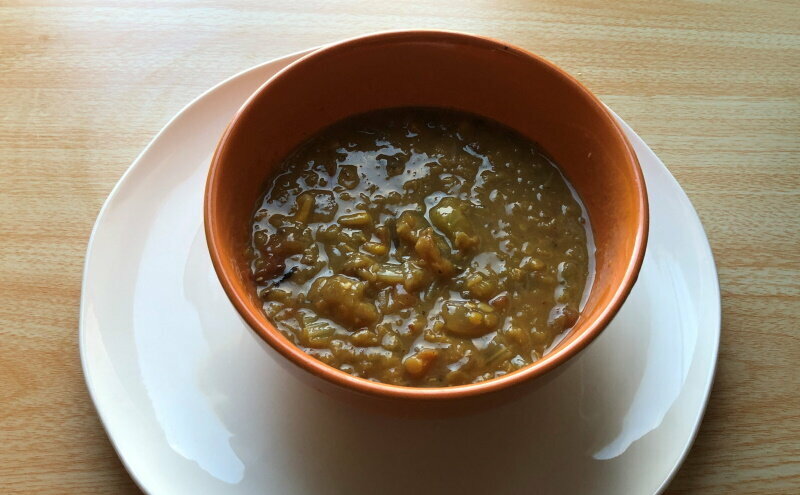 Today, I decided lunch was going to be made from the stockpile of dry goods. I picked up Margaret Holmes' Tomatoes, Okra and Corn canned vegetables a while back, and decide to use it as a soup add-in.

I made this up on the fly. It'll probably be too salty for some people, but my partner loves salt, so all I got were compliments.

It takes less than 45 minutes and voila! You have a big pot of low calorie, high-protein WFH lunches that may help you curb that COVID-19 weight gain.
Recipe provided by Great Performances' partner
Kathy Zurek-Doule
Curatorial Assistant – Egyptian, Classical, and Ancient Near Eastern Art
Brooklyn Museum
Ingredients:
8 cups of water
4 cubes of vegetable bouillon (use 3 bouillon cubes if it is too salty)
1 cup of red lentils
½ red onion
2 cloves of garlic
1 can of mixed vegetables (I used Margaret Holmes Tomatoes, Okra and Corn vegetable mixture)
8 baby carrots
3 celery ribs
2 bay leaves
1 tsp of red chili flakes
Procedure:
Sauté the onions and garlic, then pour in the water and added the vegetable bouillon cubes and bring to a boil.
Once the cubes dissolve, add red lentils, carrots, celery and bay leaf and simmer 15 minutes.
Add the canned vegetables and let it cook for another 10 minutes. Finish with the red chili flakes.