Even as we're practicing social distancing, we continue to see great examples of how life happens around food. Instead of the corporate lunches, we're seeing teams enjoy video conference lunches; instead of big dinner parties, families are having home-cooked meals together; and instead of packing bars at happy hours, friends are toasting each other virtually.
With more people cooking at home, we're collecting recipes from our Great Performances' team members, families, friends and partners to share with you and provide some inspiration for delicious dishes you can make at home. Share your recipes and photos with us: tag us on social media #gpcovidcooking, direct message @gpfood or email marketing@greatperformances.com.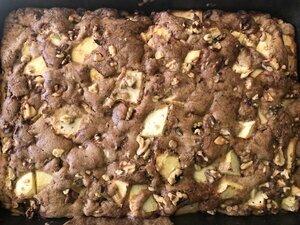 A delicious, comforting apple cake. Perfect for breakfast or as an afternoon coffee break. I received it from 95 year old Zita (pictured below), housekeeper and nanny for one of my dear friends.
Recipe provided by Great Performances' Family:
Linda Abbey
Executive Vice President
Great Performances
Ingredients:
4-5 Granny Smith apples, cubed
1/2 cup chopped nuts
3 eggs
1 cup oil
1 3/4 cups sugar
2 cups flour
1 tsp salt
1 tsp baking soda
1 tsp cinnamon
Garnish: powdered sugar, whipped cream or ice cream
Procedure:
Heat oven to 350° F
In a large bowl, whisk together eggs, oil and sugar
Blend flour, salt, baking soda and cinnamon, then mix into wet ingredients
Fold in cubed apples and chopped nuts. Bake in 9"x13" pan for 45 minutes – 1 hour.
Let cool and serve as is or with preferred garnish.