Even as we're practicing social distancing, we continue to see great examples of how life happens around food. Instead of the corporate lunches, we're seeing teams enjoy video conference lunches; instead of big dinner parties, families are having home-cooked meals together; and instead of packing bars at happy hours, friends are toasting each other virtually.
With more people cooking at home, we're collecting recipes from our Great Performances' team members, families, friends and partners to share with you and provide some inspiration for delicious dishes you can make at home. Share your recipes and photos with us: tag us on social media #gpcovidcooking, direct message @gpfood or email marketing@greatperformances.com.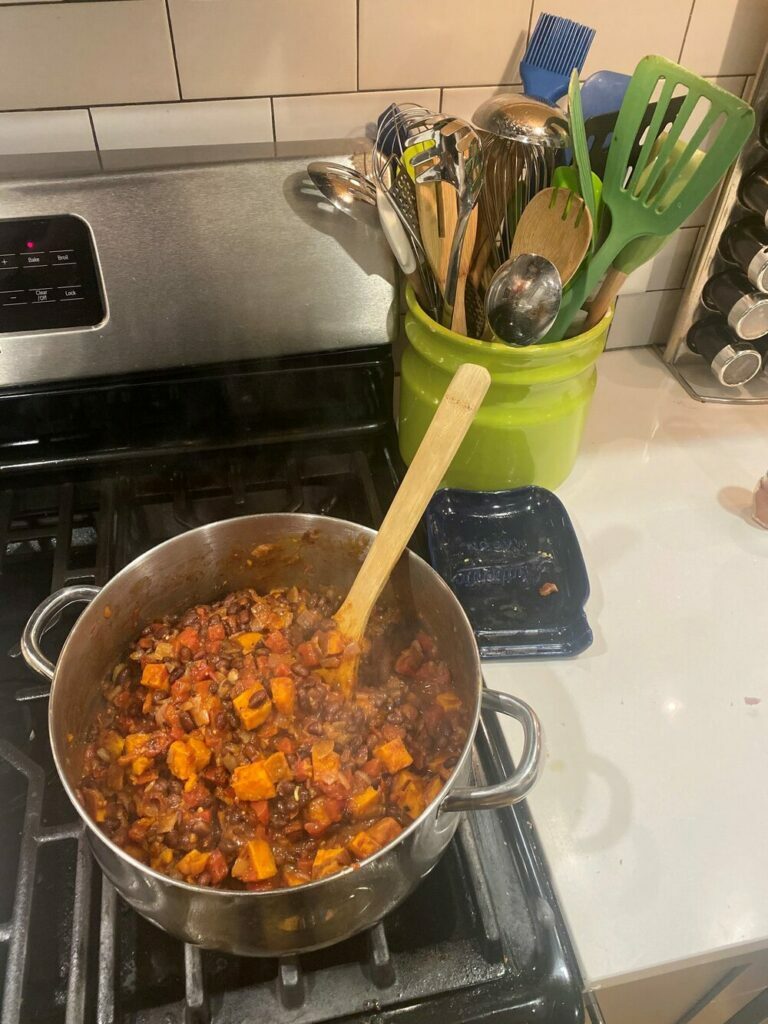 This delicious, vegan dish is versatile, easy to make and keeps well. You can add any other vegetables you have in your fridge or pantry, like peppers and mushrooms. Make enough for leftovers and it's great to have on hand for a quick lunch while busy putting out Coronavirus fires.
Ingredients:
2 large or 3 smaller sweet potatoes (you can sub half the sweet potatoes with purple potatoes as they are also supposed to be healthy)
3 cans black beans
3 cans diced tomatoes (fire-roasted tomatoes are good if you can find them)
1-2 red onions
0 to 9 cloves of garlic (depending on how concerned you are about vampires)
You can throw other things you like (peppers, mushrooms, etc.)
Spices: salt, pepper, smoked paprika, chili powder, cayenne (for spice)
Procedure:
Cube potatoes, coat in olive oil, and bake for 30-40 min at 400 degrees.  Let cool after baking.
Dice onions and garlic and sauté in pot.  Add garlic for last 2-3 minutes of sautéing.
Add beans and tomatoes, bring to a simmer.
Mix in spices to taste, then add potatoes and combine.
Let simmer a little while longer until everything is warmed through.