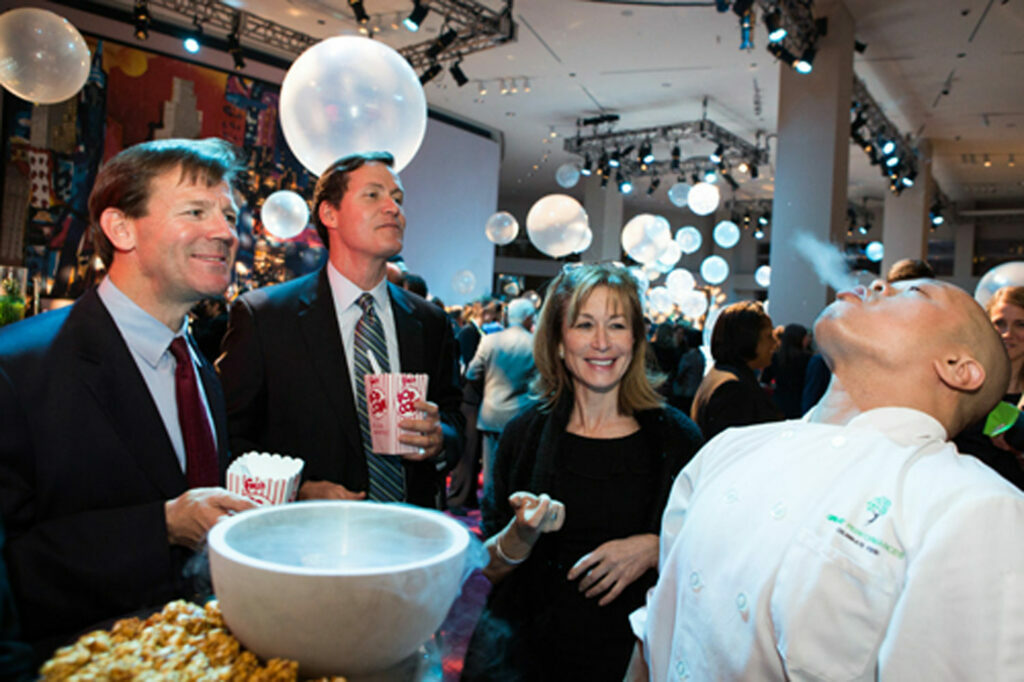 The challenge was set before us! Create an innovative menu and dining experience for the World Science Festival at Jazz at Lincoln Center with the following guidelines:
-Serve room temperature foods, family-style
-Preset food on the tables before the guests came into the room
-Incorporate "science" themes and elements, but still maintain recognizable elements
-Create an interactive component
-Design a unique after-party collaborating with Celebrity Chefs for a Science Dessert Party
We embraced every element and came up with the following menu.
FIRST COURSE
Peekytoe Crab and Avocado Salad Pumpernickel and Cherry Tomato Panzanella, Meyer Lemon, Mint
Set on Mini Petri Dishes (see recipe below!)
SCIENCE FAMILY STYLE, ROOM TEMPERATURE DINNER
Baked Potato with Broccoli and Cheddar Soup Served in Test Tubes
Artisanal Bread with Infused Oils and Pecorino Espuma, Foamed to Order
Cold Fried Chicken with Blue Cheese Powder and Red Hot Gelee
Torched Tuna and Swordfish Mosaic, Torched with Hand Torches in front of Guests on Salt Blocks
Mini Croque Madame with Fried Quail Egg
Vegetable Frittata with Hummus and Black Olive
Baby Beet Salad Dill Yogurt, Grapefruit "Caviar"
BUTLERED DESSERTS TO COMPLEMENT CELEBRITY DESSERT CHEFS
Dragon's Breath Popcorn
Fruit Tartlets
Rice Krispy Lollipop
House Made Nutter Butter
SPECIALTY DRINKS
"The Science Project" Prosecco, Cointreau, Brandy, Grenadine, and Dry Ice Pellets
Red and White Wines in Beeker Carafes
Photographs courtesy of Sean Smith
Previous
Next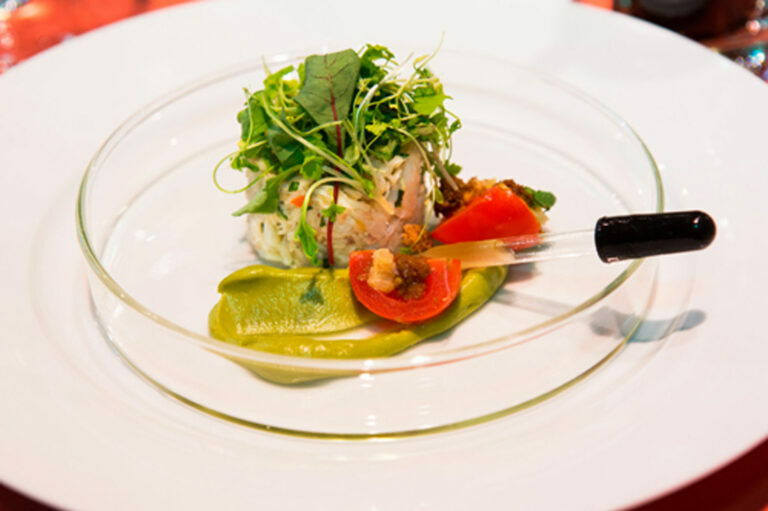 Peekytoe Crab Salad
Ingredients:
8 ounces peekytoe crab meat, picked
2 tablespoons chives, chopped
1 tablespoon chervil, chopped
1.5 teaspoons Thai birds eye chili, seeded and minced
Zest and juice of 2 Meyer lemons
3 tablespoons olive oil
Salt and pepper
Method:
1. In a small bowl, mix olive oil, chili, and zest and juice of lemons.
2. Place crab meat in a separate bowl. Pour oil mixture over crab meat. Add chives and chervil.